Site Note: Madonna's hacker at Digilink and Madonna.com has been tampering with the site and the blog again, creating page errors, changing the spelling of words, removing text, inserting blank spaces and damaging links, among other things. Said hacker also deleted the article "You're Only As Good As Your Last Hit." As a result, the article was not online for days, creating an error in the article "Miley Cyrus Thanks Fans For Support." I have put the article back online, after said pathetic hacker's crazy and desperate conduct. Sorry for the inconvenience. 
Jay-Z and Beyonce Steal Restaurant
January 11. 2011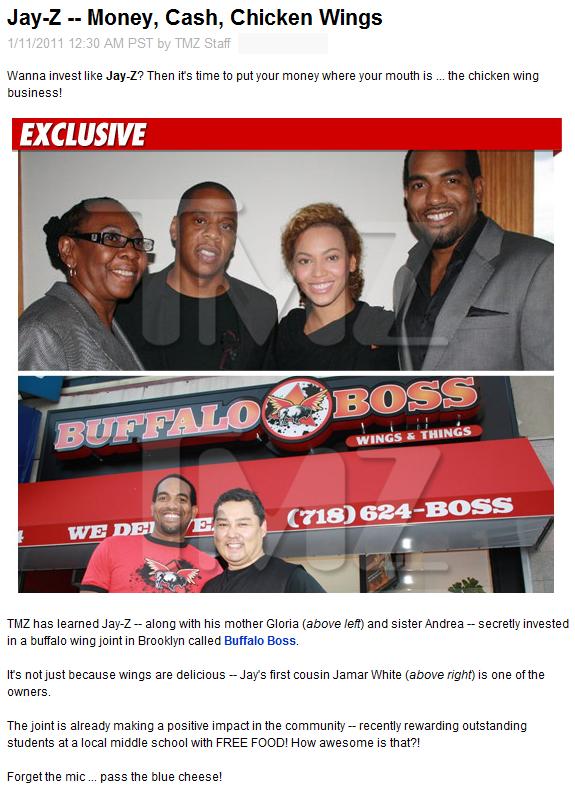 Not content with stealing my copyrighted music and videos, Sony Music artist, Beyonce and her rapper husband, Jay-Z have criminally stolen a PREEXISTING, copyrighted business plan from my Copyrighted Catalog for a chicken wings restaurant and debuted it today under the name "Buffalo Boss" according to TMZ.
I can easily prove they stole it, as over a year ago, I copyrighted family recipes, menus, layouts and designs for my restaurant venture. Jay-Z and Beyonce just did all this in September 2010, three months ago, according to State of New York records and domain records (see below). Items pertaining to the restaurant were privately emailed by me in the earlier part of last year, also proving that the hacking and email interception I have complained of criminally came into play again, to pilfer my business items.
Last year, I registered my restaurant's domain name and got started on obtaining the permit with the State of Florida, for which I was given a reference number. I found a realtor in the latter part of last year and I've been going through listings to pick the right space, as I encountered trouble in trying to do so for months prior to that, as mentioned in the December 17, 2010 article The Corporate Sector Destroyed The Middle Class.
The restaurant is to financially support my scientific and medical research work, which I've made great strides with by God's grace. Jay-Z and Beyonce think what they did in stealing the restaurant copyright is cute and funny, but people's health are depending on said research work. Jay-Z and Beyonce's parents need to take a good long look at the scum they raised and the damage they are causing.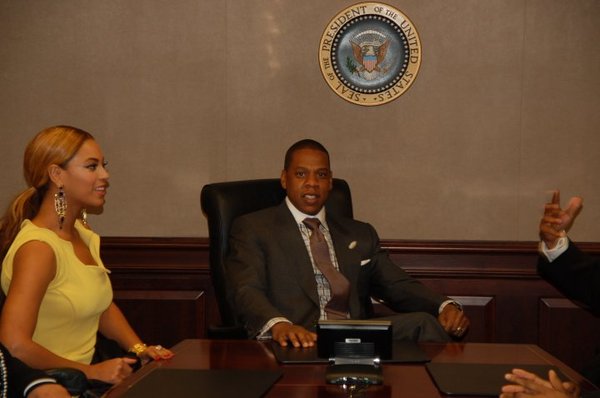 Jay-Z (center) and Beyonce (left) at the White House last year with President Obama
All they do is steal and devalue other people's property, as they don't know what they're doing and have about 10 brain cells between the two of them. So many of Jay-Z and Beyonce's business ventures have failed, shuttered and resulted in lawsuits, as there is usually theft present by the vile couple.
This is the very thing I made reference to in the February 2. 2009 article and again as mentioned above in The Corporate Sector Destroyed The Middle Class post. It's because of crooks in the corporate sector, robbing small and mid-size businesses that the economy is still in the toilet almost 3-years after the financial crisis hit. The financial crisis all boils down to people who refuse to earn an honest living, ripping off hardworking small and mid size businesses and individuals.
It is a law enforcement issue, but the primary agency responsible for addressing such matters, the FBI, are completely corrupt and accepts bribes from the rich. Hence fraudsters like, Bernard Madoff, R. Allen Stanford, Scott Rothstein and Nevin Shapiro, among others, having been able to keep their crimes afloat for so long, until unforeseen events toppled them, leaving the government no choice but to indict them.
There are still a number of fraudsters and ponzi schemers embedded in corporate America that the crooked FBI have no intention of bringing in, deeming them too big to fail, much to the detriment of the U.S. economy, which is stuck in a financial sinkhole because of it.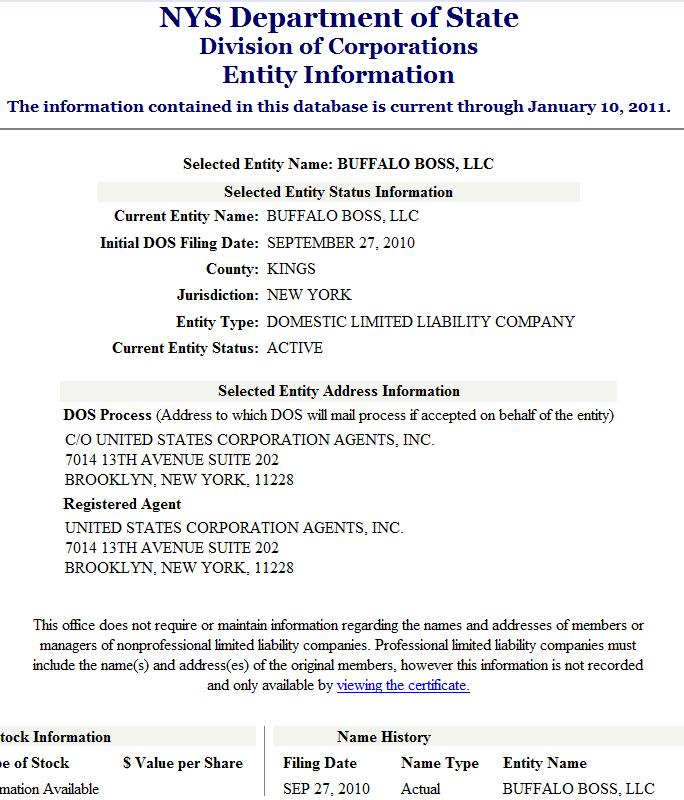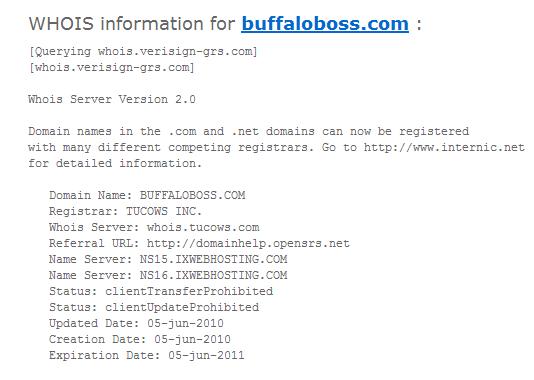 RELATED ARTICLES
Jay-Z's Book Bombs
Jay-Z Is A Fraud That Didn't Write His Book
Jay-Z And Mary J. Blige Sued For Stealing Song
Beyonce Knowles Settles Copyright Infringement Case
Producer: Beyonce Stole Credit For Bootylicious
Unintelligent Jay-Z Wants To Be President
The Government Was Complicit In R. Allen Stanford's Crimes
S.E.C. Ignored Warnings About Madoff
FBI Knew About Mortgage Problems From 2004
Jay-Z, Beyonce, Rihanna And The Occult - Part 2
Jay-Z, Beyonce, Rihanna And The Occult - Part 1
You're Only As Good As Your Last Hit