Jay-Z And Mary J. Blige Sued For Stealing Song
December 23. 2008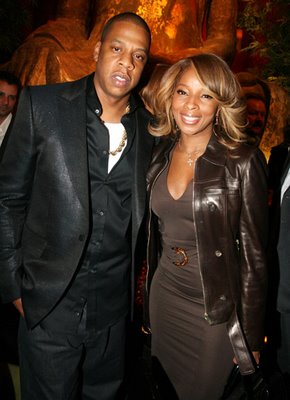 In what is the umpteenth copyright infringement lawsuit for Jay-Z and Mary J. Blige, both have been sued again for stealing another song. Two producers in New Jersey have filed suit against them for unlawfully taking their song "On My Grind" and turning it into the track "Enough Cryin."
While, I know firsthand Jay-Z is nothing but a thieving degenerate that is being investigated in another case, Mary J. Blige is no stranger to claims of plagiarism either. It's always the same ones getting into trouble for this over and over again. They refuse to play by the rules and adhere to the law of the land that states you cannot steal others' intellectual property, as it violates the Copyright Act and Berne Convention.
STORY SOURCE
Mary J. Blige and Jay-Z Sued in Copyright Infringement Case
Sorry Mary J.Blige fans, we hate to tell you, but she's at it again! Mary J. Blige may be known for her talent by many in the music industry, but as of late it seems like the supposed Queen of R&B is losing her crown and getting into more trouble with those in the business rather than actually improving her reputation…she is no stranger to copyright infringement lawsuits in her past; let's recall the one with the song 'Work That' which Drama Family Entertainment filed in August saying that it was used without their permission.
Here we are again; it seems a new suit has been filed! The latest lawsuit is against both Mary J. Blige and rapper Jay-Z. From what sources are saying, although Jay-Z doesn't lend his vocals to the track, he's being sued also because the unstoppable duo have collaborated on hit songs in the past and on this particular song he's getting credit for helping to write the song.
The suit claims that two musicians, Jermaine Jumpp and Michael C. Adams gave a CD to producer Rodney "Darkchild" Jerkins, which had a song on it titled 'On My Grind.' They state that about four years later, Mary released the single "Enough Cryin" which sounded eerily similar to the single Jermaine and Michael originally submitted. Coincidentally (or no, not really) 'Enough Cryin' was produced by none other than Rodney Jerkins himself…