.
Jay-Z, Beyonce, Rihanna And The Occult - Part 1
November 28. 2009
"Jay-z Exposed Extended Trailer"
A very disturbing video has been released, regarding rapper Jay-Z and his terrible involvement in the occult. Though he and his wife, singer Beyonce, claim to be Christians, to garner record sales, their conduct consistently contradicts those claims. The above posted dissection of the music and words of, Jay-Z, his adulteress, singer Rihanna, who has been posing in devil horns and spewing very dark, violent, occult lyrics, coupled with his wife's bizarre, lascivious, crazy conduct over the past few years, reveals they are mixed up in the occult, which is dangerous.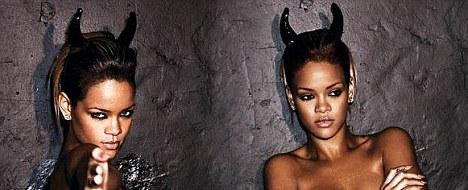 Rihanna wearing Devil horns
Part two of this story, will illustrate how the aforementioned artists, have incorporated occult symbols into their music and video projects, themes and symbolism historically associated with the devil.