Beyonce's New Album Flops
June 30. 2011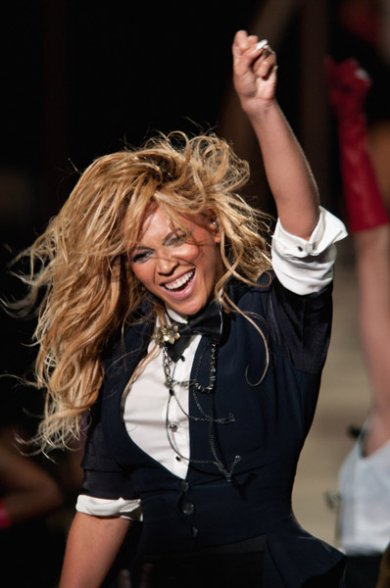 Beyonce
Beyonce Knowles' new album entitled "4" has flopped, as did the first two copyright infringing singles from the project, "Girls" and "1+1." It was initially reported the disc would be pushed back, but it wasn't and now it has failed.
Sony is going to lose a significant amount of money on the project, as they have spent millions on recording, video production, marketing, promotion, payola and bribing certain mainstream sites and blogs for favorable coverage, expecting a sure hit.
The heavily promoted album is projected to sell 270,000 copies in its debut week. Her previous album "Sasha Fierce" sold double that amount in 2008, registering a reported 463,000 copies sold in the first week of sales. The second week fall off in sales for the album "4" shall be quite high, as said mainstream album opened with such a low tally, especially in comparison to its predecessor.
This marks the first flop of Knowles' career and it is richly deserved, for her well-documented, chronic acts of criminal copyright infringement, in willfully, deliberately and feloniously stealing the intellectual property of others, for undue millions, awards and accolades, she is not entitled to under the law.
RELATED ARTICLES
Report: Beyonce's Failed CD That Leaked Pushed Back
Beyonce's First Two Singles From Her New Album Flop
The British Government Is Cracking Down On Raunchy Singers
Beyonce Steals Again But This Time From Sam Cooke, En Vogue & A European Artist
Beyonce Knowles Settles Copyright Infringement Case
Producer: Beyonce Stole Credit For Bootylicious
Beyonce Keeps Stealing From The Braxton Family
The FBI Corruptly Granted "Sovereign Immunity" In The Aisha v. FBI Case
Jay-Z and Beyonce Steal Restaurant
Beyonce And Jay-Z Fighting Over Rihanna
Jay-Z, Beyonce, Rihanna And The Occult - Part 2
Jay-Z, Beyonce, Rihanna And The Occult - Part 1
Butt Shaking Beyonce Strikes Again