Madonna Releases Another Creepy And Ghastly Looking Photo Causing Social Networking To Retch
April 11. 2017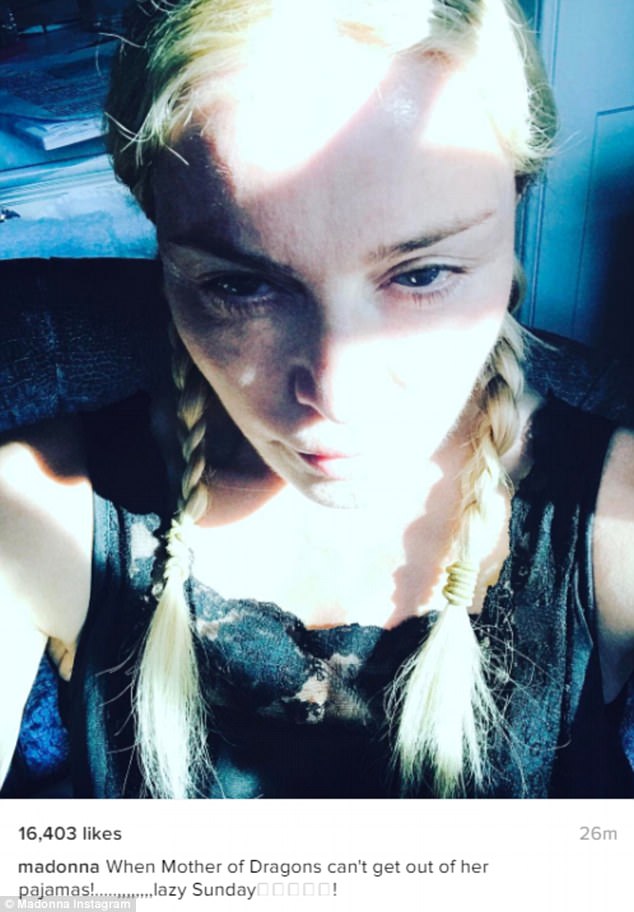 Madonna looking like an alien crackhead that had plastic surgery and now has a strong case for malpractice (LOL). Her plastic surgeon is having a laugh. How can a person look worse after going under the knife.
Child abuser and human rights violator Madonna has decided to use her plastic surgery altered mug to scare little children, small dogs and men with weak stomachs. She ran it through a strong software filter on Instagram that gave up stating it is not a miracle worker. So instead, the photo was taken with very strong lighting to obscure most of her face that is looking awfully rough and creepy. The problem for Madonna regarding using Photoshop and Instagram filters is when people see her in public they state she looks like "an iguana."
Last week the Judiciary Report again slammed Madonna as looking like "Gollum" from "Lord of The Rings" (Madonna Using Adopted Girls For Publicity On Her Flopped Career). This week she insists she looks like a character from "Game of Thrones." I don't watch the show, but I wasn't aware it had gnomes in it.
STORY SOURCE
'Mother of Dragons': Madonna posts make-up free selfie to Instagram and compares herself to Game Of Thrones' Daenerys Targaryen
Published: 20:53 EDT, 9 April 2017 | Updated: 22:45 EDT, 9 April 2017 - Madonna posted a makeup-free selfie to Instagram on Sunday, looking so much like Game Of Thrones character Daenerys Targaryen even she realized as much. 'When Mother of Dragons can't get out of her pajamas!.....,,,,,,,,lazy Sunday!,' captioned the 58-year-old pop icon, using Daenerys' sobriquet. She looked slightly blearily up at the camera, having slid on a lacy sleeveless black top and wound her blonde hair into a tight set of pigtails...
RELATED ARTICLES
Wikileaks Releases Hacked U.S. Federal Government Documents Showing The CIA And FBI Are Spying On People In Their Homes Via Hacking Smart TVs And Backdoors In Computer And Phone Operating System Confirming Previous Judiciary Report Site Claims
Obama Administration Wastes Huge Sums Of American Taxpayer Money Breaking The Law In America, Britain And Jamaica On Behalf Of Madonna's Kabbalah Center In Committing Egregious Human Rights Abuses