Haggard And Homely Looking Madonna Creeps Out People On Social Networking With Video
May 3. 2017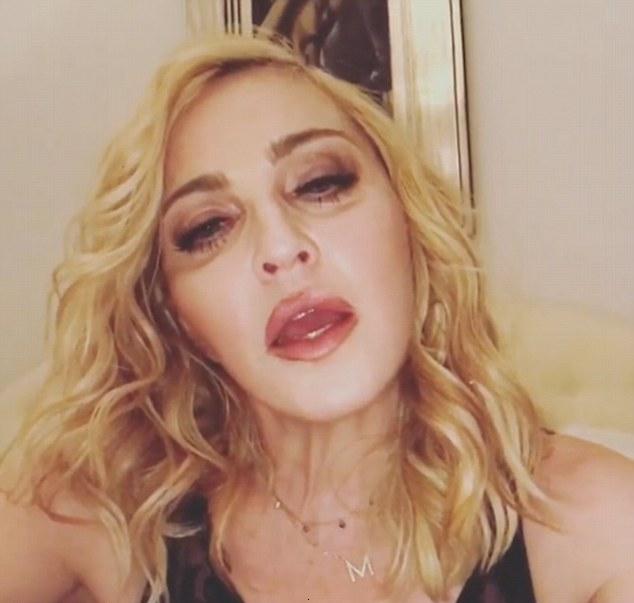 Madonna looking scary (and to think, this is with the make up)
The Daily Mail reported a rough, weathered and creepy looking Madonna posted a video to Instagram that left many people on social networking creeped out. Madonna looked demonic and crazy in the video. The massive bags under her eyes and crow's feet are made more prominent by the fact she is making evil faces at the camera.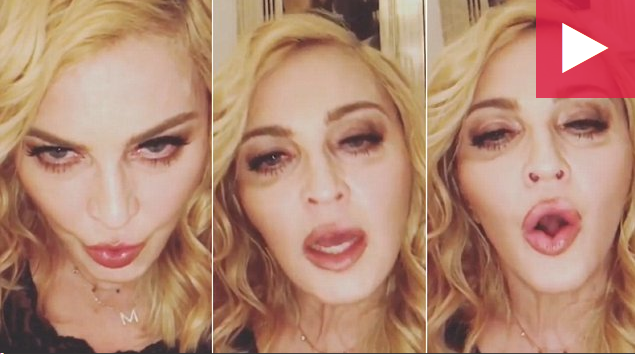 A still from Madonna's weird and creepy Instagram video
People on social networking stated, "Just me or a bit evil looking?" "she looks horrible. Way too much work done!" and "omg so creepy." Even with a full face of make-up, bright lighting and selective camera angles, Madonna still looked horrible in the video, frightening social networking. The 58-year-old devil worshipper seems to think she looks like a model, but managed to scare and turn off many people. Well, being evil has aged Madonna rather rapidly, while rivals in her age group look youthful (LOL).
STORY SOURCE
'OMG so creepy!' Madonna's fans are left feeling scared after 'sick' star posts 'evil looking' video of herself singing Valentine's song while recuperating in bed in her nightgown
Published: 03:26 EST, 15 February 2017 | Updated: 05:16 EST, 15 February 2017 - She's one of the most famous singers in the world - but Madonna left some of her fans feeling terrified with a 'creepy' video of herself which she posted on Instagram. The 58-year-old decided to sing Happy Valentine's Day to her fans while recovering in bed with illness.
She captioned the clip with the words: 'Sick Girl in bed in. Her nightgown. Not sung well but done with [love]! Happy Valentine's Day!!' Songbird: Madonna also celebrated Valentine's Day by singing the Happy Birthday tune - but replacing the words with 'happy Valentine's Day' in an Instagram video. 'OMG so creepy!' Madonna's fans were left feeling scared after 'sick' star posted an 'evil looking' video of herself singing a Valentine's song while recuperating in bed in her nightgown
While her die-hard fans were thrilled with the latest post, some of her 8.7million followers thought that she appeared a little 'creepy'. One follower wrote: 'Just me or a bit evil looking?' Another said: 'She looks horrible. Way too much work done!' Another wrote: 'Omg so creepy.'