Billboard Magazine: Chris Brown Calls Himself The Devil
May 3. 2017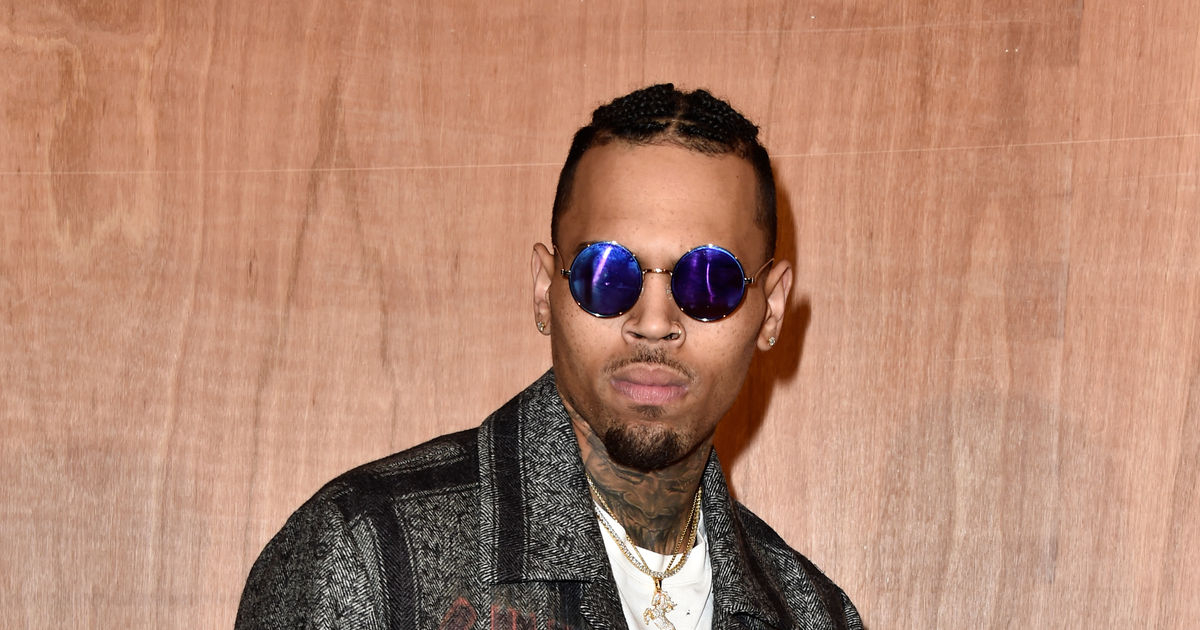 Chris Brown sporting a ghoulish tattoo on his neck
After years of brainwashing and exposure to satanic items, singer Chris Brown has gone over to the dark side and is calling himself "the devil." People who have worked with Brown spoke to music industry publication, Billboard magazine, detailing the destructive things he has been saying and doing. Brown is described as violent, selfish, ungrateful, angry and obsessive. Brown's drug use is exposed in the article as well (cocaine, marijuana, Ecstasy pills and pharmaceutical drugs). This confirms what the Judiciary Report has stated about Brown for years, regarding his use of cocaine, marijuana and ecstasy pills.
Brown's coworkers and friends revealed to Billboard that he now calls himself "the devil" which is terrible. Brown's mind has been destroyed in the Kabbalah Center cult, which is a satanic sect deeply involved in the occult. Kabbalah members are devil worshippers. Brown's Instagram page is full of symbols dealing with the occult and satanism.
The Billboard article states Brown is also a "great Instagram dad" meaning he is only posing for pictures with his 2-year-old daughter Royalty for show on the social networking site and is not being a good father behind the scenes. Royalty is the product of a fling with a former video girl, Nia Guzman, who Brown has a significant amount of animosity towards.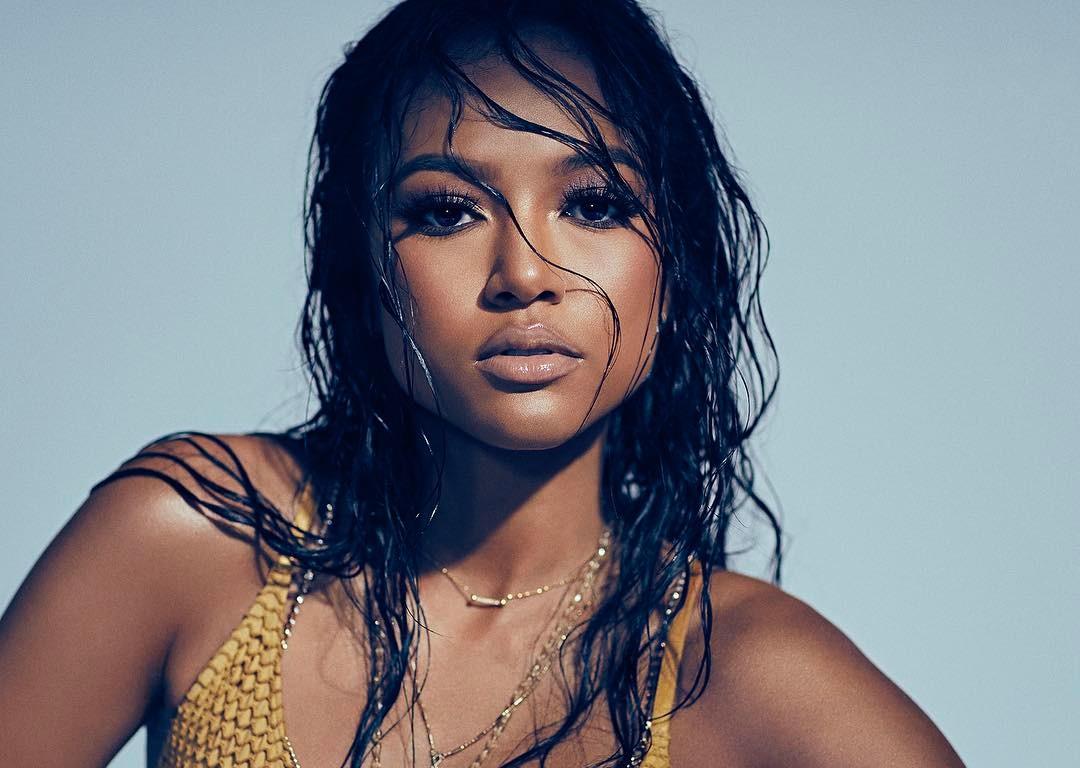 Karrueche Tran
Guzman tried to trap Brown with a pregnancy, hoping it would lead to fame and fortune. After all, Brown made his then girlfriend Karrueche Tran famous, which has led to fairly well paying jobs and social networking popularity (Tran currently has 6,600,000 Instagram followers that were not bought through a service). However, it backfired on Guzman, as Brown is not giving her the huge sums of money she wants. Brown is giving Guzman a minimal amount of child support ($2,500 per month), has not bought her the sports car and mansion she demanded.
Additionally, the two are always arguing, sometimes publicly, where his contempt pours through for the whole internet to see. A few months ago, Brown even slammed Guzman as a druggie, drug dealer and gold digger. Brown has cast Guzman aside, embarrassing her to untold millions of people in stating he is single, will not marry her, there's no relationship, he is not in love with her and wants Tran back.
I see it often in the industry, regarding women scheming and lying to get pregnant for famous and or rich men, thinking it will be their ticket to fame, fortune and a permanent spot as the man's wife, but it doesn't work that way. It usually becomes heartbreak, embarrassment, painful gossip, financial woes and in most cases largely raising a child by one's self.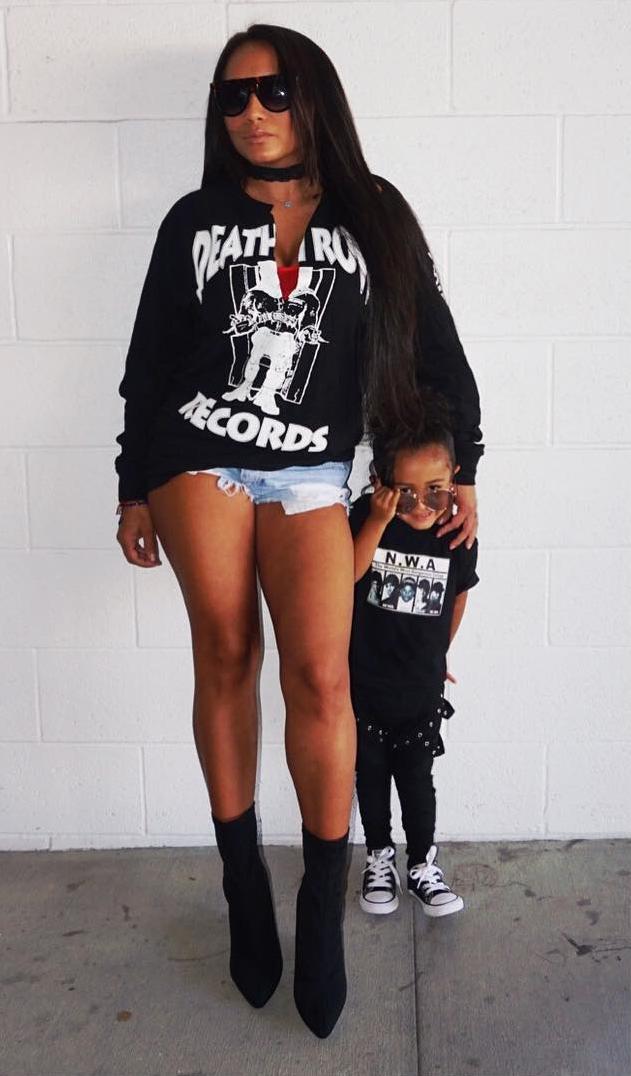 Nia Guzman and daughter Royalty
Now Brown sits on the social networking pages of Tran, whom he is in love with, obsessively trying to see which men are trying to date her. He blames Guzman for the demise of his relationship with Tran, who dumped him over siring a baby with her. That hate is festering and Brown is getting more and more desperate. Hence Tran's restraining order against Brown.
Brown's career began to lag with the album "Royalty" which is his worst seller to date (360,000). Some of his fans are not happy he had a child with someone other than Tran, while others. such as his mother, wanted him to get back with his ex-girlfriend, Rihanna. To offset the sales decline, Brown is constantly touring, bringing in millions of dollars on each trek.
Now Brown spends his time off tour binge watching television shows, hooking up with random women and doing a significant amount of drugs. Things have gotten so bad with Brown's addiction, a primary part of one of his security guard's duties is pulse checker, to make sure he hasn't overdose. That's a risky game and it only takes a few minutes for a overdose to claim a life. Brown can't keep living like this. He needs help.
STORY SOURCE
Chris Brown's Downward Spiral: Insiders Open Up About His Struggles With Addiction and Anger
March 02, 2017, 10:00am EST - On a Monday morning around this time in 2016, Chris Brown woke up and sparked a blunt. He had fallen asleep on a bright red sectional sofa in the living room of his $4.35 million mansion in Tarzana, an affluent area of Los Angeles' San Fernando Valley. It's where he would pass out most evenings. Lately, says a former employee who was accustomed to scenes like this, Brown had trouble sleeping in his master bedroom upstairs and would instead watch sci-fi movies all through the night.
Empty Styrofoam cups littered the table, a sign that Brown -- who hadn't been taking his medication for the bipolar II condition he had been diagnosed with in 2014 -- had likely also been sipping lean (a mixture of promethazine/codeine syrup and a soft drink), his comedown of choice after a coke or Molly binge. Brown scrolled through Instagram, hunting for clues about the status of his ex, the 28-year-old model Karrueche Tran. Whom was she with last night, and where? Who was commenting on her most recent photos?
A delivery man arrived and began ringing Brown's doorbell. "Do your f—ing job!" barked Brown at one of his security guards, a hulking man who had been living for the past three-and-a-half years in the home. But the guard, who was off duty, was asleep, and his partner was outside. Like many other nights, the guard had stayed up late to check Brown's pulse. The bell rang again — this time, it was a construction worker who had been employed at the house all week. Brown paced back and forth. Finally, he lost his temper. "I'm going to show you what it's like not to work with Chris Brown for two weeks!" he shouted at the guards, kicking them both out of his house.
At this time, Brown was preparing for the European leg of his One Hell of a Nite Tour, but, according to various members of his team at the time, he would stay up for as long as three days in a row, snorting cocaine and dabbling in Xanax, marijuana, Molly and lean. By the time he finally left for Europe in May, according to a lawsuit filed in June, he had physically attacked his longtime manager, Michael "Mike G" Guirguis. (In the suit, Guirguis also claimed that in the four years they worked together Brown suffered from "addiction, anger control and violence issues.") In August, Brown was arrested after he returned from the tour, following a standoff with police at his home for allegedly pointing a gun at the actress Baylee Curran. He also, TMZ reported, threw a duffel bag full of drugs and weapons out of his window. (Brown's lawyer, Mark Geragos, later disputed that claim, and to date, no charges have been filed. Both Brown and Geragos declined to comment for this story.)
Brown's problems are no secret. Since his brutal attack on then-girlfriend Rihanna in 2009, which sent her to the hospital bloody and bruised on Grammy night, it seems like there's nothing he can do to shock the world -- or alienate his Team Breezy fan base, which can be as belligerent and defensive as the singer himself. (Brown has had to ask his fans, on occasion, to stop threatening to kill his critics.) Since that assault -- for which he was sentenced to six months of community labor, a year of counseling and five years of probation -- Brown, 27, has been arrested two more times and made two trips to rehab, getting kicked out both times.
Through the years, Brown has descended from the height of stardom to the lowest circle of fame, becoming better known as a sleazy tabloid obsession than a VIP. He has made news the last few months for a variety of unsavory reasons: writing "Somebody tell Aladdin hop off my dick" when Aziz Ansari compared him to Donald Trump on Saturday Night Live; the discovery of his $500,000 Lamborghini Aventador, abandoned on Coldwater Canyon in Beverly Hills, apparently demolished in a high-speed crash (and reportedly driven by one of several friends to whom he had given keys); the saga of his now-canceled boxing match with Soulja Boy, who said he had earned Brown's ire by liking a picture on Tran's Instagram; and the restraining order Tran filed for on Feb. 17, claiming that Brown physically abused and threatened to kill her...
"Once he did what he did to Mike G, there was no structure," that former security team member says. "We had no manager telling us what to do or where we were going. He would make people sleep on the bus [instead of hotels] when he was mad at them. He was threatening people and cops. He was calling himself the devil." By that June, Brown's personal publicist of three years, BWR's Nicole Perna, quit after a heated string of texts in which, TMZ reported, Brown accused her of not sufficiently promoting his new clothing line, Black Pyramid, and Perna replied, "Anna Wintour doesn't want to f— with you. These editors don't want to f— with you. The majority of my time is spent on damage control." Brown had to fend for himself -- on social media, of course -- when, the next month, a landlord in Ibiza alleged that Brown and a group of friends had trashed a villa they were renting. Brown posted a series of videos showing a spotless house and calling out the landlord for "slandering my name."...
RELATED ARTICLES
Chris Brown Hit With Restraining Order For Punching Karrueche Tran In The Stomach, Throwing Her Down A Flight Of Stairs, Threatening To Kill Her And Beat Up Her Mother, Brother And Friends
Chris Brown's Music Industry Neighbor Called Police After Hearing Him Beating Karrueche Tran Who Was Screaming
Chris Brown Backs Out Of Soulja Boy Boxing Match Angry Over Karrueche Tran Restraining Order
Chris Brown Did Not Send Rihanna Flowers For Valentine's Day