Beyonce Sued Again For Copyright Infringement In Using Academy Award Nominated Footage In Music Video Without Permission
February 8. 2018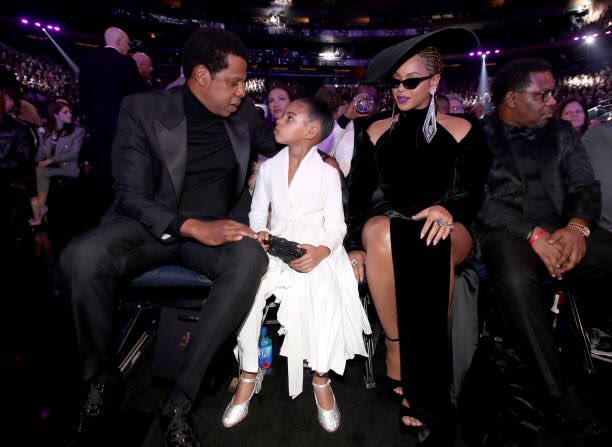 Jay Z (left), daughter Blue Ivy, Beyonce at the 2018 Grammy Awards
Chronic copyright thief Beyonce has been sued again. Beyonce promised to pay the standard licensing fees to use footage from the Academy Award nominated documentary "Trouble The Water" in her "Formation" music video. The footage in question was shot by Kimberly Roberts, when she and her husband decided to ride out Hurricane Katrina in New Orleans, Lousisiana. However, Beyonce reneged on the agreement.
Beyonce has also used Roberts' footage for a number of items, such as live performances, which is not approved by the licensing agreement that she has failed to honor. This misconduct constitutes copyright infringement. Beyonce does not have the right to use other people's footage however she pleases. Beyonce knows better. However, she and her camel face husband, rapper Jay Z, constantly lie, rob, steal and defraud people at every turn.
Their criminal mindset was exposed in a deposit of athlete Alex Rodriguez, whom unintelligent Jay Z gave very bad advice. Idiotic Jay Z told Rodriguez, a multi-millionaire, that he did not have to pay his attorney. Jay Z's advice was erroneous, fraudulent and downright stupid. Rodriguez's attorney sued him for $400,000 to recouped the legal fees and for punitive damages. Rodriguez would have had to pay less money had he just paid his attorneys fees from the outset.
And the moral of the story is, don't take advice from a thieving idiot. Jay Z and Beyonce have created a trail of fraud and financial theft. They have committed serious financial crimes that constitute felonies. Do not follow their example, as it is going to catch up to them and will catch up to you as well.
STORY SOURCE
As Messy Mya lawsuit settles, another New Orleans artist sues Beyonce
Updated Feb 6, 6:58 PM; Posted Feb 6, 6:40 PM - Beyonce is at the center of yet another federal lawsuit in connection to her 2016 hit song, "Formation," this time accused by the star of the Oscar-nominated Hurricane Katrina documentary "Trouble the Water." The lawsuit was filed one day before the singer settled a separate year-long lawsuit that claimed Beyonce did not have permission to use the voice of late New Orleans bounce artist Messy Mya in the "Formation" and "Lemonade" recordings and music videos...
In a lawsuit filed Sunday, local rapper Kimberly Roberts claims Beyonce violated a contract for the use of the footage Roberts shot during Katrina and that was later used in "Trouble the Water." According to the lawsuit, Beyonce agreed to pay Roberts royalty fees as well as a fixed amount to use footage from her film in the "Formation" music video. However, the lawsuit claims the singer only paid Roberts for the initial licensing agreement and has since failed to pay her for royalties.
Additionally, the lawsuit claims Beyonce has broken the contract by using clips from Roberts' documentary in other mediums, including in the audio recordings of "Formation" and during live performances...
RELATED ARTICLES
Rita Ora Ripped To Shreds On Social Networking For Referring To Conor McGregor As Her Date Despite The Fact He Has A Longterm Girlfriend And New Son At Home (Jay Z Pimping Her Out Again For His Roc Nation Sports)
Beyonce Steals Again Illegally Using Copyrighted Footage For Her Deceitful New Video 'Formation' While Ripping Off A Model's Pictures And Is Slammed By The National Sheriffs' Association
Madonna, Jay Z, Beyonce, Rihanna, Rita Ora And Jessie J Sued Over Copyright Infringement, Invasion Of Privacy, Commissioned Criminal Harassment And Assault Via The Kabbalah Center
Serial Copyright Thieves Beyonce And Jay Z Sued For Stealing 'Drunk In Love' And Even Including A Clip Of The Original Artist's Voice On The Track
Beyonce Continues To Fraudulently File Trademark Applications For The Name 'Blue Ivy' In Trying To Steal Preexisting Intellectual Property
Beyonce Steals Again This Time Ripping Off Short Film For HBO Lemonade Special Resulting In Copyright Infringement Lawsuit
Taylor Swift And Ed Sheeran Keep Getting Credibly Sued For Committing Copyright Infringement And With Good Reason
Jay Z Forced Beyonce Into Bisexual Situations She Did Not Want And He Still Cheated On Her With Others Anyway
Bruno Mars Wins 6 Grammys And Despite Many Nominations Jay Z Walked Away With Nothing
Beyonce Steals Again But This Time From Sam Cooke, En Vogue And A European Artist
Beyonce Slammed For Taking Credit For A Company's Athletic Line She Did Not Create
Social Networking Brands Beyonce And Jay Z's Daughter Blue Ivy 'Ugly' At The VMAs
Beyonce Following In Her Father Mathew Knowles' Footsteps With Substance Abuse
Beyonce Slammed By Rapper For Stealing Images From His Album 'Lemonade'