Rita Ora Ripped To Shreds On Social Networking For Referring To Conor McGregor As Her Date Despite The Fact He Has A Longterm Girlfriend And New Son At Home (Jay Z Pimping Her Out Again For His Roc Nation Sports)
December 6. 2017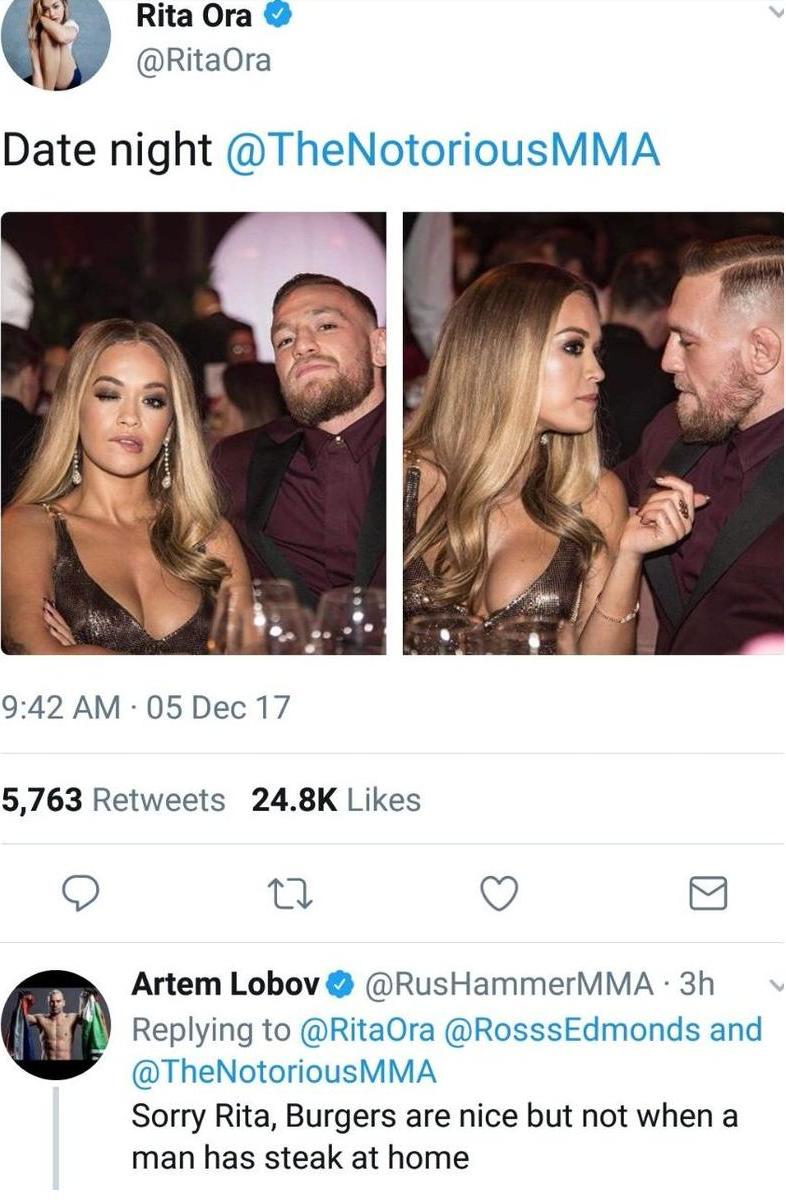 Rita Ora was slammed by Conor McGregor's teammate Artem Lobov over her disgraceful tweet, labeling her "burgers" and his long-term girlfriend Dee Devlin "steak at home"
Yugoslavian pop singer Rita Ora is being bashed all over the internet and blogosphere. Ora, a music industry mattress, who got her record deal from having sex with married rapper Jay Z, whom she continues to cheat with, keeps damaging her faltering career, by behaving like a complete fool. Jay Z has a penchant for 15 and 16-year-old, having engaged in misconduct with Rihanna, Foxy Brown and Teairra Mari, when they were underage.
Jay Z's wife, singer Beyonce, outed Ora on her "Lemonade" album via the lyric "Becky with the good hair" in slamming her actions for cheating with Jay Z. In response to Beyonce's lyric, Ora foolishly wore a see through lemonade bra on Instagram. The ill-advised move infuriated Beyonce's fans, who slammed her on social networking.
Previously the Judiciary Report stated it was "a dumb move" on Ora's part, as she would foolishly lose all potential sales from Beyonce's fans. So said so done. Ever since that time, Ora's sales have noticeably declined. No one wants to give their financial support to a cheat, via buying their products, especially an arrogant one dumb enough to show off about her unethical behavior.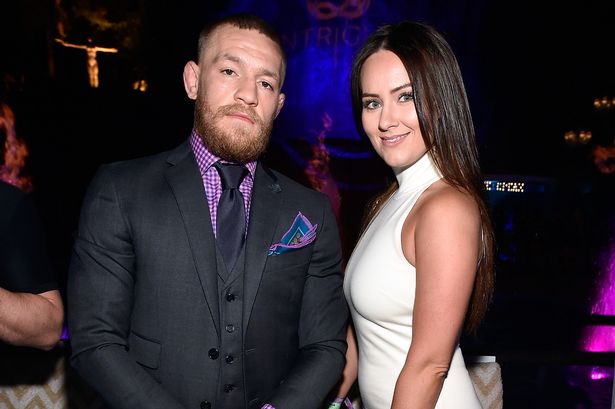 Conor McGregor and Dee Devlin
Further proving she has no ethics, business savvy or intelligence, this week brainless Ora decided to cozy up to MMA star, Conor McGregor, whom the public knows has a long-term girlfriend, Dee Devlin and a thoroughly cute baby, Conor Jr. Ora took dumb to another level in taking flirtatious selfies with unavailable McGregor and posted two of the photos on Twitter, titling the stupid snaps "Date Night."
The public immediately slammed Ora in a massive way, labeling her a "slut" "whore" "trash" "hoe" "skank" "homewrecker" and a variety of other unflattering names. Ora just lost a lot of potential sales once again, from another unwise stunt the public is looking at her in disgust over. It will not help McGregor's sales either.
Devlin was with McGregor before he became famous, helped his career by helping him make money and handling the business side of it and his diet/nutrition. She also helped him train. McGregor stated Devlin is the one who believed in him and kept telling him he would be champion, even when they were poor and on benefits in Ireland.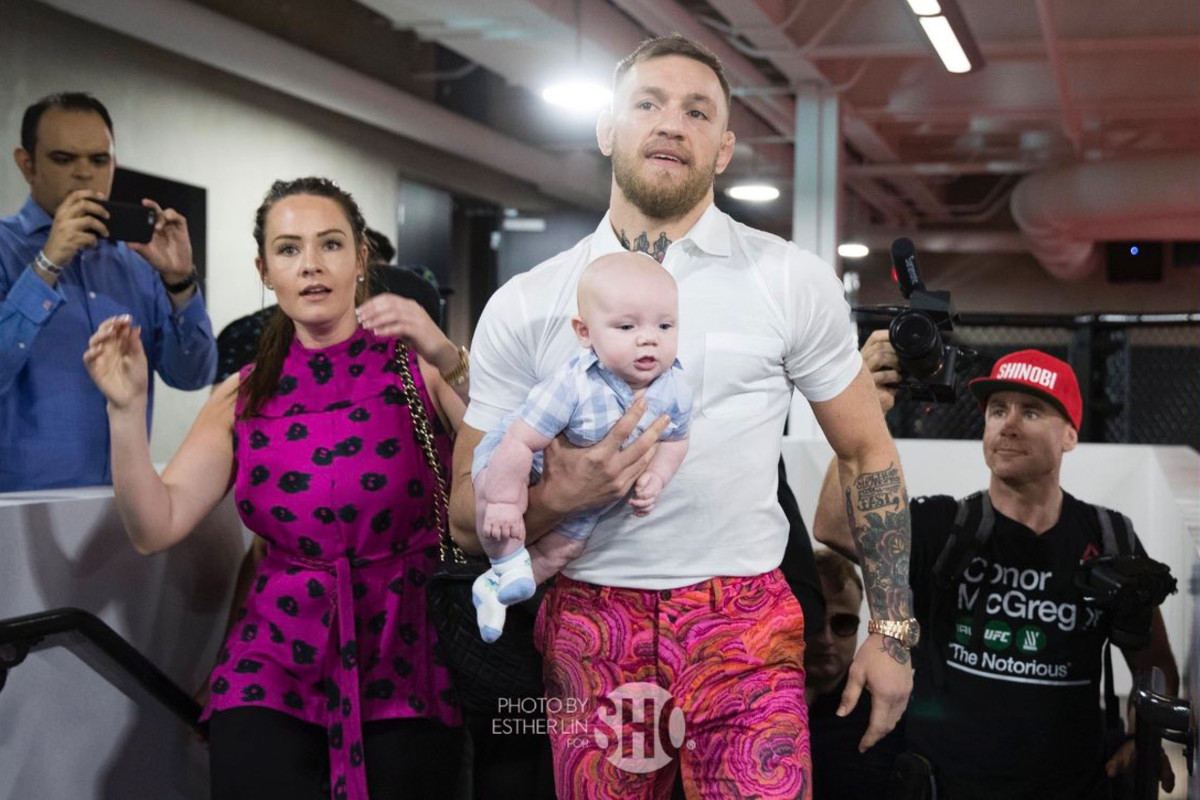 Dee Devlin, Conor McGregor and their baby Conor Jr
McGregor stated of Devlin, "My girlfriend worked very hard throughout the years and stuck by me when I had essentially absolutely nothing. I only had a dream that I was telling her. For me to be able to take her out of work, give her everything she's ever wanted and to travel the world with her fills me with pride. It keeps me going."
McGregor further stated, "She does not work anymore, I hired her to the business. She works for me now and collects the cheques...My girlfriend has been there since the start. She has helped me throughout this career. If It wasn't for her, I probably wouldn't be where I am today." What a terrible way to repay her loyalty, support and dedication to him and his career. The public is not amused with what Ora did or McGregor's conduct.
As stated on the site previously, Jay Z, a former crack cocaine drug dealer, sexually pimps out Ora and another artist he signed and manages, Rihanna. Jay Z sends them to writers, producers, directors, actors, singers, rappers and executives to have sex with them for songs, videos, movie roles, television spots and other promotional favors.
Conor Jr and Conor Sr
Jay Z also sexually pimps out Rihanna and Rita Ora to athletes, sending them to have sex with athletic stars, as he opened Roc Nation Sports and needs athletes to sign to the company, which is greatly faltering and embroiled in many lawsuits for fraud and other misconduct that cost sports stars millions in money and career opportunities. Rita Ora and Rihanna are two STD ridden prostitutes, who frequently snort cocaine and get drunk. It's only a matter of time before the full truth comes out.
Jay Z sexually pimped out Rihanna to Antonio L.A. Reid, Madonna, Kanye West, Drake, Justin Timberlake, TI, ASAP Rocky, J Cole, Leonardo DiCaprio, Lebron James, Floyd Mayweather, Adrien Broner, Lewis Hamilton, Benzema, Matt Barnes, Andrew Bynum, Rashard Lewis, JR Smith, Darren McFadden and James Young, among others.
Jay Z sexually pimped out Rita Ora to LA Reid, Madonna, Anthony Joshua, David Haye, Gerard Butler, Bruno Mars, Rob Kardashian, Jonah Hill, ASAP Rocky, Drake, Evan Ross, Dave Gardner, Justin Bieber, Lewis Hamilton, Travis Barker and Wiz Khalifa, among others.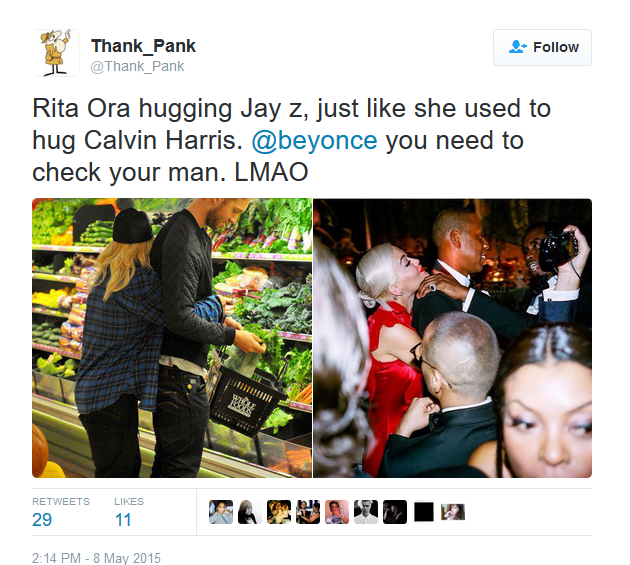 People on Twitter became offended at the manner in which Rita Ora was intimately hugging married rapper Jay Z (right) in the same manner she would romantically embrace her ex-boyfriend Calvin Harris (left)

I know for a fact this has been happening. One songwriter blabbed that Jay Z has frequently stated things to Rihanna and Rita Ora such as, "Go have sex with him, he will give you a song" regarding various men in the industry.

Adrien Broner spoke about Jay Z sexually pimping Rihanna out.

Music producer Dallas Austin previously labeled the practice "f**ing for tracks."

Jay Z is doing the same regarding sending Rita Ora and Rihanna to entertainment industry executives for work and career favors and to athletes he wants signed to Roc Nation Sports. Rita Ora and Rihanna are knowingly and consensually doing these things for intellectual property (songs, videos), movie roles, money, television spots and other promotional favors.

Let's be clear, under U.S. and U.K. law it is a criminal offense to trade sex for money/assets/intellectual property or career favors of financial value. It is illegal to use sex as an inducement to get someone to sign a contract where money will be made and or exchanged. It is called prostitution.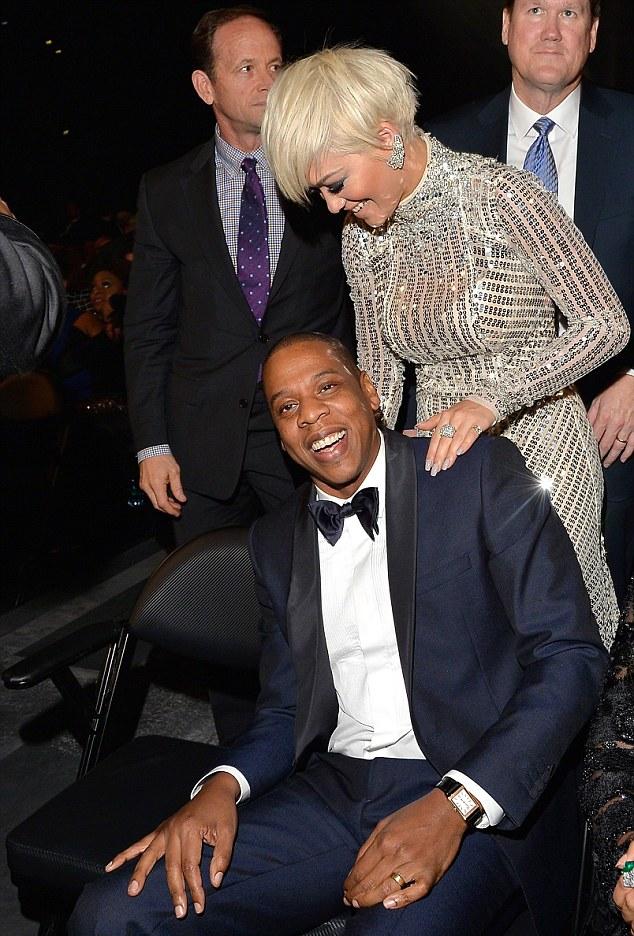 Jay Z and Rita Ora
Furthermore, they know Jay Z steals copyrighted songs, music videos, photos and fashion lines, which the two have also slapped their names on as owners/writers in acts of fraud, criminal copyright infringement, collusion, conversion and RICO violations. These criminal acts constitute massive felonies.
Governments have been secretly knocking down people involved in the Kabbalah cult, a sick sect which bills itself "the Hollywood Illuminati." They have been leaking items to the press and asking people to turn/flip on them, which has so far brought down Harvey Weinstein, Antonio 'LA' Reid, Brett Ratner, Russell Simmons, Kevin Spacey and Bryan Singer, among others. It is a part of why Madonna fled America for Portugal, which has no extradition treaty with America.
Jay Z and company are some of the worst behaving members of that cult. It's only a matter of time before they take down Jay Z and those in his circle as well. Something bad is coming, but they're too stupid to see it and continue to engage in unlawful behavior.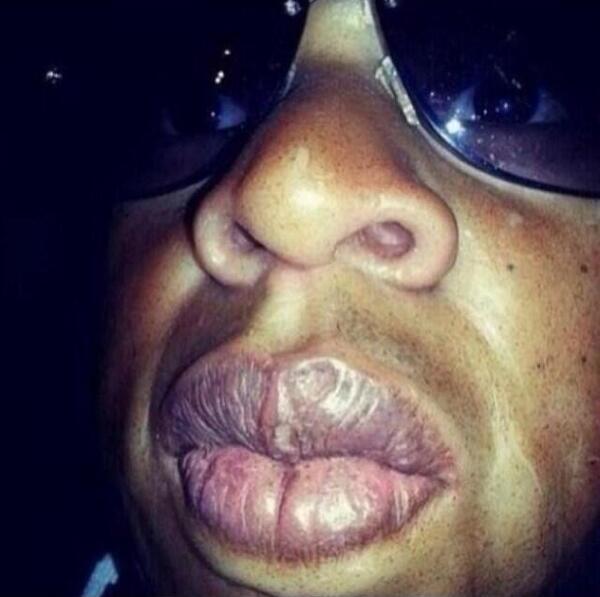 Jay Z said he's cute (LOL)
I stated previously on the site that the public, especially up and coming stars, newly established ones and those not involved in the cult in America, Britain and other nations, need to stay away from that sick sect and its members (Madonna and company are still actively recruiting in America, Britain, France, Portugal and the Caribbean, among other places). Trouble is coming and members of that sect are going to prison. Don't get caught up in that and lose your freedom and fortune (and taking your family down with you). Stay away from that cult.
One of the worst things regarding what is transpiring is dirty, foul, vile looking Jay Z knows these famous men are married or in relationships, but because the scumbag is so greedy for money, he has repeatedly sent those two whores, Rihanna and Rita Ora, after unavailable men, damaging and destroying people's relationships. In one case it resulted in a divorce.
That evil came back to Jay Z in his own marriage, when the public turned on him after he was exposed for cheating on his wife Beyonce with Rihanna, Rita Ora and a host of other women such as Blu Cantrell, Rachel Roy, Vashti Kola, Bridget Kelly, Amber Rose, Casey Cohen and Miss Belgium Claudia Sheelen, among others.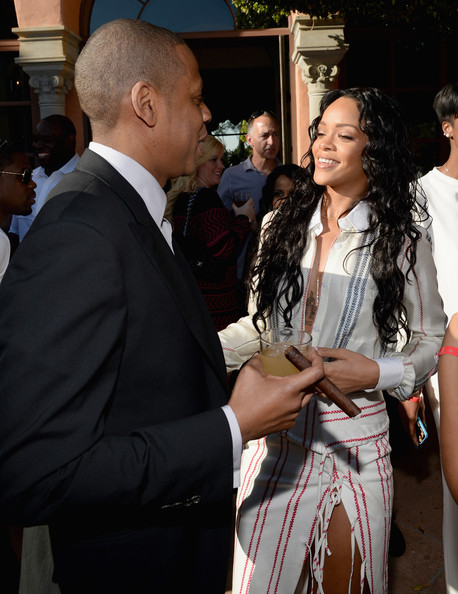 Jay Z and Rihanna
The ensuing bad publicity caused Jay Z's album "4:44" and its concert tour to completely flop (Jay Z Threatens To Sue Music Site Over Accurate Claim His Concert Tour Is Flopping With Canceled Dates And Deeply Discounted Tickets). People are also slamming Jay Z on the internet everyday as "ugly" and "too ugly to cheat" (Jay Z Said He Can't Be Ugly And Is Cute Because He's A Billionaire But Social Networking Still Says He's Ugly).
Rihanna and Rita Ora have also hit sales declines in the fallout of their thieving and whorish behavior. Ora's sales are about to skid even further with her stupid behavior regarding McGregor, as people are ripping her apart online for it. News flash: if you don't sell enough, record labels drop you.
Look at rapper TI. Since cheating on his wife Tiny and showing off about his disgraceful behavior, his career is in the toilet (TI Has Lingerie Parties While Separated From His Long Suffering Wife Who Is Struggling To Raise Their Seven Kids). Public support has dried up regarding TI. McGregor needs to be mindful of that as well.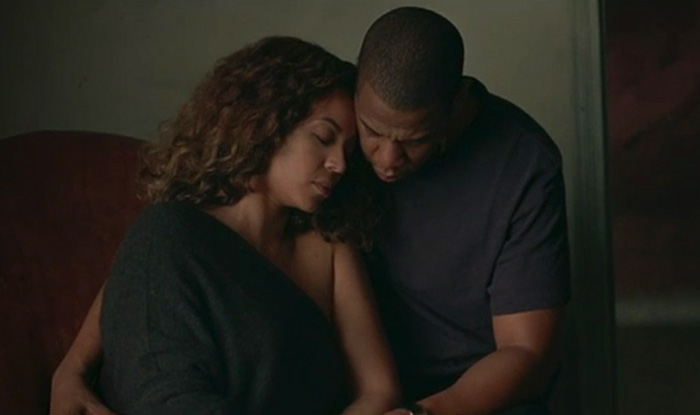 Jay Z and Beyonce
For years, I've stated it many times on this site, not all publicity is good publicity. I was proven correct in the case of Harvey Weinstein, who I warned about many months before the scandal broke regarding him in October (Harvey Weinstein's Fall From Grace As Sexual Harassment And Charity Fraud Claims Surface). Weinstein received terrible publicity from this site, read by millions around the world. Then, the New York Times and New Yorker magazine, read by tens of millions around the world, unleashed a massive amount of bad publicity on Weinstein via excruciatingly exquisite exposés.
All the bad publicity Weinstein is getting as a result of it, has ruined him. Weinstein is going broke from the scandal, it's gotten him sued by scores of women and industry personnel, he will face asset/money seizures if he doesn't pay up in civil and criminal cases, it has cost him his company, he has been kicked out of everything he has ever joined, honors are being revoked and he is firmly planted at the center of criminal investigations in two nations. All because he couldn't keep his penis in his pants, believing he was some invincible giant in a cult who can do whatever he wants, no matter who it hurts.
I repeat, not all publicity is good publicity. There are some types of publicity that can ruin your career and life. Watch your step!
TWEETS ON TWITTER SLAMMING RITA ORA AND CONOR MCGREGOR: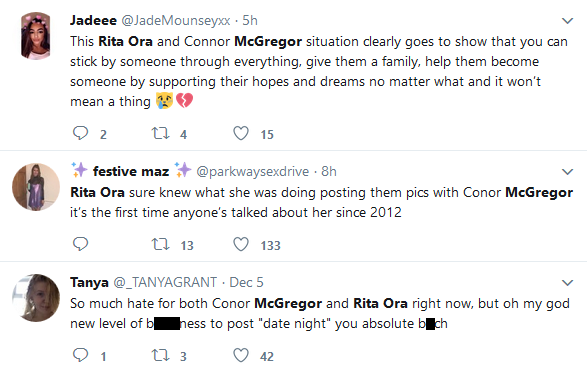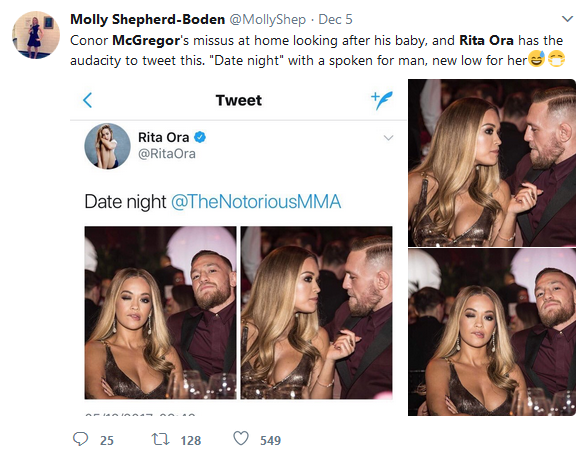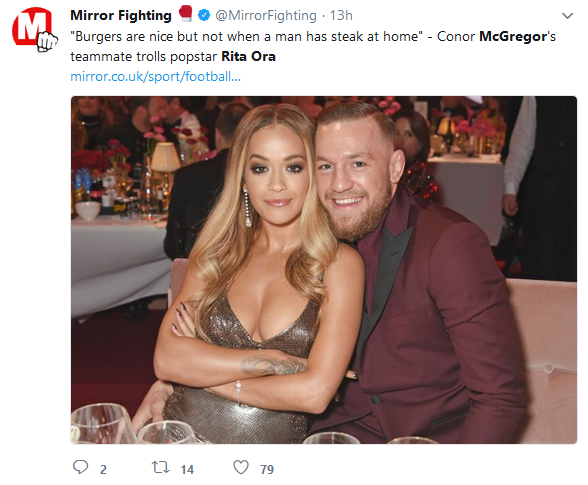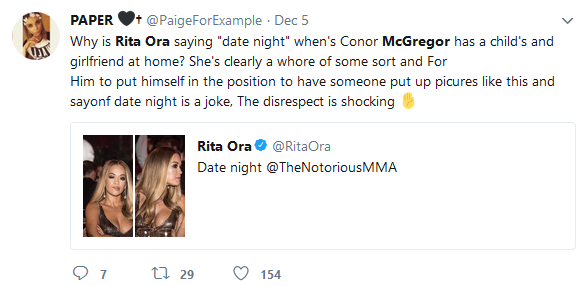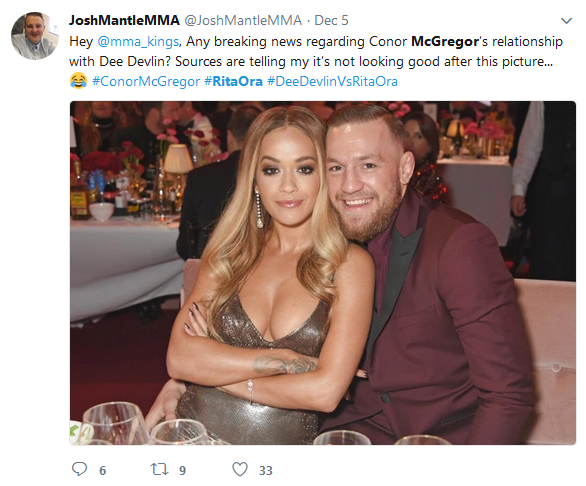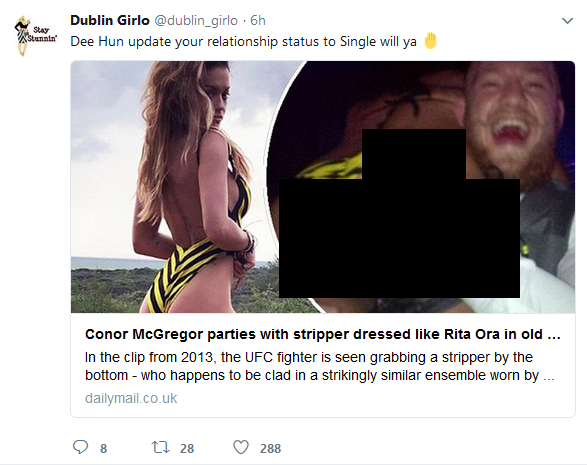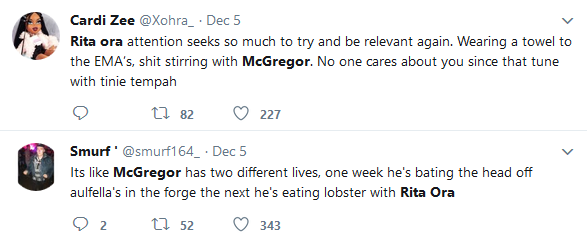 RELATED READING
Who is Conor McGregor's girlfriend? Meet Dee Devlin who has supported star from days of ''absolutely nothing''
12:45, 5 DEC 2017 - McGregor says he owes his partner of nine years everything after his rise from the streets of Dublin - here's more information on the power couple
"My girlfriend worked very hard throughout the years and stuck by me when I had essentially absolutely nothing. I only had a dream that I was telling her. For me to be able to take her out of work, give her everything she's ever wanted and to travel the world with her fills me with pride. It keeps me going."
6. Devlin always knew The Notorious would be a success
When asked about what she thought about McGregor's success, Dee said it was only a matter of time before her partner reached the next level. She added: "He's always been super confident, we always knew this was going to happen - it was nearly like we were predicting the future. "It's weird for me to say but we just always knew he was going to get to this level and every few months it just keeps going and going and going and the sky is the limit."
7. The loved-up pair work together
To support Conor on the road, Dee quit her job to be able to travel more. He hired her on as an official member of his team, where she currently manages his finances.
On his girlfriend's new job, McGregor said: "She does not work anymore, I hired her to the business. She works for me now and collects the cheques."
The pair are sharp dressers.
She also helps the 29-year-old fighter train. Devlin posted a picture on Twitter of the star training in Vegas. She captioned the photo: "1am in Vegas and The Notorious is climbing ropes and pushing prowlers in a carpark!"
8. McGregor says he owes her his success
The UFC lightweight said his career would likely have turned out very differently if it wasn't for Devlin. The fighter gushed: "My girlfriend has been there since the start. She has helped me throughout this career. "If It wasn't for her, I probably wouldn't be where I am today." In 2013, McGregor said that he 'one hundred per cent' agrees that behind every great man is a greater woman. Speaking to VIP Magazine, he said: "Everyday since I started in this game, she's supported me. "She'd drive me to the gym, and she'd listen to all my dreams. I wouldn't be doing this if it wasn't for her. "I'm doing all this for her."
RELATED ARTICLES
Rachel Roy's Emails Hacked As People Try To Find Out If She Is Cheating With Beyonce's Husband Jay Z While Rita Ora's Cousin Makes Statement That Causes Adultery Claims About The Rapper To Worsen
Madonna's Rabbi Yehuda Berg Sued For Sexual Assault And Threatening To Beat And Kill Student At The Kabbalah Center For Not Having Sex With Him
Hollywood Illuminati Has Engaged In Sex With Underage Teen Stars (Britney Spears, Lindsay Lohan And Rihanna)
Rihanna's Career In Freefall As Album Flops, Grammy Appearance Was Cancelled And Tour Postponed
Kabbalah Rabbi That Extracted $100,000 From Lebron James Thrown In Jail For Bribery
Boxer David Haye's Wife Files For Divorce After Cheating Incidents (Rita Ora)
Rihanna's New Album 'Anti' Officially Flops Selling Only 460 Copies
Rita Ora Bragging About Cheating With Jay Z Is A Dumb Move
Jay Z Is A Pimp (Rihanna And Rita Ora)