Beyonce And Her Mother Slammed Over Instagram Post
December 20. 2017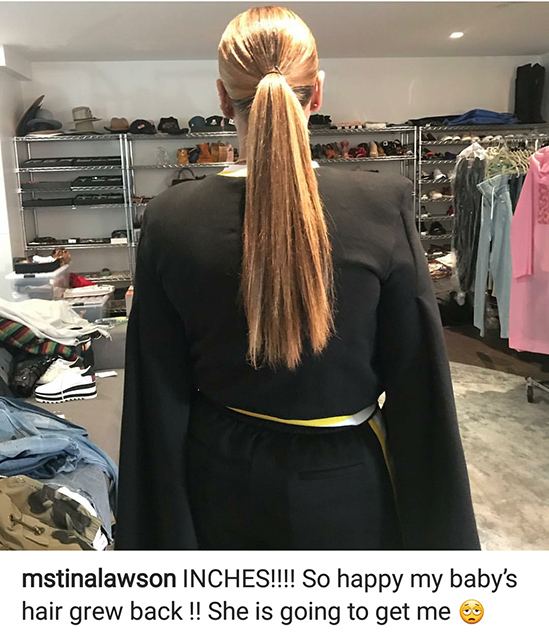 R&B singer Beyonce and her mother Tina Knowles are being slammed on social networking as frauds. Knowles posted a photo of her daughter on Instagram stating she is so happy her daughter's hair grew back. However, the photo is of Beyonce wearing long hair extensions. The bulk at the top of Beyonce's head is a dead giveaway that she is wearing extensions. Beyonce's hair is short and thin, from years of poor care and harassment. The hair at the edges of her face is thinning and broken, revealing its true state.
She constantly wears tight ponytails and braids, which leads to traction alopecia (hair loss and bald spots). Beyonce also wears many lacefront wigs, which she tosses, flings, pulls and spins all over the place, while it is firmly attached to her head, further damaging her own hair from the unnecessary movement. Constantly wearing wigs does not allow the scalp much time to get air or be free from hauling, pulling, harassment and friction. Beyonce also repeatedly bleaches her hair blonde and then darkens it, in a damaging cycle, creating further damage.
Previously, Beyonce was slammed for doing Loreal hair commercials, while wearing long hair extensions and weaves. There is nothing wrong with wearing wigs and hair extensions or coloring one's hair, provided they do not create damage. However, it is deceitful and criminal in some nations to wear wigs, weaves and extensions, then do hair commercials, as it is branded false advertising.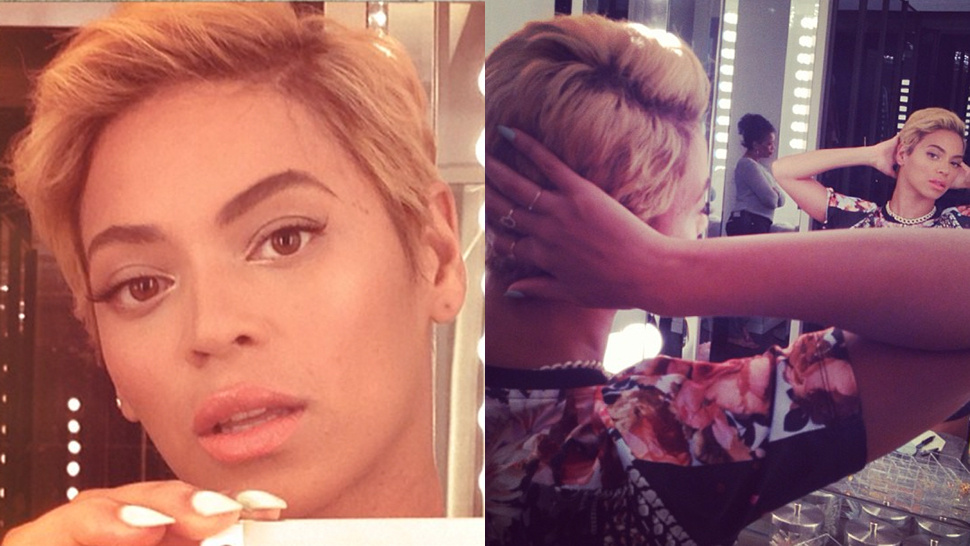 A picture of Beyonce's thinning, damaged hair. The smoother, straw texture and thickness of the hair in the picture posted on Instagram by Beyonce's mother is not the same as the two pictures posted after Beyonce's haircut, the latter having revealed her true hair, which is of a kinky texture. Furthermore, hair does not grow at that rate for it to be Beyonce's hair in the new photo posted on Instagram.
It's also ironic that Beyonce is pushing the "black power" movement but won't wear her own natural, kinky, raven colored hair, but instead chooses to appropriate white people's hair in the form of relaxers, blowouts, European wigs, euro extensions and Aryan hair colors. Beyonce's mother behaves the same way regarding her own hair. They are clearly black women. No one would mistake them for white or mixed. Yet, to go to such extremes in trying to look white, while pushing "black power" is ironic.
People on social networking have been slamming the family for constantly lying about everything from Beyonce's age to songwriting credits (she is a chronic copyright infringer having stolen millions of dollars worth of copyrights which is a felony) to her first pregnancy, where she wore a prosthetic belly that creased and folded during a television interview, revealing it was fake. That family is crazy to lie about everything the way they do.
Knowles is also being slammed over butt enhancement surgery she recently underwent that looks fake. People online are commenting that her butt now looks unnatural and like a donkey. A commenter on the Sandra Rose blog, Olga Summer, stated regarding Beyonce, "At this stage in the game we ALL KNOW she's a fraud...in every way!! Music, fashion, deflating belly...I mean the freakin list goes on...why are we the people still questioning the authenticity of ANYTHING she says or does???" Another commenter, MsChocCookie, stated of Beyonce, "Tell Bey to give that horse back it's hair, and the Donkey back it's a*s!!!"
STORY SOURCE
Beyonce's Mom Tina TROLLS Instagram Users with Photo of Beyonce's Hair EXTENSIONS
Monday, December 18, 2017 - The debate still rages over an image of Beyonce posted by her mother Tina Lawson, who at 66 can troll with the best of 'em! Ms. Tina captioned an Instagram photo of Beyonce standing in a bedroom-sized closet: "INCHES!!!! So happy my baby's hair grew back !! She is going to get me." The debate rages on as social media users divide into two camps: those who know real hair when we see it and those who are blind and can't see that her ponytail is hair extensions.
Here's a picture of Beyonce's weak ponytail from a few years ago. As you can see, Beyonce's hair has never been as thick as the hair in Tina's photo, which is clearly hair extensions. The debate is OVER. Loyal reader NeverSurprised said it best yesterday: "What do you expect? The woman's "pregnant" belly FOLDED OVER in front of everyone's eyes, and people STILL believe she gave birth. That should tell you the extent to which "groupthink" now rules the masses."...
RELATED ARTICLES
Rita Ora Ripped To Shreds On Social Networking For Referring To Conor McGregor As Her Date Despite The Fact He Has A Longterm Girlfriend And New Son At Home (Jay Z Pimping Her Out Again For His Roc Nation Sports)
Madonna, Jay Z, Beyonce, Rihanna, Rita Ora And Jessie J Sued Over Copyright Infringement, Invasion Of Privacy, Commissioned Criminal Harassment And Assault Via The Kabbalah Center
Kanye West Handcuffed And Involuntarily Committed To Psych Ward After Truthfully Stating Jay Z Has Killers And Slamming Hillary Clinton In Favor Of Donald Trump
Jay Z Lied About Loaning Kanye West $20,000,000 And Continues To Give Artists And Athletes Very Bad Advice That Is Causing Trouble
Madonna's Criminal Conduct At The BBC In Britain Has Nasty Racist Slavery Connotations To It (Anthony Joshua, Daniel Kaluuya)
Three More Women Accuse Music Executive Russell Simmons Of Rape