Trump Administration Forces Out 46 U.S. Attorneys Over Former President Barack Obama Trying To Overthrow His Government Via Illegal Leaks And Sabotage
March 14. 2017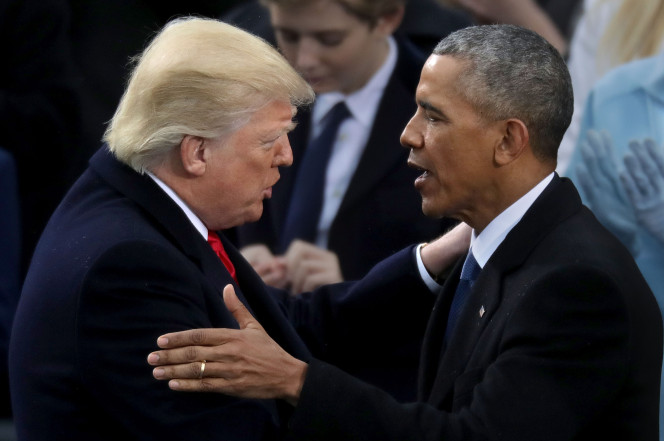 Donald Trump and Barack Obama
Former American president, Barack Obama, has just cost 46 U.S. Attorneys their jobs, over his undignified and illegal refusal to let go of the presidency. Newly elected president, Donald Trump, fed up with Obama alarmingly trying to run the White House in an undignified manner from down the street in a rented house, forced out the attorneys, ordering them to resign or be fired. The 46 attorneys have obstinately been laboring at their posts under Obama's agenda and not the directive's of the new president. A president is within their right to clean house.
There have been well-publicized leaks and acts of sabotage in attempts at driving Trump out of the White House after only 2-months on the job, in maneuvers orchestrated and directed by Obama and carried out by members of his former administration, who are still at their posts. Trump's team has decided to clean house, as under the U.S. Code, the behavior from Obama stalwarts can be categorized as seditious and treasonous, in what is unquestionably a federal offense.
It is not uncommon for new heads of state to send formal dismissal letters to existing staff members from previous governments, as it is internationally done after many elections. Some do not even wait 2-months as Trump has done. They immediately inform employees from the previous government their posts need to be vacated. The newly elected head of state appoints people who share the same political vision. It's great when people from a former administration can remain at their posts, but most politicians around the world label it a risk and act accordingly in issuing dismissals.
STORY SOURCE
Trump team ousts Obama-appointed U.S. attorneys
The president had previously asked Preet Bharara, the U.S. attorney in New York, to stay on.
03/10/17 04:50 PM EST Updated 03/10/17 10:52 PM EST - President Donald Trump's administration asked remaining U.S. attorneys appointed by President Barack Obama to offer their resignations Friday, a seemingly abrupt move that surprised many—including the officeholders asked to leave.
At the top of that list was Preet Bharara, who oversees the powerful Manhattan office, which is known for handling high-profile Wall Street and terrorism cases. But as of Saturday afternoon, Bharara had not resigned "and is waiting for the phone to ring," said a source familiar with his thinking. In November, Bharara met with the president-elect at Trump Tower and then held a press conference in the lobby to say that he would continue to serve the new administration.
People in the White House, however, said the dismissals had been discussed for weeks. "Been in the works for awhile. Decided to pull the trigger today," said one senior administration official. "We were always planning for it on about Day 50," this person said. The removal of U.S. attorneys has been politically fraught for years, with the midterm dismissal of eight chief federal prosecutors in December 2006 causing a firestorm that ultimately led to the resignation of Attorney General Alberto Gonzales...
RELATED ARTICLES
Wikileaks Releases Hacked U.S. Federal Government Documents Showing The CIA And FBI Are Spying On People In Their Homes Via Hacking Smart TVs And Backdoors In Computer And Phone Operating Systems
Obama Administration Wastes Huge Sums Of American Taxpayer Money Breaking The Law In America, Britain And Jamaica On Behalf Of Madonna's Kabbalah Center In Committing Egregious Human Rights Abuses
Political Advisor Valerie Jarrett Moves Into Barack Obama's New Mansion While They Attempt To Overthrow Government In The Form Of President Donald Trump
President Donald Trump Accuses Former President Barack Obama Of Illegally Wiretapping Him During 2016 Presidential Election
Journalists State Barack Obama Is Actively Trying To Undermine, Sabotage And Destroy Donald Trump's Presidency