Political Advisor Valerie Jarrett Moves Into Barack Obama's New Mansion While They Attempt To Overthrow Government In The Form Of President Donald Trump
May 3. 2017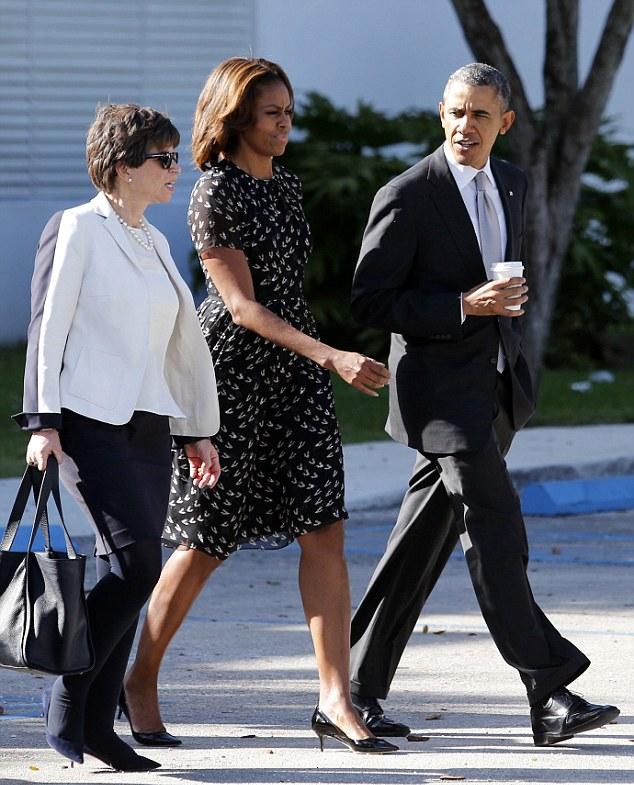 Left to right: Valerie Jarrett, former First Lady, Michelle Obama and former President, Barack Obama. I know Michelle Obama is not happy with this sister-wives mess regarding Valerie Jarrett moving into their new rented home.
The Daily Mail has published an article stating, Valerie Jarrett, advisor to former U.S. President, Barack Obama, has moved into his new rented mansion, located just down the street from the White House. Obama was of the belief failed presidential candidate Hillary Clinton would be elected and as such rented a home from a Clinton advisor that is minutes from the White House, to unlawfully undertake a third term in office.
The election brought a nasty surprise for Obama and company. Obama was shocked and angered when Clinton rival, Donald Trump, became President of the United States. Obama resentfully met with Trump at the White House days after his win, greeting him with expressions of anger, disdain and disbelief.
Obama has been doing everything he can to undermine and sabotage Trump's presidency (Journalists State Barack Obama Is Actively Trying To Undermine, Sabotage And Destroy Donald Trump's Presidency). Iranian born, Jarrett, has now moved into Obama's home to help him overthrow Trump. Jarrett's daughter has also been hired by the CNN network to release as much disinformation and "fake news" on Trump as possible to get him impeached and the government he chose overthrown.
Under U.S. law, sedition is a very serious crime, punishable by imprisonment (18 U.S. Code Chapter 115 - Treason, Sedition, And Subversive Activities). In light of the fact there is more than one individual involved in said criminal conduct, it also constitutes conspiracy, which is another felony. If the average American or foreigner tried what Obama and company are doing, they would be sent to prison for at least 20-years.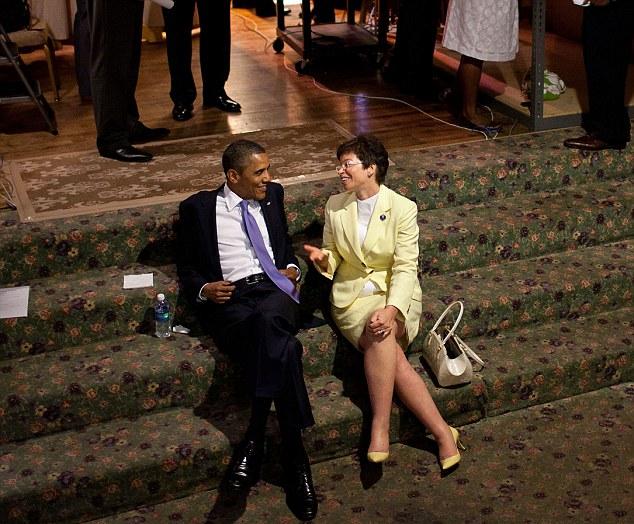 Barack Obama and Valerie Jarrett (why are they staring at each other in a romantic way)
It's ironic, when Obama was in office, he would unlawfully send the FBI, CIA and Secret Service to harass, threaten, terrorize and abuse anyone who publicly disagreed with him being president or his political policies. Now that Trump is in office Obama is unlawfully trying to overthrow the president/government. No U.S. president has ever done such an insane thing nor attempted to irrationally cling to the presidency after their term was over, to such alarming degrees. Get a hold of yourselves. This is completely criminal and unorthodox.
Obama and company have become completely unhinged to be engaging in this unlawful, anarchist behavior. They're acting like a bunch of madpeople. It is due to this type of unbalance behavior that former Federal Reserve Chairman Alan Greenspan called Obama and company "the crazies" (Former Federal Reserve Chairman Alan Greenspan Sends Out Dire Warning About Obama Administration 'Crazies' Spending America Into Bankruptcy).
Their behavior is so desperate, undignified and embarrassing. Obama's time in office is over. They need to accept that and move on before they destabilize and collapse the United States in this crazy tug of war with the new, duly elected head of state. Financial markets do not like this type of uncertainty, disorder and chaos. America will pay the financial price for what Obama is doing if it goes much further.
Just like Obama had his time in office, it is now Trump's time. After Trump, the next duly elected president will have his time in office. That is the order of succession in a civilized democracy. Obama and company have detached from reality and clearly think they are living in some movie, where they sweep in and overthrow the government. They need to stop acting like "the crazies" trying to overthrow a lawfully elected government, as it is not cool or cute. It is criminal and corrupt.
STORY SOURCE
EXCLUSIVE: Barack Obama's close confidante Valerie Jarrett has moved into his new DC home, which is now the nerve center for their plan to mastermind the insurgency against President Trump
Published: 15:12 EST, 1 March 2017 | Updated: 19:17 EST, 1 March 2017 - Barack Obama is turning his new home in the posh Kalorama section of the nation's capital - just two miles away from the White House - into the nerve center of the mounting insurgency against his successor, President Donald J. Trump. Obama's goal, according to a close family friend, is to oust Trump from the presidency either by forcing his resignation or through his impeachment.
And Obama is being aided in his political crusade by his longtime consigliere, Valerie Jarrett, who has moved into the 8,200-square-foot, $5.3-million Kaloroma mansion with the former president and Michelle Obama, long time best friends. Jarrett played a vital - if at times low-key - role in the Obama presidency. She lived in the White House, dined with the Obamas, and help shape his domestic and foreign policies.
Barack Obama is turning his new home in the posh Kalorama neughborhood into the nerve center of the mounting insurgency against his successor, President Donald J. Trump with Valerie Jarrett by his side. Obama is being aided in his political crusade by his longtime consigliere Jarrett, who has moved into the 8,200-square-foot, $5.3-million Kaloroma mansion.
Obama is being aided in his political crusade by his longtime consigliere Jarrett, who has moved into the 8,200-square-foot, $5.3-million Kaloroma mansion. The former president has set up an office on the West End of the national's capitol, where he recently hosted an open house for his White House staff - including Joe Biden, Susan Rice, Josh Earnest and Jarrett.
But the office, part of his post presidency perks, cannot be used for political purposes. The rent on his home is paid by him personally. On Tuesday, former Attorney General Eric Holder revealed that Obama is indeed getting closer to making his public reappearance in politics. 'It's coming. He's coming,' Holder said speaking to reporters. 'And he's ready to roll.'
FBI FILES: Valerie Jarrett's Family Was A Bunch Of Communists
9:37 AM 06/25/2015 - Valerie Jarrett's father, maternal grandfather and father-in-law were dedicated communists under prolonged investigation by the Federal Bureau of Investigation, according to FBI files obtained by Judicial Watch. Jarrett is a trusted senior adviser to President Barack Obama.
Jarrett's father was James Bowman, a medical doctor who specialized in pathology, genetics and hematology. He also served as a professor at the Pritzker School of Medicine at the University of Chicago. He died in 2011. An extensive FBI dossier obtained by Judicial Watch shows that Bowman belonged to the Association of Internes and Medical Students, an organization which "has long been a faithful follower of the Communist Party line," then-contemporary FBI files indicate.
The FBI also found that Jarrett's father communicated with Alfred Stern, a scion of wealth and suspected spy for the Soviet Union who was indicted absentia on espionage charges in 1957. According to the charges, he and his wife Martha Dodd Stern, the daughter of a U.S. ambassador to Germany, transmitted military, commercial and industrial information to the Soviet Union.
In response to the federal investigation, the Sterns fled to Mexico in 1953, then communist Czechoslovakia, then communist Cuba, then, finally, back to communist Czechoslovakia. In Prague, Stern worked for the communist government's housing ministry. He died in 1986. Jarrett's father also spent time in Iran working after his discharge from the Army Medical Corps in 1955, FBI records reveal. (At the time, Iran was led by a government supported by the United States and Great Britain.) Jarrett was born in Shiraz, Iran in 1956...
CNN assigns Valerie Jarrett's daughter to cover Trump's Justice Dept.
Jan 19, 2017 6:03 pm - If CNN was hoping to get on President-elect Donald Trump's good side, one of the network's recent personnel moves is certainly not the way to do it. CNN has assigned Laura Jarrett, the daughter of one of President Barack Obama's closest advisers, Valerie Jarrett, to cover the Trump Justice Department, the cable outlet announced in a press release Wednesday. The New York Post reported that, though Jarrett's beat is new, she was actually quietly hired by the network in September.
With no experience in journalism, her qualification for the post is apparently the fact that she is a Harvard-educated lawyer who, according to her CNN bio, has defended "companies and individuals in government investigations brought by the Justice Department." Despite her lack of journalism experience, some might find Jarrett's close ties to Obama (who attended her wedding) and the Democratic Party through her mother to be somewhat off-putting, even if they don't impede on her ability to report on Trump's administration objectively.
Valerie Jarrett didn't take it so well when Trump won the presidency. In fact, she took it like "a punch in the stomach." "Obviously, we were surprised by the outcome of the election. It kind of was like a — I'm not sure what the right analogy would be — but like a punch in the stomach, let's say. Soul-crushing might be another description," she said in December. "But that's the democracy that we have: The people get to decide and the elections matter and we have to get about the business of doing our job."...