Rupert Murdoch Executive Admitted To Bribing The Metropolitan Police (Video)
July 13. 2011
A defiant and arrogant Rebekah Brooks, appeared before a British government committee in 2003, regarding bribing Metropolitan Police officers, for protected information on members of the public, to use for publication in News International newspapers, owned by Rupert Murdoch's News Corp.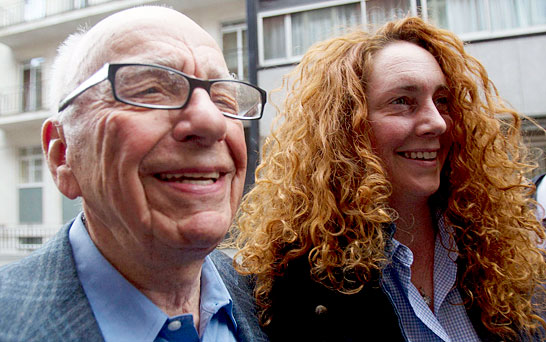 Rupert Murdoch and Rebekah Brooks smiling in London last week, showing no remorse for illegally wiretapping and hacking 9,000 home and mobile phone lines, then printing the details of the illegal surveillance in the newspapers and broadcasting it on TV. Lock them up!
At Brooks' side in the video, was News Corp employee, Andy Coulson, who quit his job in 2010, to work with newly elected Prime Minister, David Cameron. It was Rupert Murdoch's attempt to corruptly control the British government, as he had criminally invaded the privacy of Cameron's predecessor, Gordon Brown. Coulson was recently booted from his post as Communications Chief to Cameron and arrested as apart of the ongoing phone hacking scandal.
RELATED ARTICLES
Rebekah Brooks Played Sex Games In The Office With Rupert Murdoch
Rupert Murdoch Is Protecting Rebekah Brooks Because She Could Bring Him Down
Rupert Murdoch's News Corp In Trouble As More Employees Are Arrested And News Of The World Closes
The FBI Corruptly Granted "Sovereign Immunity" In The Aisha v. FBI Case
Rupert Murdoch Hypocritically Launches Whistleblower Site
Rupert Murdoch Finally Admits His Company's Phone Hacking And Wiretapping Crimes
Madonna's Connection To Phone Hacking And Wiretapping Scandal
Rupert Murdoch Compromised National Security With Illegal Phone Hacking And Wiretapping
iPhone Tracking Scandal Gives Insight To Rupert Murdoch Phone Hacking And Wiretapping
Rupert Murdoch Has Proven He Cannot Be Trusted
Another Rupert Murdoch Journalist Arrested For Wiretapping And Hacking
Has Rupert Murdoch Ever Spied On A World Government For Another
Report: Rupert Murdoch Blackmailed The British Prime Minister
Mr. Murdoch, Your Viagra Prescription Is Ready
London Mayor Urges Newspapers To Come Forward In Phone Hacking And Wiretapping Scandal
Phone Hacking And Wiretapping Scandal Runs Way Deeper Than They Are Admitting
Newsweek Outs Madonna As The Criminal Behind Kabbalah