Privacy Invader Rebekah Brooks Resigns From Rupert Murdoch's News Company
July 15. 2011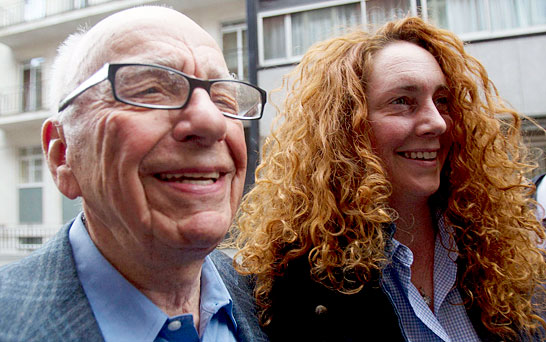 Two Peas Pervs In A Pod - Rupert Murdoch and Rebekah Brooks
News International executive and former editor, Rebekah Brooks, has resigned from her position within Rupert Murdoch's News Corp. She has been placed under an intense microscope, as it was revealed, a number members of government and innocent citizens, including deceased children, were illegally hacked and wiretapped, during her tenure as editor of News Of The World, which was closed last week.
The scandal ridden newspaper is set to reopen next month as "The Sun On Sunday" testifying to the insincerity and greed of its owner, Rupert Murdoch, in what was undoubtedly a meaningless PR move, executed under a cloud of shame, suspicion and public anger.
Brooks, who clearly does not like being a scandalous story, rather than publishing them, said in a statement today, "Today we are leading the news for the wrong [reasons]. I feel a deep sense of responsibility for the people we have hurt. My desire to remain on the bridge has made me a focal point of debate...This time my resignation has been accepted."
What you did was not news, as you put it. You violated dead children, murdered in horrific ways, for scoops to illegally print in the paper. That's when you weren't destroying marriages by hacking and wiretapping individuals and printing the details of their private lives for all to read. You've caused so many people, so much pain, with a low brow breed of tabloid journalism that does not qualify as writing.

You went around arrogantly threatening government members and entertainers, so confident in police bribery and criminal invasion of privacy, via commissioned hacking and wiretapping. It begs the question, exactly who do you think you are. The same goes for Murdoch, who is possibly one of the haughtiest and greediest businessmen that ever lived.

If justice is to be served, your conduct, that of your colleagues and boss, Murdoch, demands prison sentences and massive fines. While Murdoch is the mastermind behind the terrible criminal mischief that has violated many people's privacy in perverse ways, you knowingly played a part in that scheme, for undue money and influence.
STORY SOURCE
News Corp. executive Rebekah Brooks resigns amid phone-hacking scandal
RELATED ARTICLES
Rebekah Brooks Played Sex Games In The Office With Rupert Murdoch
Rupert Murdoch Is Protecting Rebekah Brooks Because She Could Bring Him Down
Rupert Murdoch Illegally Accessed The Medical Records Of The Prime Minister's Sick Child
Rupert Murdoch's News Corp In Trouble As More Employees Are Arrested And News Of The World Closes
The FBI Corruptly Granted "Sovereign Immunity" In The Aisha v. FBI Case
Rupert Murdoch Hypocritically Launches Whistleblower Site
Rupert Murdoch Finally Admits His Company's Phone Hacking And Wiretapping Crimes
Madonna's Connection To Phone Hacking And Wiretapping Scandal
Rupert Murdoch Compromised National Security With Illegal Phone Hacking And Wiretapping
iPhone Tracking Scandal Gives Insight To Rupert Murdoch Phone Hacking And Wiretapping
Rupert Murdoch Has Proven He Cannot Be Trusted
Another Rupert Murdoch Journalist Arrested For Wiretapping And Hacking
Has Rupert Murdoch Ever Spied On A World Government For Another
Report: Rupert Murdoch Blackmailed The British Prime Minister
Mr. Murdoch, Your Viagra Prescription Is Ready
London Mayor Urges Newspapers To Come Forward In Phone Hacking And Wiretapping Scandal
Phone Hacking And Wiretapping Scandal Runs Way Deeper Than They Are Admitting
Newsweek Outs Madonna As The Criminal Behind Kabbalah