Mariah Carey Blames Everyone But Herself Including Her Dancers For Her Latest Fall From Grace On New Years And Flopped Single 'I Don't'
February 23. 2017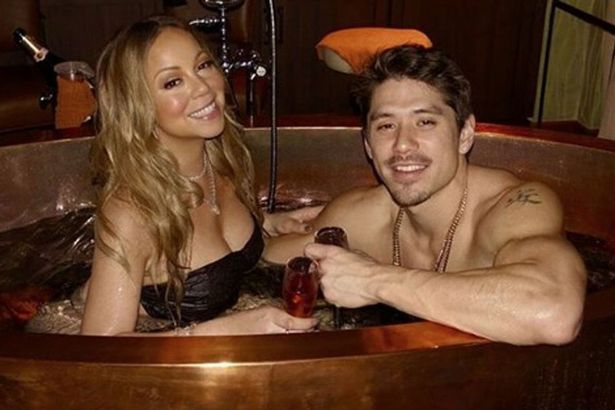 Mariah Carey and her boy toy who is after her money and using her for career advancement in the entertainment industry. Another disaster waiting to happen and Carey will blame everyone but herself.
Despite stating she was taking a break from social media and the press, troubled singer, Mariah Carey, has done another ill-advised interview, blaming everyone but herself for her latest string of woes. Carey's disastrous New Years Eve performance is still fresh on her mind. She sounded off slamming everyone from her backup dancers to Dick Clark Productions, the company who has successfully been behind the New Years Eve special for decades.
Carey's mind is going to greater degrees. She is completely detached from reality. Carey stated, "It's just something where if I can't explain it to the entire world, then they're not going to understand it, because it's not what they do. Just like I wouldn't understand somebody who had a desk job and how to do that. I couldn't. I literally am incapable of being in the real world and surviving."
Carey unreasonably slammed her dancers for her mistakes, "Even the dancers should have stopped dancing and helped me off the f***ing stage. I'm sorry. It was a mess, and I blame everybody, and I blame myself for not leaving after rehearsal." What? They were supposed to be unprofessional and stop dancing, making the problem worse. Why is Carey tethering around on stage in shoes she can't properly walk in, to the point she needs her dancers to help her get off the stage.
Carey also stated she was "humiliated" by the New Years Eve fiasco, "I haven't really addressed the situation that happened on New Year's Eve, and in time I will. But for now, I want everyone to know that I came to New Year's Eve in New York in great spirits and was looking forward to a celebratory moment with the world."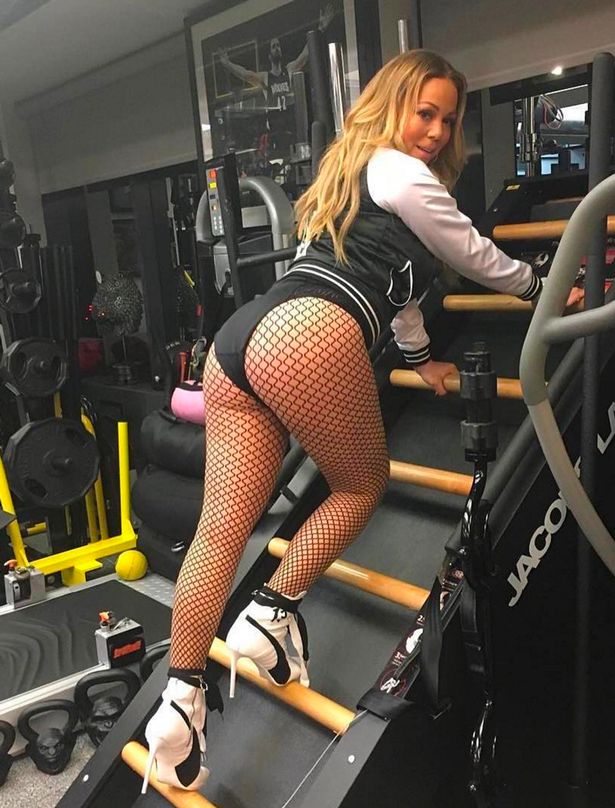 Another photo Mariah Carey should not have taken
Carey further whined, "It's a shame that we were put into the hands of a production team with technical issues who chose to capitalise on circumstances beyond our control. It's not practical for a singer to sing live and be able to hear themselves properly in the middle of Times Square with all the noise, the freezing cold, the smoke from the smoke machines, and thousands of people celebrating, especially when their ear monitors are not working properly. Listen guys, they foiled me, thus it turned into an opportunity to humiliate me and all those who were excited to ring in the New Year with me. Eventually, I will explain this in greater detail than I can give here."
Once again, Carey is blaming Dick Clark Productions for her mess up, but what did they stand to gain from allegedly sabotaging her performance. They have not done so to any other recording artists in the decades they have been producing the show. Carey also skipped the sound check. Therefore, how was that their fault.
Carey has been complaining about being the only artist who has to repeatedly do comebacks. However, every recording artist who has been away for a few years has to do a comeback of some form. It's the standard in the industry. Either way you look at it, Carey's latest comeback, via the song "I Don't" is a flop.
STORY SOURCE
Mariah Carey "blames everybody" for her botched New Year's Eve lip-sync performance
The singer had an epic meltdown in front of millions after a disastrous headline performance
02:12, 22 FEB 2017Updated02:16, 22 FEB 2017 - Mariah Carey has opened up about her disastrous New Year's Eve performance. The singer had an epic meltdown in front of millions after botching her headline performance at America's biggest New Year's party. Speaking about the show, which was cut short after being plagued with technical difficulties, Mariah said she "blames everybody"...
RELATED ARTICLES
Mariah Carey Looks Back On Wedding Dress From Cancelled Engagement With Sadness After Being Dumped By Billionaire James Packer While Her Current Husband Knocks Up Aspiring Star
Mariah Carey Blames Dick Clark Productions For Her Botched Lip Sync Job At New Years Eve Show In Times Square But They Slam Her For Defaming Them (Videos)
Rapper Kanye West Released From Psychiatric Ward As 911 Tapes Reveal His Mental Breakdown Indicative Of Abuses Associated With Kabbalah
Mariah Carey Taking A Break From Social Networking And The Press After New Years Eve Mauling Due To Her Botched Performance
'Mariah's World' A Real Snoozefest Giving Audiences More Of The Same Old Stuff That Puts Mariah Carey In A Bad Light
Mariah Carey Mocked By NBA Basketball Team The San Antonio Spurs Over Botched New Years Eve Show (Video)
Mariah Carey's New Boyfriend Bryan Tanaka Looking For Financial Favors From The Recently Dumped Star
Mariah Carey Lied About Sex With Ex-Fiance James Packer Who Dumped Her
Mariah Carey Sues Promoter Over Concerts She Cancelled In South America
Mariah Carey's Mental Illness Apparent In 'Mariah's World' Reality Show