Mariah Carey Taking A Break From Social Networking And The Press After New Years Eve Mauling Due To Her Botched Performance
January 9. 2017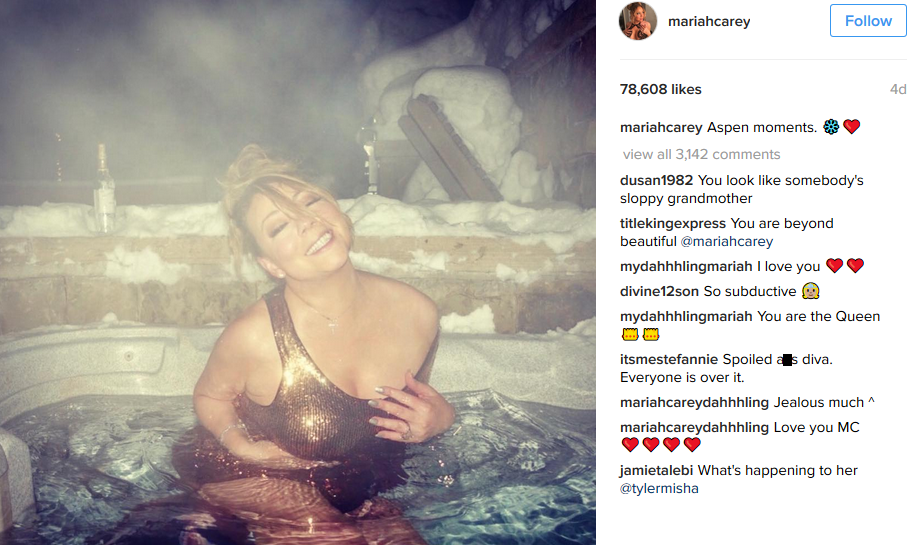 Mariah Carey drunk and high in a hot tub in Aspen, Colorado after disastrous New Years Eve performance
Struggling pop singer Mariah Carey is taking a break from social networking, after being slammed over her televised lip-syncing fiasco on New Years Eve. She was called everything from a fraud to lazy. Some even blamed Carey for running their New Years with her terrible performance from Times Square. It last led to a barrage of insults and jokes at her expense on social networking and in the blogosphere, which has been too much for Carey to bear. 2016 was supposed to be Carey's big comeback and it was a disaster.
Carey stated on Twitter, "I'm gonna take a break from from media moments, social media moments. Although I am going to fulfill my professional obligations, this is an important time for me to finally take a moment for myself and to deal with my loves ones and to prepare for my upcoming tour in March...I can't wait to sing for you again."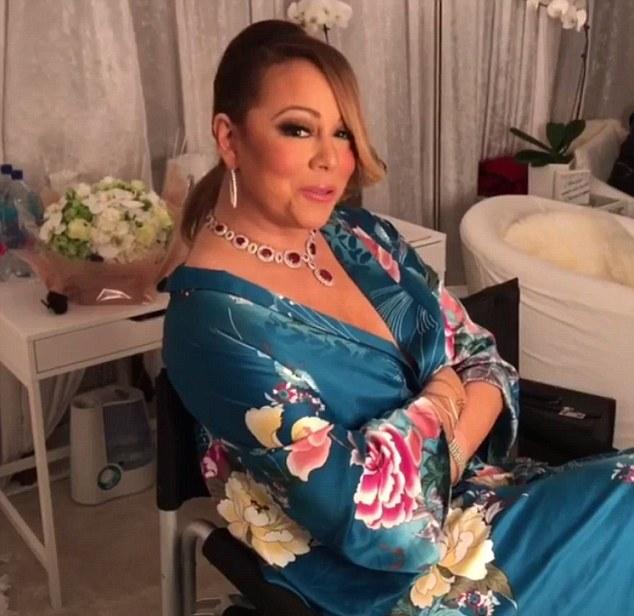 Mariah Carey
Carey is too stubborn. I've been writing on this site that she needs to take a break, as things are not together and up to par in her career. If things reach to that point for any recording artist, they should take a break and reassess the situation. They need to get things together -whether it be vocal lessons, drug/alcohol rehab, a personal trainer and chef, ect. For a recording artist to put out a project when they are not at their best, is to set one's self up for failure.
Carey has unwisely signed on to perform 40 concerts with music legend Lionel Richie. The shows are slated to begin in March 2017. Carey's voice has become very unreliable due to damage and needs a prolonged rest. I've read Carey fan comments on You Tube where they complained they spent their money on concert tickets and her voice was gone on stage. They complained she struggled to sing and the quality of her voice had become quite poor. That's not fair to the fans.
RELATED ARTICLES
Mariah Carey Looks Back On Wedding Dress From Cancelled Engagement With Sadness After Being Dumped By Billionaire James Packer While Her Current Husband Knocks Up Aspiring Star
Mariah Carey Blames Dick Clark Productions For Her Botched Lip Sync Job At New Years Eve Show In Times Square But They Slam Her For Defaming Them (Videos)
Rapper Kanye West Released From Psychiatric Ward As 911 Tapes Reveal His Mental Breakdown Indicative Of Abuses Associated With Kabbalah
'Mariah's World' A Real Snoozefest Giving Audiences More Of The Same Old Stuff That Puts Mariah Carey In A Bad Light
Mariah Carey Mocked By NBA Basketball Team The San Antonio Spurs Over Botched New Years Eve Show (Video)
Mariah Carey Is Fuming Mad That Jennifer Lopez Upstaged Her On New Years Eve And Landed Drake As Well
Mariah Carey's New Boyfriend Bryan Tanaka Looking For Financial Favors From The Recently Dumped Star
Mariah Carey Lied About Sex With Ex-Fiance James Packer Who Dumped Her
Mariah Carey's Mental Illness Apparent In 'Mariah's World' Reality Show