Kim Kardashian Loses Over 100,000 Followers Overnight On Instagram After Candid Cellulite Ridden Paparazzi Pic On The Beach Destroys Her Image
It Is Not Regular Cellulite
May 1. 2017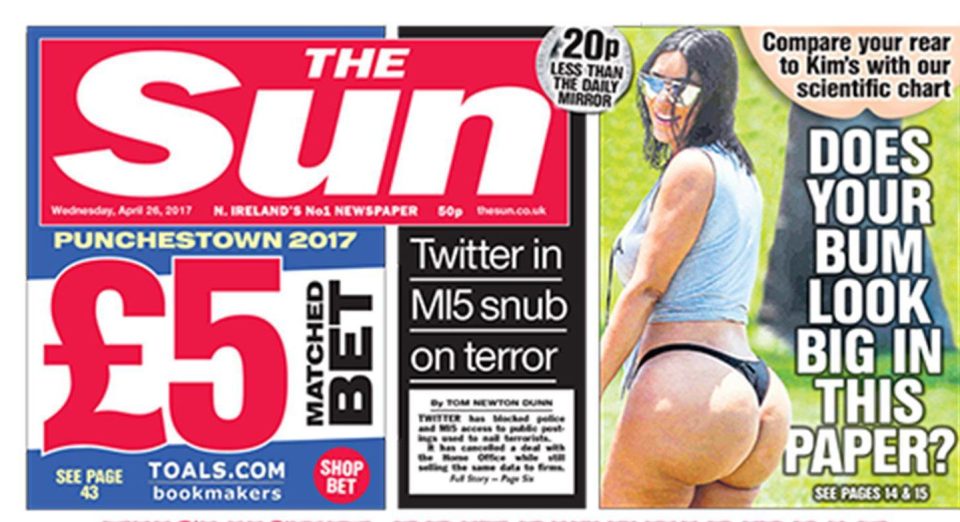 A slightly retouched version of one of the unvarnished photos of Kim Kardashian's surgery altered butt
"Keeping Up With The Kardashians" reality star and mother of two, Kim Kardashian, saw a big dip in her social networking numbers, as over 100,000 people unfollowed her on Instagram.com, due to a set of unflattering, non-airbrushed paparazzi photos of her butt. Kardashian is only known for her large, round butt. Therefore, this is a very damaging career development for the famous-for-doing-nothing celebrity.
Kardashian was on vacation and wearing a thong. The secret paparazzi snaps, taken by vile AKM/GSI, were terrible and exposed the true state of her butt to fans. Kardashian's butt was completely lumpy, discolored and misshapen in the photos. It looked unreal, but not in a flattering way.
This is ironic, as Kardashian is thin, works out on a regular basis and tries to eat properly. However, Kardashian's butt looks unflattering now because she had plastic surgery procedures to inflate and augment her backside, which gave it an uncharacteristically round shape. A natural butt would not look like that after giving birth to two babies. However, an artificial one would have the very unflattering look Kardashian is sporting.
It's not a matter of age or motherhood changing the body in this case. Kim Kardashian is younger than Halle Berry, Jennifer Lopez and Christie Brinkley, but their butts look way better, as they are natural and in shape. Kardashian has tampered with her butt via plastic surgery procedures that left it lumpy, due to foreign substances shifting during weight gain in pregnancy.
It is going to be difficult for a surgeon to smooth out the lumps. A surgeon can attempt to stretch, smooth out and firm up the skin, but in doing so with the flesh underneath having shifted and created pockets/crevasses, it may require fillers or Botox to fill in the lumpy spots. And based on Botox users' statements, it is not a painless procedure.
Women should be careful regarding tampering with their butts in trying to inflate them and make said posterior rounder. Some have died from doing so, while others have been left with ever changing results of a negative nature, that requires constant maintenance and revision via new cosmetic procedures.
There is nothing wrong with plastic surgery, as long as it is not done to excess or creates an unnatural, unflattering look. In your quest to look great, be sure not to undertake anything that will give temporary results and lasting damage.
RELATED ARTICLES
Fake Doctor Sentenced To Prison For Injecting People With Cement, Super Glue And Car Fluid To Create Bigger Butts And Fuller Cheeks
Rapper Tyga Moves Out Of The House Of 'Keeping Up With The Kardashians' Reality Star Kylie Jenner
Two Women Die In Miami Clinic After Risky Butt Lift Procedure