Fake Doctor Sentenced To Prison For Injecting People With Cement, Super Glue And Car Fluid To Create Bigger Butts And Fuller Cheeks
March 29. 2017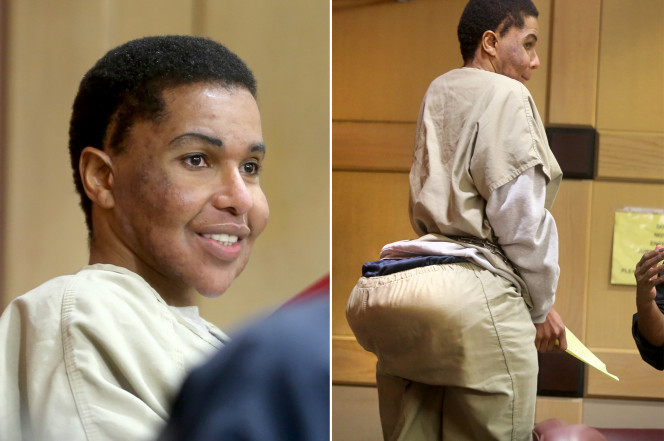 Oneal Ron Morris is clearly mentally ill
This week 36-year-old, Oneal Ron Morris, who is a transvestite man that has been living as a woman, was sentenced to 10-years in prison for pretending to be a plastic surgeon, in acts that left a woman dead and many sick. Morris, who illegally performed mentally disturbing cosmetic procedures in Miami, injected women with substances such as cement, car fluid and super glue, to give them bigger backsides, similar to that of celebrities Kim Kardashian, Iggy Azalea and Nicki Minaj.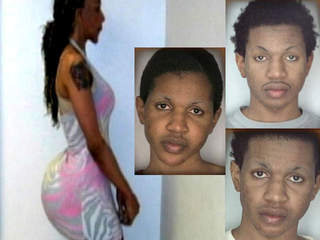 Oneal Ron Morris
Morris' victims, who paid him thousands of dollars, were under the false impression he was using quality, FDA approved medical products to perform cosmetic procedures. However, it should be noted, Morris is not a licensed plastic surgeon, which was a red flag. Customers should check with the corresponding medical boards to verify the individual they seek treatment from is licensed and in good standing.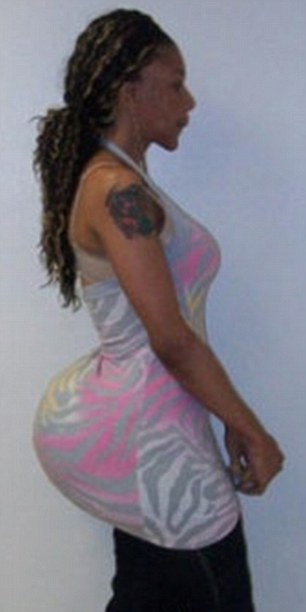 Oneal Ron Morris
31-year-old Shatarka Nuby died after Morris injected her with the aforementioned corrosive substances over the course of 3-years. Other victims became quite ill and are now left with hard, lumpy, toxic cement permanent imbedded in their buttocks. Some women who went to Morris for the illegal procedures, received injections to the cheek and chin regions of the face and now suffer from permanent damage. Their faces are as hard as a rock with visible lumps.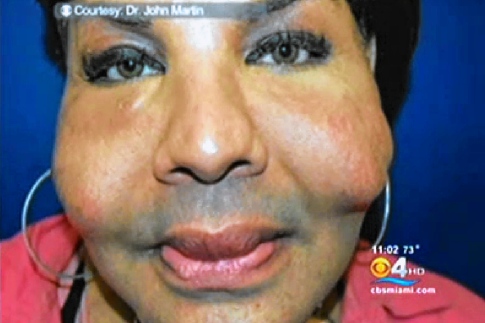 Rajee Narinesingh is a victim of Oneal Ron Morris, who injected cement into his face
Morris suffers from body dysmorphic disorder (BDD), informally referred to as dysmorphia, which is a condition where sufferers see themselves in a manner other than they truly are in real life. Morris is also transgender, which means he suffers from mental disorders that has him wrongly believing he was born the wrong sex [Top Psychiatrist States Transgender People Are Suffering From A Mental Disorder As It Is Biologically Impossible To Change Your Sex (Bruce Jenner)]. Women need to beware regarding risky butt procedures [Two Women Die In Miami Clinic After Risky Butt Lift Procedure].
STORY SOURCE
Fake doc gets prison for deadly butt injections
March 28, 2017 | 10:29a - A woman dubbed the "Toxic Tush" doctor will spend a decade behind bars for using Super Glue and Fix-a-Flat tire sealant to enlarge women's behinds and causing one patient to die. Oneal Ron Morris, 36, who is transgender, was sentenced to 10 years Monday in Florida's Broward County court after pleading guilty to manslaughter and injecting several women with the toxic mixture, according to CBS Miami. Shatarka Nuby, 31, died after receiving as many as 10 injections from Morris between 2007 and 2010. She paid Morris as much as $2,000 for the deadly procedures, the Sun-Sentinel reported.
RELATED ARTICLES
Are Butt Enhancement Procedures Used By Kim Kardashian, Nicki Minaj, Iggy Azalea And Nikki Mudarris Safe