Freed Lockerbie Bomber Lived For 3 Additional Years After Being Diagnosed As On Death's Door From Cancer
May 21. 2012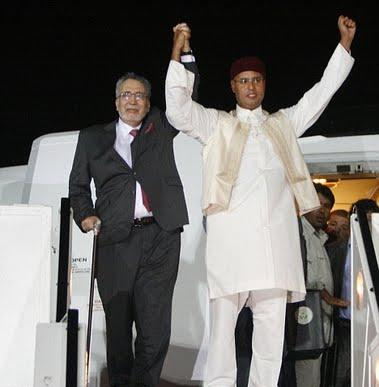 Abdelbaset Al Megrahi (left)
Lockerbie bomber, Abdelbaset Ali Mohmed Al Megrahi, has died from cancer, after a long battle with the disease. Three years ago the Judiciary Report contended he was not on death's door as thought by officials and could have received treatment in prison.
On August 20, 2009, the Judiciary Report wrote:
"He is suffering from cancer and reportedly has three months to live. Britain is known for its compassion in such issues and as such, Scotland released him after serving 8 years in prison, to go home to die....
Compassion is a great trait. However, Abdelbaset Ali Mohmed Al Megrahi, is a convicted mass murderer, who could have received medical care in prison, while paying his debt to society. Releasing him has rubbed salt in the wounds of his victims' families and friends, who didn't get to tell their loved ones goodbye, a courtesy he has been afforded." (click here)
I commend the Scottish government for its compassion in showing mercy to the merciless, but some of the victim's families understandably opposed the Lockerbie bomber's release, due to the unconscionable things he did to their loved ones. Ultimately, God will judge the Lockerbie bomber for what he has done.
RELATED ARTICLES
Obama Slams Release Of Lockerbie Bomber
Gordon Brown On Lockerbie Scandal
David Cameron Meets With Barack Obama
Britain: Obama And Hillary Clinton Knew
FBI Director Mueller Slammed In Scotland
Obama Illegally Invades Libya, Thousands Dead...
Rupert Murdoch's News Corp And Madonna Are Still Phone Hacking And With The Support Of The FBI
It Has Been Confirmed The U.S. Government Is Spying On Scientists And Doctors In Violation Of The Constitution
New Controversy Erupts As It Is Revealed Select Scientists Have Been Playing Around With Flu Virus To Create Super Strain
Swine Flu Reboot Being Attributed To Human Error
Swine Flu Outbreak Baffles Governments (5-2-09)
Mobile Phone Companies Come Out Swinging At WHO Cancer Report
Radiation Concerns Regarding Airport Scanning
Study Claims People With Vitiligo Have Skin Cancer Protection
The Daily Mail Is Actively Engaging In Hacking, Phone Hacking And Wiretapping