Three More Women Accuse Music Executive Russell Simmons Of Rape
December 13. 2017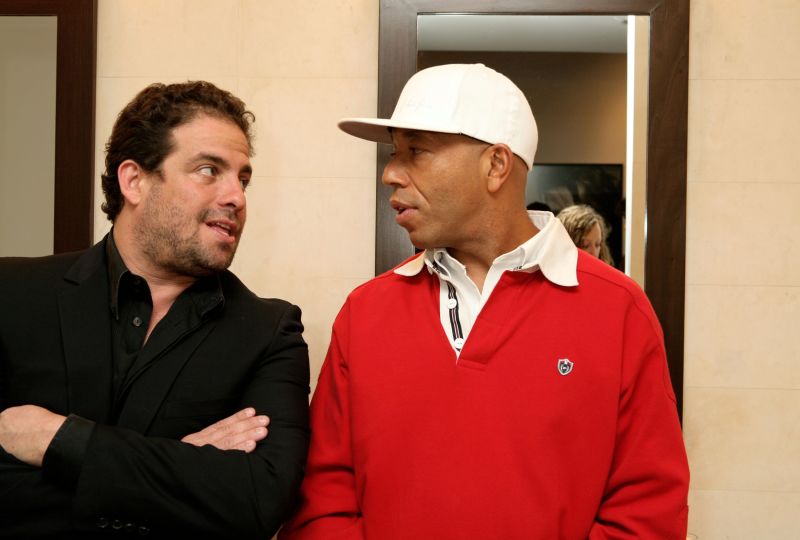 Brett Ratner directed music videos for Russell Simmons' Def Jam Recordings record company in the 1990s
The New York Times continues its unprecedented takedown of Hollywood men engaging in acts of sexual harassment, sexual assault and rape, with an exposé on another prominent tinseltown executive, Russell Simmons, who is the founder of Def Jam Recordings. Two weeks ago, Jenny Lumet, the granddaughter of legendary actress, Lena Horne. Model Keri Claussen Khalighi also accused Simmons of raping her and in the presence of fellow rapist, music video and movie director, Brett Ratner.
The New York Times exposé is in reference to people who have worked with Simmons who are accusing him of sexual harassment and rape. Pretty former Def Jam music executive Drew Dixon stated Simmons raped her inside his apartment (which is similar to what occurred with Lumet). Simmons hired female staff based on their looks. He surrounded himself with beautiful women. Dixon has the features of a model.
R&B singer Tina Baker also accused Simmons of rape. Baker expressed that after Simmons raped her he destroyed her career by withdrawing funding for her music and withholding promotion and marketing opportunities. Baker stated the incident left her so traumatized she did not sing for an entire year.
Music journalist Toni Sallie accused Simmons of date rape. She stated when she tried to break up with Simmons, he physically attacked and raped her in his apartment, after inviting her over for a party, where she discovered she was the only guest. Again, Lumet accused Simmons of raping her in his apartment. As did his employee Dixon.
Simmons has been going around Hollywood trying to quiet the current wave of accusers coming forward with allegations against entertainers and executives. Simmons was caught red-handed trying to silence Terry Crews, who came forward alleging top Hollywood executive, Adam Venit, groped his penis at a party without permission and in the presence of the actor's wife. Simmons sent Crews a private messages telling him to back off so said executive can get his job back. However, Crews declined Simmons request. Simmons has stepped down from his companies in the wake of the scandal.
There is no place for sexual harassment, assault or rape in the work place or life in general. People should not be touching others without permission. In the entertainment industry people throw themselves at entertainers and executives. Athletes are also the subject of significant attention. These people are not starved for attention (not that it would be an excuse to rape or sexually assault people). If someone tells you no, that should be it. Stop. Do not persist. However, ego and arrogance comes into play with some, as they believe they are to have anyone they want. They need to accept the fact some people just are not interested in them and move on.
STORY SOURCE
Music Mogul Russell Simmons Is Accused of Rape by 3 Women
DEC. 13, 2017 - In 1995, Drew Dixon was working her dream job as an executive at Def Jam Recordings, helping to oversee a chart-topping album and a ubiquitous single by Method Man and Mary J. Blige. But as her star rose, Ms. Dixon, then 24, was spiraling into depression, she said, because of prolonged and aggressive sexual harassment by her direct supervisor, Russell Simmons, the rap mogul and co-founder of the label.
On work calls, he would talk graphically about how she aroused him. At a staff meeting, he asked her to sit on his lap. He regularly exposed his erect penis to her. Late that year, Mr. Simmons raped her in his downtown Manhattan apartment, Ms. Dixon said. She quit Def Jam soon after. "I was broken," she said. Drew Dixon, who says Russell Simmons sexually harassed her repeatedly when she was an executive at his label, Def Jam Recordings. She said he raped her in 1995. Credit Emily Andrews for The New York Times
In recent interviews, four women spoke on the record about a pattern of violent sexual behavior by Mr. Simmons, disclosing incidents from 1988 to 2014. Three of the women say that he raped them. In each case, numerous friends and associates said they were told of the incidents at the time. The women said they were inspired to come forward in the aftermath of the accusations against Harvey Weinstein, as victims' stories have been newly elevated and more often believed...
Report: 3 women accuse Russell Simmons of rape
Published 4h ago on Dec. 13, 2017 - Three women have accused music mogul Russell Simmons of rape in an exclusive new report in the New York Times. A fourth woman also spoke on record alleging Simmons sexually assaulted her. According to the Times, all of the women worked with Simmons in some professional manner throughout the years. Their assaults happened between 1988 to 2014.
All of the women noted to the Times that they felt powerless both at the time of their assaults and in the years following because of Simmons' power in the music industry. "Russell was like the king of hip-hop," Drew Dixon, a former executive at Def Jam, told the Times. According to Dixon, Simmons would often harass her in the workplace and graphically describe how she aroused him in meetings. In 1995, Dixon said, he raped her inside his own Manhattan apartment. "I was broken," she added.
Singer Tina Baker said Simmons raped her in the early '90s when he was working as her manager. "I didn't sing for almost a year," she said. "The second he agreed to work with me, my budget increased, the label was paying more attention to me." However, following her assault, Baker said, "I went into oblivion."...
RELATED ARTICLES
Hollywood Director Brett Ratner Slammed For Raping And Sexually Assaulting Women In The Fallout From The Harvey Weinstein Rape Scandal
Lena Horne's Granddaughter Jenny Lumet And Model Keri Khalighi Accuse Russell Simmons Of Rape (Video)