Why Are My Lyrics In Michelle Obama's Speeches
May 15. 2009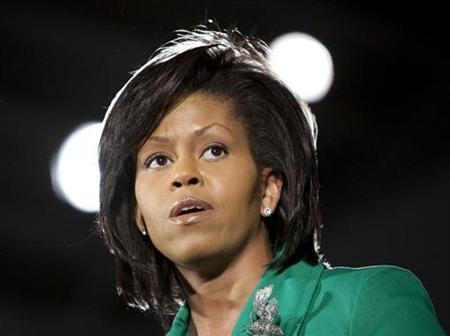 First Lady Michelle Obama
I noticed something very peculiar. Two of my preexisting, unique, copyrighted lyrics that were first published to my website in 2004, registered with ASCAP as apart of my music publishing at that time and posted on several unaffiliated lyrics sites, the distinct lines, "(loop)hole to your soul." and "You talk like a white girl" later appeared in two separate informal speeches First Lady Michelle Obama gave that were picked up by the press.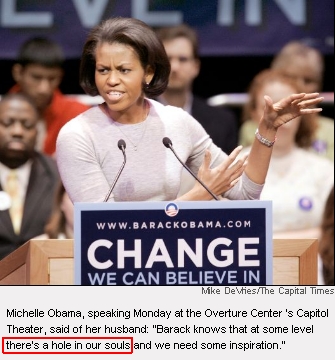 I wrote and published the lyric "(loop)hole to your soul" as apart of the fictitious song "Why Did This Happen To Me" as a tribute to AIDS victims. The lyrics "You Talk Like A White Girl" is also the title of a copyrighted song I wrote in 2002 and published in 2004. These lyrics have been on my site (click here) and other lyric sites for 5 years.
I've even seen other items crop up in speeches related to him as well, but more on that in a future article.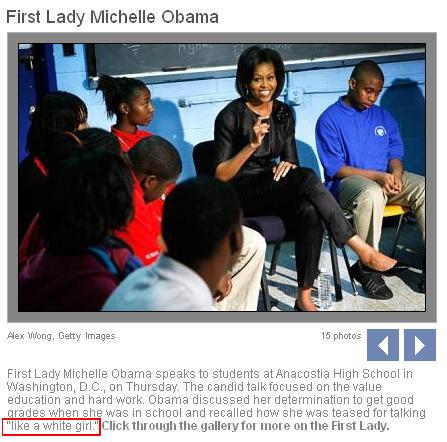 http://www.blackvoices.com/blogs/2009/03/20/michelle-obama-was-told-she-talked-like-a-white-girl

Many people on the internet, in magazines and on TV shows, misunderstood and kept asking about Mrs. Obama's usage of the line, "There's a hole in your soul."

The lyric

"(loop)hole to your soul"

was inspired by a statistic from a medical study I wrote about in the Sound Off Column in September 2002 that stated, there are condoms with "voids" creating a 36% failure rate, causing the HIV virus to slip through and infect people during sexual intercourse.

A "void" is a "(loop)hole" which is why I wrote the lyric,

"(loop)hole to your soul"

because, when you engage in promiscuous sexual conduct, completely relying on a condom that could fail, it has the potential to destroy you life and soul.

Tammy Bruce, who misunderstood the line "You Talk Like A White Girl" goes off on First Lady Michelle Obama


Another lyric that caused confusion is "You Talk Like A White Girl." If you listen to the song or read the lyrics

During the 2008 election, several candidates' camps actively visited my websites and for years the U.S. government in the form of the White House, Congress, FBI, DOJ, State Department, Department of Defense and many other divisions, have come up in my site's statistics, provided by Go Daddy's analytical program Traffic Facts.

The current administration continues to visit this site on a daily basis as well. Yet amazingly, turns a blind eye to the grand theft larceny, harassment and willful, criminal, FELONIOUS violations of the Civil Rights Act being perpetrated in this case that CONTINUES TO OCCUR ON A DAILY BASIS. To do so is to send the message to the nation and the world that you are in agreement with severe human rights abuses.

I have been criminally robbed of a fortune in copyrights, which equates to modern day slavery. I haven't received a penny from my copyrighted works, that have criminally grossed billions for others, scores of awards and tax revenue, which is very shameful.

Madonna keeps harassingly getting writers, producers and stars affiliated with her, to try and contact me by email, phone and in person.

A couple hundred thousand in cash equity was stolen out of my home in criminal acts of fraud by affiliates of Madonna, at the law firm of Marshall C. Watson.

She then tried to have that same law firm

criminally and

fraudulently foreclose on a home I leased months later from a famous Florida newscaster, who has been struggling with cancer, which greatly upset her. They served me foreclosure papers on the newscaster's home that I did not and do not even own. The newscaster had to get her lawyer to fight them off, as the mortgage was up to date the whole time (she's a millionaire).

My computers are hacked on a daily basis by the site team for Madonna's website.

My home has been broken into several times with copies of copyrighted CD-ROMs stolen, then used by Madonna and co.

I faced housing discrimination.

I was denied equal access to services such as recording studios in Miami (South Beach Studios and Studio Center), retailers and manufactures, like the Civil Rights Act doesn't exist.

I am constantly harassed when I go out, by red string bracelet wearing Kabbalah members that mysteriously always seem to know where I am, Anthony Pellicano style (Madonna's former private investigator).

Madonna criminally stole my copyrighted life story, distorted it and released it as her so-called directorial debut "Filth And Wisdom." It takes a severely mentally ill person to steal the copyrighted life story of someone they have been harassing and robbing in repeated incidents.

Madonna and co. have invaded my privacy in very sick ways as well.

Needless to say, I'm very disappointed in you, as black people in office, for allowing the continued criminal misconduct that constitutes egregious breaches of U.S. and international law, equating to modern day slavery.

You're just like all the other politicians. This is not change. It is also ironic, as you descend from slaves, your father was also an immigrant, your aunt is an immigrant and according to some, you are an immigrant as well.

Immigrant or not, black or white, none of this should matter, as no one should be treated in the appalling manner I have been, with my family and I exposed to terrible, unspeakably cruel human rights abuses in America of all places.

This is NOT against the American people, but I take great umbrage at what Hollywood has done and the government members that went along with it. Put yourself in my shoes, would you feel good if the aforementioned wicked things were done to you, robbed, attacked and hounded, unprovoked, in this manner. Think about it.

The members of government that allow the aforementioned criminals to do these vile acts, should be ashamed of that, as you are not representing America well to the watching world (and millions are watching).

EXCERPTS OF ARTICLES WITH MY PREEXISTING LYRICS IN HER SPEECHES:

Michelle's America

Mrs. Obama talks about herself and her country

02/19/2008 12:00 AM - "Instead, she voiced deeper concerns: "Barack knows that at some level there's a hole in our souls," she said. This was a variation on her normal line that "Barack Obama is the only person in this race who understands that, that before we can work on the problems we have to fix our souls. Our souls are broken in this nation."

Michelle Obama: We need inspiration

Judith Davidoff — 2/19/2008 10:36 am - Obama acknowledged that her speech was short on such specifics as environmental and health care policy, but said such details, while important, are secondary to leadership.

"Barack knows that at some level there's a hole in our souls and we need some inspiration," she said. "That's why I'm here. Because I know Barack is different."

It's All About Him

Published: February 25, 2008 - But that clearly isn't what she was talking about. For as she had argued in the Wisconsin speech, America's illness goes far beyond a flawed political process: "Barack knows that at some level there's a hole in our souls." This was a variation of language she had used earlier on the campaign trail: "Barack Obama is the only person in this race who understands that, that before we can work on the problems, we have to fix our souls. Our souls are broken in this nation."

But they can be repaired. Indeed…

GLENN BECK

GLENN BECK, HOST (voice-over): Tonight, Michelle Obama says the nation has a hole in its soul, Really? I mean, that`s poetic and everything, but I thought we had the economy and the war to worry about. Does her husband believe this, as well?…

GLENN BECK: …Now, in the same speech, Michelle Obama went on to say, quote, "Barack knows that at some level there`s a hole in our souls".

Really? First, it`s Washington that`s broke and now it`s me? It`s our souls that are broken? And your husband is the only one that can fix things? How so, comrade Obama? I`d just like to know.

Am I the only that thinks that this goes beyond lofty speech language and crosses into creeping me out? Tonight, here`s what you need to know.

Michelle Obama Was Told She Talked 'Like a White Girl'

Not that such questions are new to the First Lady. "I remember there were kids around my [Chicago] neighborhood who would say, 'Ooh, you talk funny. You talk like a white girl,'" she said. "I heard that growing up my whole life. I was like, 'I don't even know what that means, but I am still getting my A.'" Critics like that couldn't stop her drive to achieve, said the lawyer and former hospital executive.

Michelle Obama once teased for talking 'like a white girl'

Gathers Sheryl Crow, Dominique Dawes, Alicia Keys, Debbie Allen, Penny Pritzker and Maggie Daley at White House

March 20, 2009 - Mrs. Obama told the students it's cool to be smart.

"And I didn't care whether it was cool because I remember there were kids around my neighborhood who would say, 'Ooh, you talk funny, you talk like a white girl.' I heard that growing up my whole life. I was like, I don't even know what that means, but you know what, I'm still getting my A."…