There Was No Gay Suicide Letter In Aaron Hernandez Death But There Was Illuminati Images On The Ground And Drawings In Blood On The Wall
Family And Lawyer Demand A Criminal Investigation Into Aaron Hernandez's Prison Death That Was Labeled Suicide
April 26. 2017
Former New England Patriots football player, Aaron Hernandez, was found dead in his jail cell from an apparent suicide. Hernandez was found with the Bible verse John 3:16 written on his forehead in marker. His death occurred on the morning of April 19, 2017, the day his former team was scheduled to and did make an appearance at the White House, due to winning the Super Bowl. Hernandez was serving a life sentence in prison for the murder of aspiring football player Odin Lloyd. Two weeks ago, Hernandez was acquitted of the double murder of Daniel de Abreu and Safiro Furtado in a separate legal case, which left the family members of the deceased devastated.
Prison representatives stated Hernandez hung himself from his cell window using a bed sheet. Reports reveal Hernandez's cell had soap on the floor to prevent him saving himself from death, the "all seeing eye" from the illuminati/Kabbalah (Madonna) cult on the floor of the cell and drawings on the wall written in blood. It is being referred to as a cult "ritual killing" associated with the illuminati/Kabbalah.
People join the illuminati/Kabbalah after being given deceitful promises of fame and fortune (endorsements, signings, TV appearances), but it always ends badly, as it is a satanic cult steeped in sick, evil things. God rejects the Illuminati/Kabbalah as it is based in the occult and Satanism, which are things denounced in the Bible. I suggest anyone practicing such things get out of it now and ask God for forgiveness before the cult's madness destroys their lives and souls.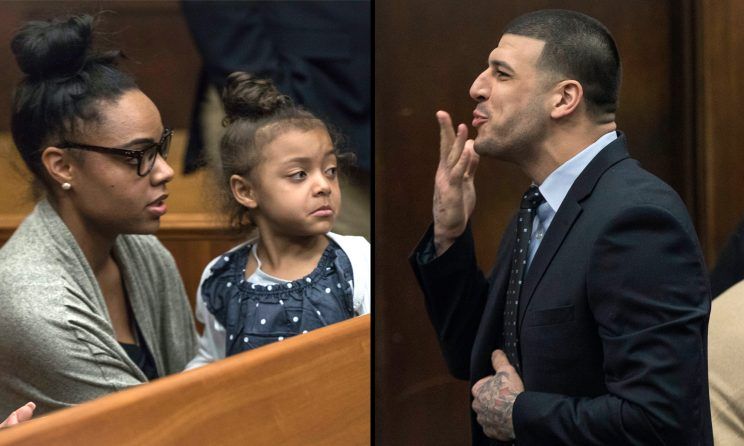 Shayanna Jenkins-Hernandez (left), the couple's daughter Avielle Hernandez (center) and Aaron Hernandez (right) during a court hearing. Little Avielle looks heartbreakingly sad. It's terrible to see a child suffer such emotional pain.
Hernandez's new attorney, Jose Baez, who obtained the acquittal, labeled his client's suicide strange, as he believed he could launch a successful appeal in the Lloyd case. Baez and Hernandez's family are seeking a full investigation into the circumstances surrounding Hernandez's death, as his family states he had everything to live for, having been acquitted of a double murder and being represented in an appeal by an attorney who has not lost a case under said circumstances. Hernandez's family and his attorney do not believe he committed suicide.
Initially there were claims Hernandez left no suicide note. Then, there were claims of Hernandez leaving three suicide note - one to his fiancée Shayanna Jenkins-Hernandez, another to their 4-year-old daughter Avielle and a third to a prison inmate said to be his gay lover. However, Hernandez's attorney obtained the suicide notes under court order, after initial resistance from prison officials to release them. Hernandez's attorney disputes press claims about a gay lover, "Rumors of letters to a gay lover, in or out of prison, are false. These are malicious leaks used to tarnish somebody who is dead."
Matters were further complicated by the fact prison officials initially refused to release Hernandez's brain after the autopsy. It gave an air of suspicion to his death. Hernandez's brain was finally released after pressure on prison officials and sent to Boston University for clinical studies to ascertain whether he had Chronic Traumatic Encephalopathy (CTE).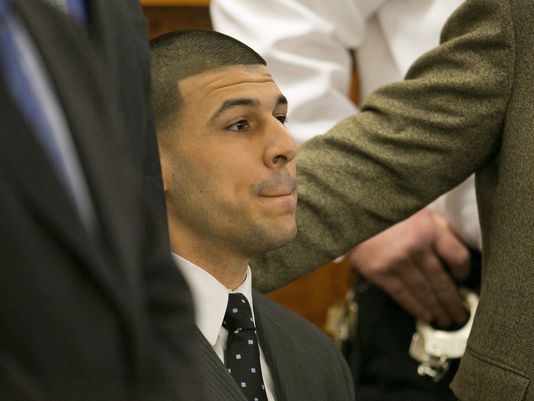 Aaron Hernandez
Hernandez lost a lot in life due to gang affiliations and unlawful, violent conduct. He was a young rich millionaire playing for a top, championship winning football team. He had a fiancée, baby, mansion, sports cars and all the other trappings of fame. To lose all that and be confined in a prison cell in solitary, is a massive blow.
Hernandez tried to become a better person in prison, which is good. Hernandez's mind went to a sad and dark place for him to have committed suicide. He was serving a life sentence, which is depressing for inmates. It's even harder for someone like Hernandez who had achieved so much prior to his incarceration.
It is my hope that others will learn from Hernandez's story and stay away from a life of crime. Both famous and non-famous people can learn from Hernandez's story. I have written a number of articles on this site for years warning newly famous people to leave the criminal lifestyle and certain influences behind when they finally make it. Hernandez is proof of how it can all go wrong. Make good decisions and endeavor to stay out of trouble. In closing, suicide is not the answer. Do not take your life.
STORY SOURCE
5 Investigates: Hernandez drew 'all-seeing eye,' said he was entering 'timeless realm'
Updated: 6:43 PM EDT Apr 21, 2017 - 5 Investigates has learned new information about the drawings found in Aaron Hernandez's prison cell and some of the contents of the letters he wrote to his fiancee and their daughter. Hernandez was found just after 3 a.m. Wednesday morning, hanging from bedsheets that were attached to his cell window. 5 Investigates previously reported that he had written "John 3:16" on his forehead in ink.
Hernandez also used his own blood to draw on the walls of his cell. 5 Investigates' Kathy Curran has learned that one of the drawings was what's known as the unfinished pyramid and the all-seeing eye of God. The image is similar to what is found on the back of U.S. currency. 5 Investigates learned that Hernandez drew an image on his cell wall depicting what's known as the unfinished pyramid and all-seeing eye. The symbol is found in religion and on U.S. currency. Below the pyramid, Hernandez wrote "ILLUMINATI" in capital letters.
The illuminati is a person or group claiming to have religious enlightenment or knowledge. The illuminati has also been the subject of several theories, including one that claims they control of the world. Above the pyramid, Hernandez drew an oval with rays coming from the edges. Nearby, rosary beads hung on the wall of his cell.
5 Investigates has also learned more about the letters left for Hernandez's family. In one, he wrote that he was entering the "timeless realm" and would see them in heaven. 5 Investigates previously reported that Hernandez also wrote that he loved his family and told them not to shed a tear. Near the letters, a Bible was opened to the John 3:16 verse, which reads, "For God so loved the world that he gave his only begotten Son, that whosoever believeth in him should not perish, but have everlasting life."
State officials continue to investigate his death, including whether a 2 a.m. check of Hernandez's cell had been performed by the correction department officers on duty. Sources told 5 Investigates the 31-year-old officer responsible for the rounds said he last saw Hernandez at 1 a.m. and when he went to check his cell at 3 a.m. there was a sheet over the window of the cell door.
The officer, who has worked with the Department of Correction for about seven years has been detached from the department, which means he has been put on paid leave, sources told 5 Investigates. 5 Investigates' attempts to reach the officer were unsuccessful...
Aaron Hernandez's 'Shocked' Lawyer Will Investigate Ex-NFL Star's Death After Apparent Suicide
Posted on April 19, 2017 at 11:35am EDT - Jose Baez, the attorney who secured a not guilty verdict in the recent double-murder trial of Aaron Hernandez, says he will examine how the former NFL star and convicted murderer died after Massachusetts authorities announced he committed suicide in prison Wednesday morning.
"The family and legal team is shocked and surprised at the news of Aaron's death," Baez said in a statement. "There were no conversations or correspondence from Aaron to his family or legal team that would have indicated anything like this was possible." Baez, who was handling Hernandez's appeal of his conviction for the 2013 murder of Odin Lloyd, adds that Hernandez was ready for future court proceedings. "Aaron was looking forward to an opportunity for a second chance to prove his innocence," he says.
"Those who love and care about him are heartbroken and determined to find the truth surrounding his untimely death," Baez continued. "We request that authorities conduct a transparent and thorough investigation." In addition to the state investigation, the defense says they will look into Hernandez's death. "The Baez Law Firm will participate in its own examination into this tragic event and update the media and public on its findings when they become available."
RELATED ARTICLES
Former NFL Star Aaron Hernandez Being Sentenced To Life In Prison Is A Sad Reminder To Stay On The Straight And Narrow Path In Life (Video)
Aaron Hernandez Found Not Guilty In Second Homicide Trial For Double Murder But Convicted On Weapons Charge
With NFL Star Aaron Hernandez In Prison On Murder Charges What Will Happen To His $44,000,000 Fortune
NFL Star Aaron Hernandez Denied Bail In Murder Case Being Investigated In A Second Killing (Video)
Life Behind Bars In Solitary Confinement Is Going To Be Tough For Former NFL Star Aaron Hernandez
Aaron Hernandez Fiancée And Cousin Charged In The Former NFL Player's Murder Case (Video)
Two Men Arrested For Aiding NFL Star Aaron Hernandez Commit Murder (Video)