Aaron Hernandez Found Not Guilty In Second Homicide Trial For Double Murder But Convicted On Weapons Charge (Video)
April 15. 2017
Former New England Patriots football star, Aaron Hernandez, is currently serving a life sentence for the murder of aspiring athlete, Odin Lloyd. While in prison, Hernandez was tried for the double murders of Daniel de Abreu and Safiro Furtado, who he was accused of killing over a spilled alcoholic drink.
This week, Hernandez was found not guilty of double murder, which devastated the victims' families and friends. However, Hernandez was convicted on a weapons charge in the case, which carries a 4-5 year prison sentence. As Hernandez is serving life in prison, the weapons charge and conviction will do little to impact his custodial sentence.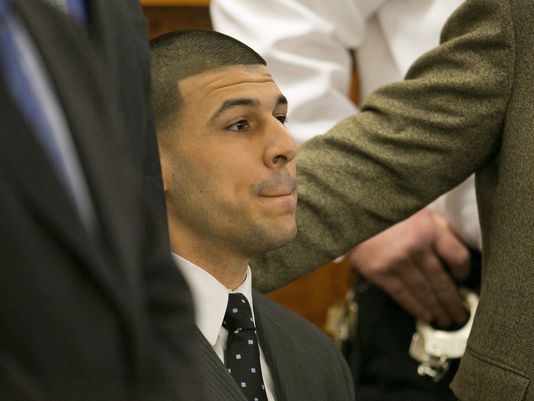 Aaron Hernandez
For the first time since Hernandez has been placed on trial for murder, then double murder, he showed emotion when he was found "not guilty" in the second case. Hernandez exhaled and mumbled a few words while holding back tears. Hernandez stated he did not commit the crime, laying blame for the double slayings on his friend, drug dealer, Alexander Bradley, who received immunity for his testimony against the former athlete.
Bradley is currently in prison serving 4-years for a shooting that occurred outside a Hartford, Connecticut night club. Bradley previously accused Hernandez of shooting him in the face, as a means of witness intimidation in the double murder case, causing him to lose one of his eyes. However, Hernandez was found not guilty on the charge of shooting Bradley, as a form of witness intimidation.
RELATED ARTICLES
Former NFL Star Aaron Hernandez Being Sentenced To Life In Prison Is A Sad Reminder To Stay On The Straight And Narrow Path In Life (Video)
With NFL Star Aaron Hernandez In Prison On Murder Charges What Will Happen To His $44,000,000 Fortune
NFL Star Aaron Hernandez Denied Bail In Murder Case Being Investigated In A Second Killing (Video)
Life Behind Bars In Solitary Confinement Is Going To Be Tough For Former NFL Star Aaron Hernandez
Aaron Hernandez Fiancée And Cousin Charged In The Former NFL Player's Murder Case (Video)
Two Men Arrested For Aiding NFL Star Aaron Hernandez Commit Murder (Video)