There Is Talk Of A Prince Harry Sex Tape Stemming From The Las Vegas Nude Photo Scandal
August 29. 2012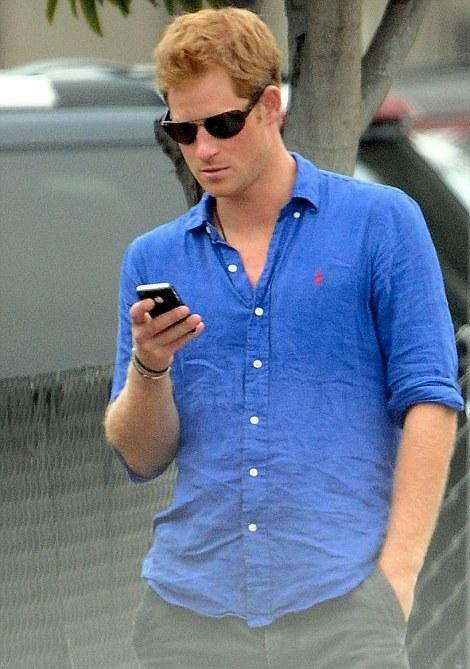 Prince Harry in Las Vegas this month
Prince Harry's visit to Las Vegas, Nevada this month, which resulted in photos being splashed all over the press featuring the royal nude, is said to be only the beginning. Reports indicate there exists video of Prince Harry nude, partying with 15 naked women in his hotel room, after he convinced them to strip with 10 men present. What took place is the equivalent of an orgy.
Two years ago, the Judiciary Report stated the cult Kabbalah, affiliated with phone hacking Rupert Murdoch at News Corp and Harvey Levin at TMZ, the latter having posted the nude photos, have Princes Harry and William under surveillance.
The fact of the matter is Prince Harry was being watched by them the entire time he was in Las Vegas. They saw an opening, due to his merry mood and partying and went for it, in what was a set up that has led to an unprecedented security breach. No member of the royal family has been caught in such a scandal with photographic and video evidence as proof.
RELATED ARTICLES
Prince Harry Nude Photos Shows The Lows Hollywood Will Stoop To At Others Expense
TMZ And The People That Sold The Prince Harry Nude Photos Should Be Prosecuted
Prince Harry Nude Photo Scandal Is A Wake Up Call
Gold Medalist Swimmers Ryan Lochte And Michael Phelps Say They Pee In The Pool
Madonna Booed In London At The Premiere Of Her Copyright Infringing Film "We"
Critics Savage Madonna's "WE" Movie As Garbage
Boycott Madonna's Rip-Off "We" Movie
Boycott Madonna's Rip-Off "We" Movie - Part 2
Rupert Murdoch Finally Admits His Company's Phone Hacking And Wiretapping Crimes
Madonna's Connection To Phone Hacking And Wiretapping Scandal
8 Of Rupert Murdoch's Top Executives Charged In Phone Hacking Scandal