The FBI And CIA Struggling To Contain The Fact They Illegally Spied On Donald Trump...And Bernie Sanders
March 17. 2017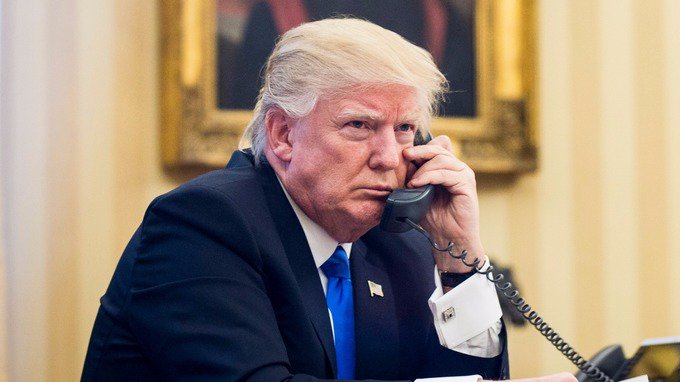 Donald Trump
Scandal still churns regarding the FBI and CIA in America, over unlawful spying. The FBI and CIA illegally spied on president Donald Trump when he ran for office last year, to benefit rival, Hillary Clinton, who skated on serious criminal charges the average American would have been thrown in prison for committing. They also spied on rival Bernie Sanders, who is an anti-establishment socialist that was beating Clinton in the polls and at the polls, until her cronies rigged the primaries to help her unlawfully win her party's nomination for the presidency.
The illegal spying was done on the orders of former president, Barack Obama, to aid his party in retaining the presidency. However, it failed, as Trump ran a smarter campaign than rival Clinton and won the most delegates. Clinton focused on the popular vote, which doesn't count for a hill of beans in attaining the U.S. presidency. The accumulation of the most delegates are what matter in becoming president (reaching the golden number of 273 delegates).
While I am of the belief the popular vote should determine a winner in any nation, Clinton was unwise to place her main focus on it. However, Clinton and Obama had so rigged every aspect of campaigning and the press they could, the Democrats falsely believed it would be an easy win. It should be noted, when you are paying for press articles to be placed and financially commissioning polls in your favor, it is unwise to believe them.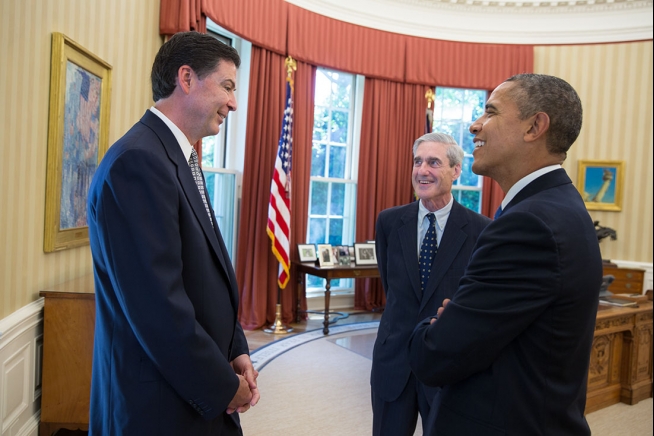 FBI Director James Comey, former FBI Director Robert Mueller and U.S. President Barack Obama
Obama spied on people in insidious ways, more than any other head of state in U.S. history and it has and will further come at a price due to exposés and leaked information. Blame is being tossed around, but the fact of the matter is the U.S. Congress is doing a very poor job of controlling the FBI and CIA, who have become two lawless entities breaking the law in America and all over the world.
There exists irrefutable proof of this criminal behavior. The agencies are not scrambling to hide it. However, with Wikileaks and websites posting proof, the whole thing will come out to the public. No one wants to admit what they have done in the scandal regarding criminal activity, as U.S. law dictates anyone who has done these things under the color of law enforcement must be sent to prison for decades.
I find it hilarious how partial press outlets keep stating the FBI and CIA have presented no evidence Trump was illegally spied on (wiretapping, parabolic mics, GPS, stalking) but once again, why would the FBI and CIA tell on themselves...and go straight to prison for it. Some in the press are using psychology on the American people, attempting to control public thought, essentially trying to make the masses feel like fools for believing the truth.
RELATED ARTICLES
Wikileaks Releases Hacked U.S. Federal Government Documents Showing The CIA And FBI Are Spying On People In Their Homes Via Hacking Smart TVs And Backdoors In Computer And Phone Operating Systems
Madonna Illegally Borrowing Money From Banks To Fund Kabbalah Center Cult's Criminal Invasion Of Privacy