Mariah Carey Christmas Tour Cancelled Due To Vocal Problems
November 17. 2017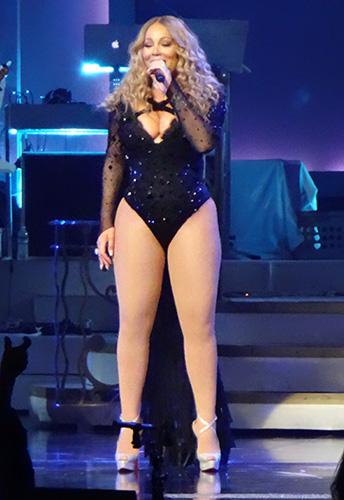 Mariah Carey recently underwent a gastric sleeve surgery to limit her food intake, as emotional eating resulted in weight gain
47-year-old pop singer, Mariah Carey, has cancelled her Christmas tour due to what she states is an upper respiratory infection. However, Carey did an interview a couple days ago and her voice was fine. How a significant infection developed and manifested so rapidly to the point she can't sing and can barely speak is stunning. Nonetheless, Carey says she is sick and the tour is off.
Carey is coming off an unsuccessful tour which she co-headlined with legendary singer/songwriter, Lionel Richie. Due to Carey's reputation for missing tour dates all over the world and residency performances in Las Vegas, Nevada, ticket sales were very poor. Ticket prices were slashed to $10, but still did not sell well. As stated on the site months ago, when Carey began this pattern of missing shows, audiences on You Tube and Twitter began expressing concern at the prospect of wasting their time and money booking concert tickets for her shows, only to be disappointed and inconvenienced due to sudden cancellations.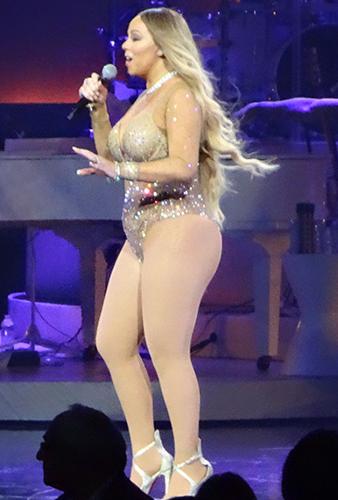 As stated on the site prior to Carey's announcement, gastric sleeve surgery can make you feel ill and result in vomiting, tooth erosion from stomach acid and eye/head pressure if emotional eating (overeating due to stress or sadness) is not dealt with as well (Mariah Carey Fires Manager And Hires Dancer In Her Stead). I know a few people who have had the surgery, it worked and they look fabulous, but Carey has to adjust her eating habits, as do all people who have gastric sleeve or bypass surgery or you'll feel physically sick. There's a general notion online that you can eat whatever you want and in any quantity after surgery, but that's incorrect. The surgery is to limit food intake to a level that creates weight loss and one you can maintain.
Last year, Carey cancelled her entire South American tour, because she was unable to perform due to vocal damage and personal problems after her fiancé, James Packer, called off their engagement. Carey's 2016 New Years Eve performance turned into an absolute fiasco as well that was derided online for weeks.
Carey has been struggling with vocal damage for years and has lasting mental illness problems that led to an attempted suicide years ago. She was placed in a psychiatric hospital in upstate New York for months in 2001, but due to still being in the same Hollywood situations that brought on her mental illness, she has never fully recovered. Whereas, other patients make a recovery in avoiding places, situations and people that have the potential to create depression and or mental breakdowns.
At some point Carey needs to see she is doing herself more harm than good with her pattern of behavior. She needs 6-months to 1-year of vocal rest, as her voice has been chronically damaged for years. Medical journals and papers plainly state people with vocal damage need extended vocal rest. However, Carey refuses to do so and to her own detriment. Carey also needs to cut out the marijuana smoking, excessive drinking of alcohol and pill popping. She could miscalculate and accidentally overdose, as those three activities are dangerous in tandem with each other. She needs to evaluate her career and hire professionals to assist her or what's left of her legacy will go up in smoke.
RELATED ARTICLES
Mariah Carey Criticized For Strange Interview After Mass Shooting At The Mandalay Bay Hotel In Las Vegas That Left 59 Dead And 515 Injured (Video)
Mariah Carey Delivers Another Terrible Performance This Time On Tour With Lionel Richie (Video)
Mariah Carey Sued For Being A Scrooge In Not Paying Choir $67,500 For Christmas Performances
Mariah Carey's Performance On Hip Hop Honors Slammed On Social Networking And Music Sites
Mariah Carey Body Shamed On Social Networking And Blogs As Tour Flops (Video)