Karrueche Tran Serves Chris Brown Restraining Order On His Birthday And He Accuses Her Of Trying To Destroy Him
"You Got Served"
May 8. 2017
Social networking erupted in laughter over Chris Brown's ex-girlfriend, Karrueche Tran, serving him a restraining order on his birthday last week. Tran has accused Brown of punching her in the stomach twice and throwing her down a flight of stairs. I have been told Brown had been physically slapping and pushing Tran around, which sent her tumbling all over the place and flying into furniture.
Tran has been experiencing difficulty serving Brown legal papers, as he is on a tour of the United States and his attorney, Mark Geragos, has been refusing service, labeling her an opportunist and publicity seeker. As such, the first court date in the case had to be cancelled and rescheduled to give the respondent time to be properly served and respond to the allegations in a court filing.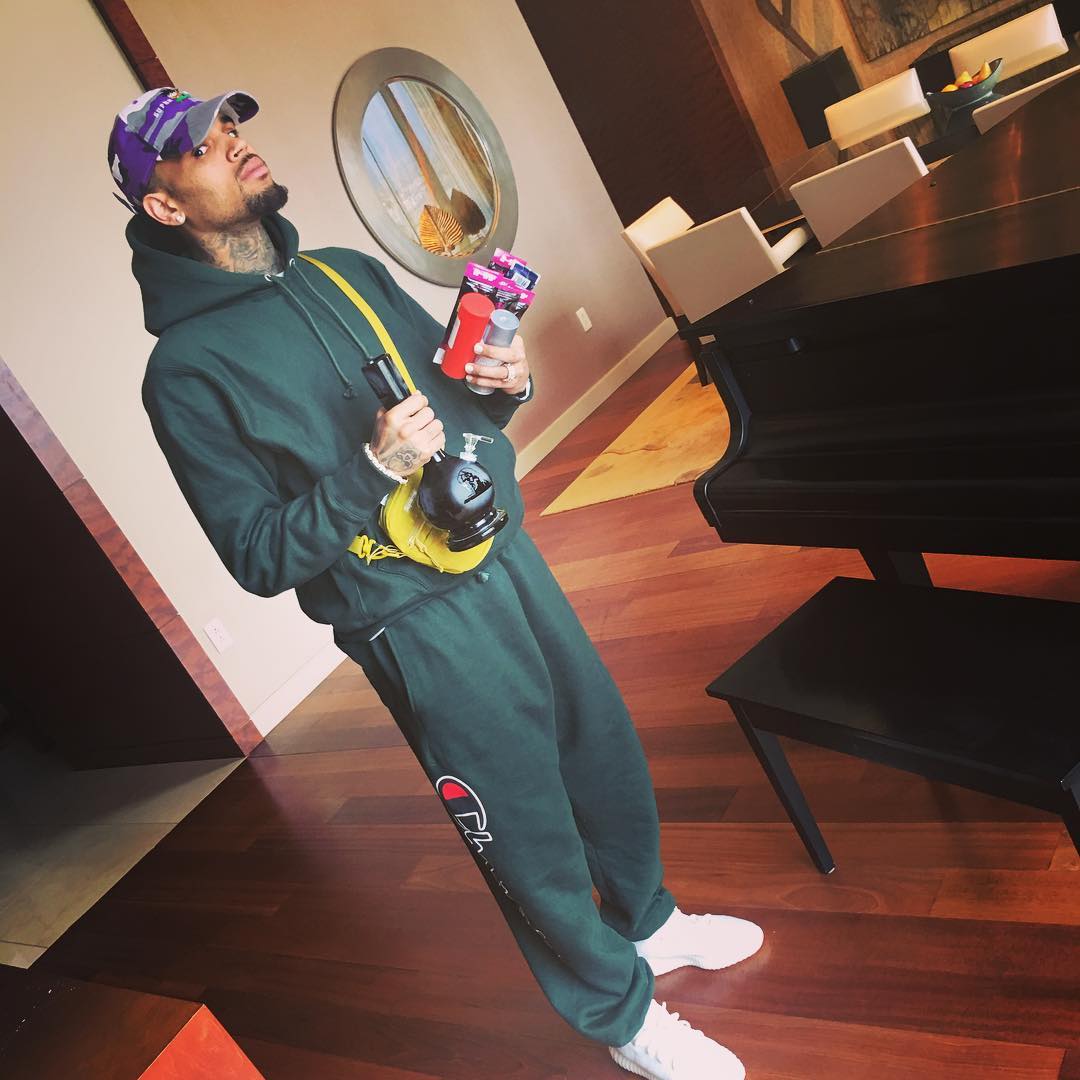 Chris Brown with drug paraphernalia. He becomes a different person when he is on drugs or drunk and doesn't remember what he did when he comes sober.
Video emerged this past Friday of Brown exiting a night club in Houston, Texas after birthday celebrations. Brown was smiling with his entourage, as they made their way through the crowd, when a process server appeared out of nowhere and handed the unwitting singer Tran's restraining order.
Brown took to Instagram.com to state he was not served. Brown accused Tran of "stalking" him and trying to "destroy" him. Brown stated on social networking regarding claims he is obsessed with Tran, whom he keeps stalking, "I want nothing to do with her. You think I wanna chase or still be with someone trying to destroy me??"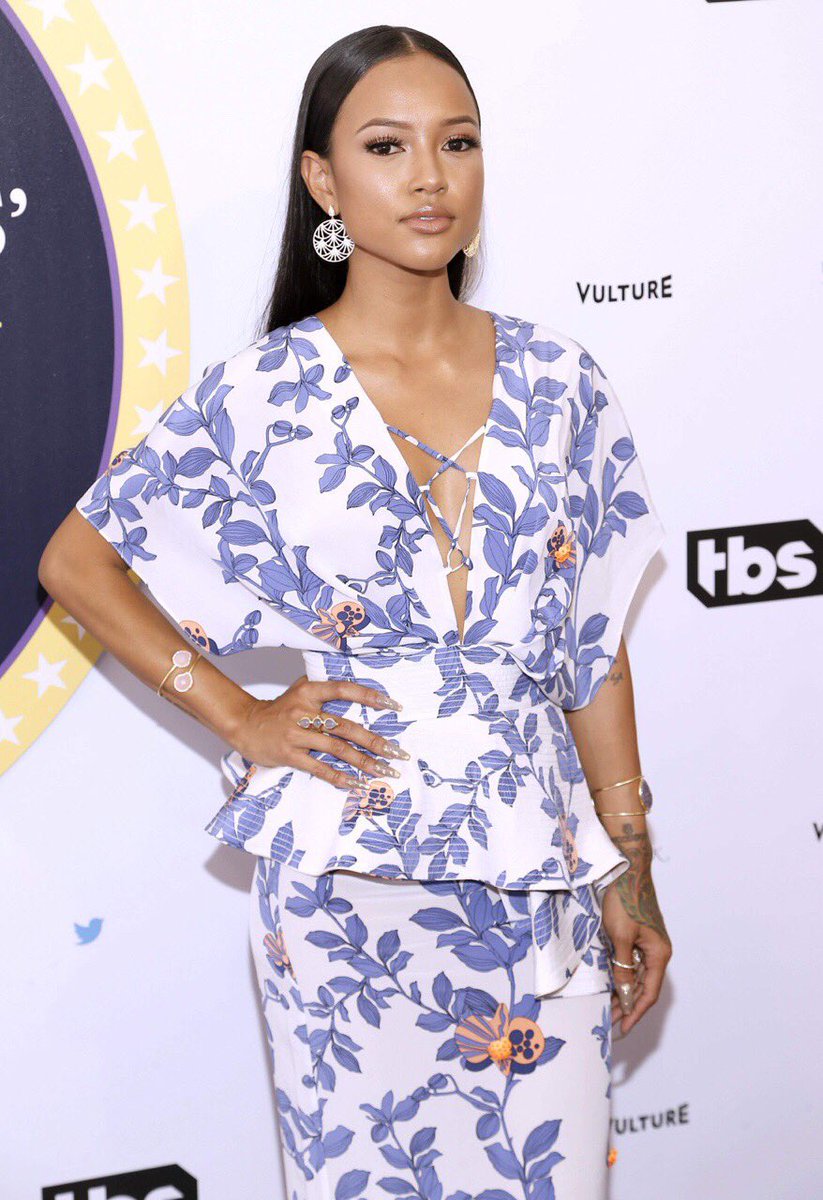 Karrueche Tran
Sadly, Brown is in denial. He has been caught on camera stalking Tran while she exited a night club with her friends. Brown was caught stalking Tran a second time, as he followed her, then proceeded to yell at and threaten her friends with violence, forcing his way inside their waiting vehicle. Brown also stalked Tran to her West Hollywood home and made such a racket banging on the doors and screaming obscenities outside, neighbors called the police.
Tran previously looked the other way to many things Brown had done in trying to make their relationship work. However, when he began threatening to kill Tran, her family and friends, even sending street gang members after one of them, J. Ryan LaCour, she decided to take legal action. She is genuinely angry with him and that message is now getting through to Brown, who has stated he is not after her anymore. They both need to move on and for that to happen, Brown has to let go of Tran.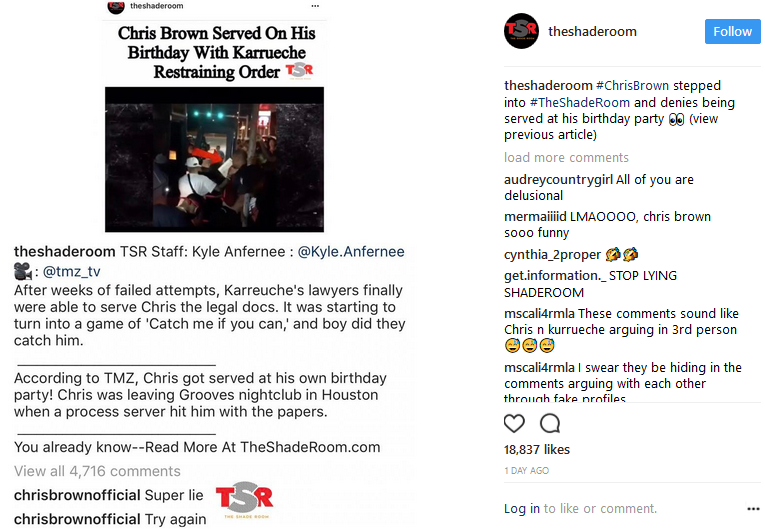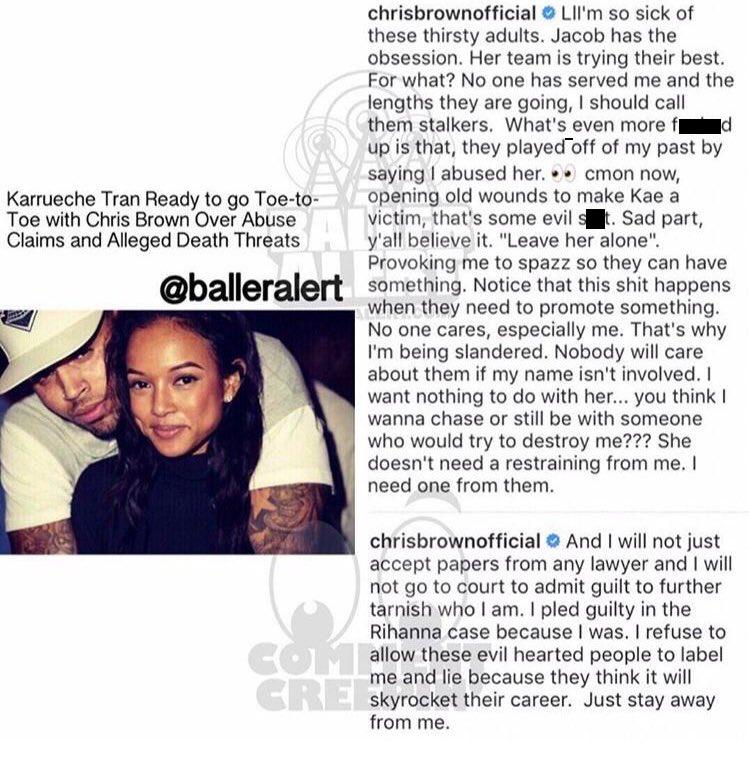 Social networking posts from The Shade Room and Baller Allert, regarding Chris Brown responding to Karrueche Tran's claims
If Tran discloses all she knows and witnessed while dating addict, Brown, he would lose joint custody of his 2-year-old daughter Royalty, to her drug and alcohol addicted mother, Nia Guzman. Brown is dodging the restraining order, as damaging texts, videos, photos and statements could come out in court, which would wreck his life and career.
If Tran decided to do a tell-all about Brown, their threesomes with other celebrities, his violence (against friends, girlfriends, employees, colleagues, members of the public), drug and alcohol issues, financial dealings, gang ties, as well as things he stated personally in their home, it would receive significant sales and publicity online. Brown needs to just take the L (loss), accept the restraining order and walk away. Because if Tran starts telling his business, it's over.
STORY SOURCE
Chris Brown Finally Served With Karrueche Restraining Order

5/5/2017 11:01 AM PDT - Chris Brown was just on the receiving end of the old adage, "If at first you don't succeed, try try again," because Karrueche FINALLY was able to serve him with legal docs triggered by alleged death threats. And speaking of adages, it's the classic insult to injury, because Chris was served at his birthday bash. We've confirmed he was leaving Grooves nightclub in Houston when a process server slapped him with papers ... and Chris was pissed...
RELATED ARTICLE
Karrueche Tran Wins Second Emmy Award For Online Series And Continues To Push For Restraining Order Against Chris Brown