Deranged Madonna Keeps Stalking Young Entertainers And Athletes That Hate Her
March 1. 2017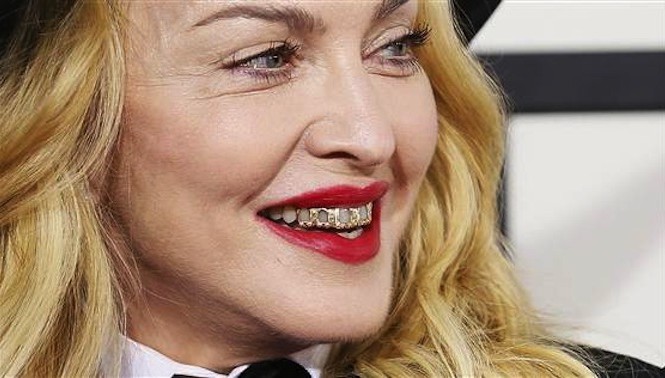 Madonna
There's a phrase that goes, "Idle hands are the devil's workshop." 58-year-old former pop star Madonna is proof of that adage. Madonna continues to stalk and harass young entertainers and athletes, who I'm told "abhor her." Madonna has been telephoning, emailing, texting and sending DMs on social networking to young entertainers and athletes in acts of harassment.
At first some found it flattering due to her former status as a pop star. However, it soon turned into a nightmare for many of them, as they have been bombarded with crazy messages from Madonna, demanding all sorts of lecherous publicity favors, collaborations and insisting they join her insidious, insane cult the Kabbalah Center.
Madonna has also demanded young entertainers and athletes, both male and female, have sex with her, when they have absolutely no interest in her and have stated to others they find the prospect appalling. There is a young male athlete Madonna went after in a very disturbing way and he rejected her, not finding her attractive. Madonna then began threatening the woman he is in love with and has been pursuing. He has repeatedly told her he is not interested and Madonna has been getting vicious threatening to ruin him.
Some entertainers and athletes are a bit scared of and very wary of Madonna, as she has been known to commission criminal acts against others and even recently threatened to blow up the White House, due to the fact she dislikes President Donald Trump. Madonna is an insane and vile person. People do not like to be around such evil. Her own children fled.
There are popular young entertainers and athletes Madonna offered money and career incentives if they would publicly date her and repeatedly post about her on social networking. All of them refused. Lesser known up and coming stars took money to post glowing items about her on social networking. However, it did not endear younger audiences to Madonna. Her sales remained flat.
Madonna is out of her mind to think latching on to young, hot stars of the moment will help her career that is gone. Latching on to popular stars will not make Madonna cool by association with younger audiences, who hate her (there are many terrible things being written about Madonna by younger audiences on social networking and in light of her behavior she deserves it).
Madonna's time with the youth demographic has long past. She needs to stop harassing, threatening and trying to leech off young stars, as she is causing them distress and annoyance. What is supposed to be a great and special time for them is being spoiled behind the scenes by that lecherous lunatic Madonna harassing and hounding them.
This is their time to be young and have fun. Yet here is this madwoman Madonna crowding them out, trying to leech off their popularity with younger audiences, trying to steal their time in the spotlight, ripping off their work and demanding they publicly do things they do not want to do. Madonna has had her time in the spotlight, but she greedily wants everyone else's as well, which is pathetic and disgraceful.
Madonna needs to learn to leave people alone. She is one of the most hated entertainers in music. One look at social networking and feedback sections all over the internet is proof of that. Madonna is going to be up and creek and very embarrassed when the contents of her harassing messages to younger entertainers and athletes goes public. And make no mistake, they will...
There are many older artists releasing albums and touring, doing quite well. However, they rely on their talent (Madonna has none) and aren't harassing and hounding younger stars like a succubus with no life.