Athlete Germaine Mason Dies In Tragic Bike Accident While Riding With Longtime Friend And Fellow Olympian Usain Bolt
April 24. 2017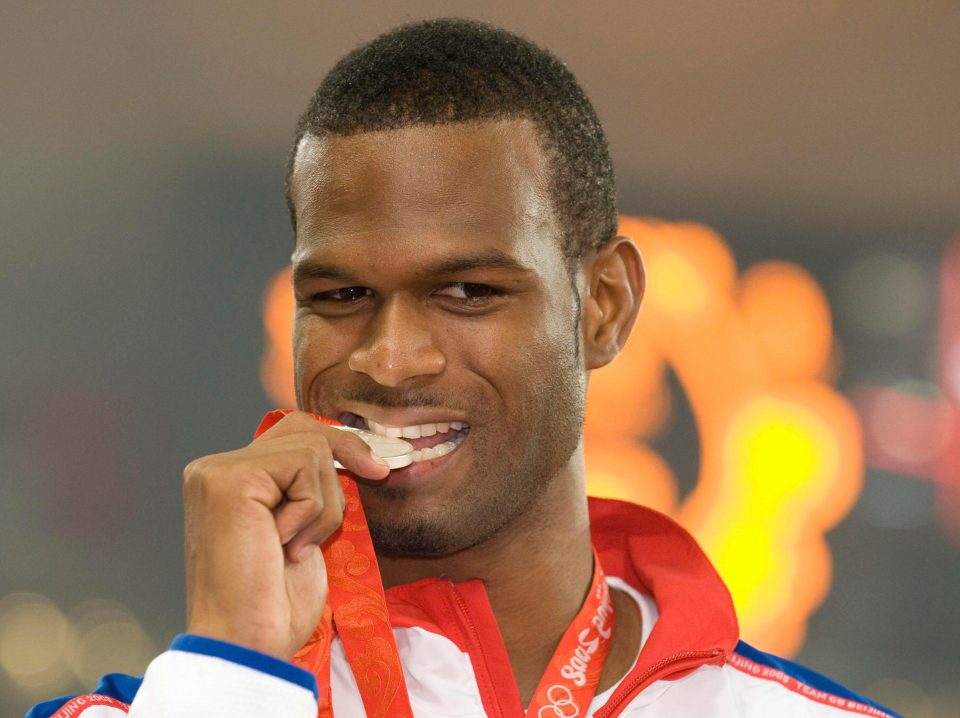 Germaine Mason
Jamaican born, British silver medalist, 34-year-old Germaine Mason, has died in an accident. Mason, whose mother is Jamaican and father is British, won Britain's first track and field medal of the 2008 Beijing Olympic games for the high jump. The accomplished athlete is also a high jump record holder in his native Jamaica.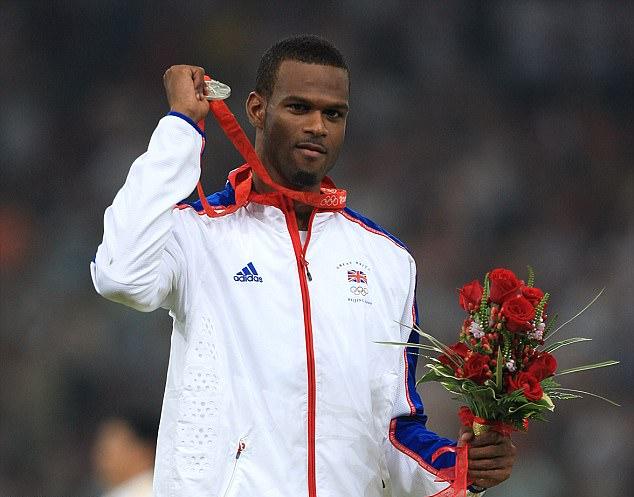 Germaine Mason on the podium after winning a silver medal at the 2008 Beijing Olympics
Retired athlete Mason, died in a tragic bike accident in Kingston, Jamaica on April 20, 2017 at approximately 4:20 AM. Mason had attended a party with other athletes. On the way home from the event, Mason led a bike convoy of famous Jamaican athletes from the party that included sprinters Usain Bolt and Michael Frater, as well as football players Ricardo Gardner and Ian Goodison, among others. Mason lost control of his motor bike, in an accident involving a vehicle and sustained fatally head injuries, as he was not wearing a helmet.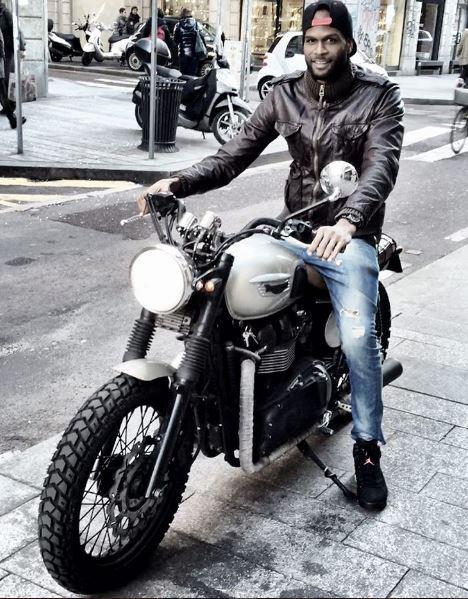 Germaine Mason in London, England
Two months ago in the February 6, 2017 Judiciary Report article "Jamie Lynn Spears 8-Year-Old Daughter Maddie Aldridge In Critical Condition After Terrible ATV Bike Accident (Britney Spears Niece)" I wrote about bike safety, the dangers they pose to athletes and wearing helmets:
"ATV/Quad bikes are dangerous. Many people have been seriously injured or killed in bike accidents, including entertainers and athletes. Many find them fun and thrilling, but there are many dangers involved in the operation of bikes. It is important to wear a helmet, drive at a moderate speed and not try any risky bike tricks..."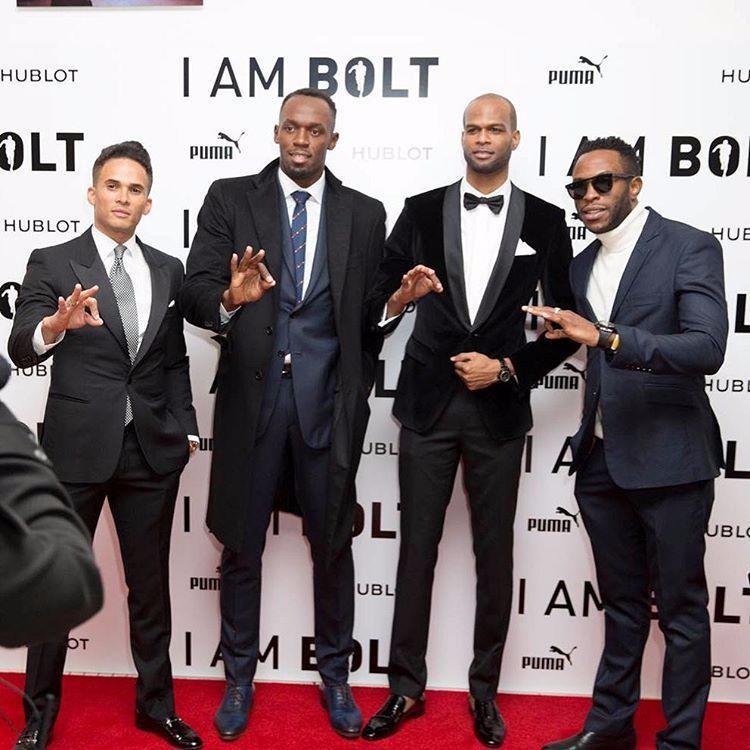 Usain Bolt (second from the left) and Germaine Mason (second from the right)
Top Jamaican sprinter Usain Bolt has been friends with Mason for many years, prior to both athletes becoming famous. Bolt and his friends were distraught at the scene of the accident, seeing Mason laying on the ground lifeless, as it is a traumatic experience. Many times Bolt has posted on Twitter.com about going out to ride his motor bikes and I tweeted in response that he should have fun, but be safe, as I was genuinely concerned, knowing the dangers associated with riding.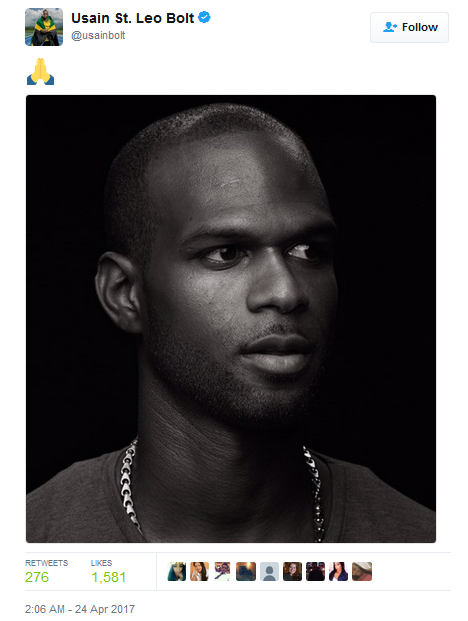 Usain Bolt's tweet today in remembrance of his friend Germaine Mason
Mason is well liked among sporting colleagues in Jamaica and Britain. Many of Mason's peers have expressed their condolences online. Mason's British Athletics high jumping coach Fuzz Caan stated, "Mason was an outstanding athlete and a truly lovely man. He had a wry sense of humour and was a pleasure to be around. He was a great ambassador of British high jumping. It is an honour for us to have him as part of our sporting history."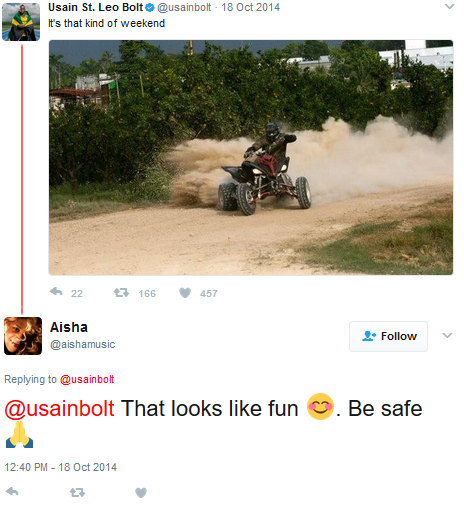 One of my tweets 3-years ago out of concern for Bolt who likes to ride bikes, as do many other athletes.
Mason leaves behind two children. My condolences to his family and friends. His career milestones and social networking pages reveals he lived life to the fullest. He enjoyed himself traveling the world with friends and family and accomplished much in his chosen sport. May he rest in peace.
RELATED ARTICLE
Jamie Lynn Spears 8-Year-Old Daughter Maddie Aldridge In Critical Condition After Terrible ATV Bike Accident (Britney Spears Niece)