Someone Is Trying To Destroy David Beckham And His Wife Victoria Beckham Via Hacking And Leaking Unflattering Emails That Have Created A Big Scandal
The Beckhams Fear More Damaging Email Leaks Will Occur
February 9. 2017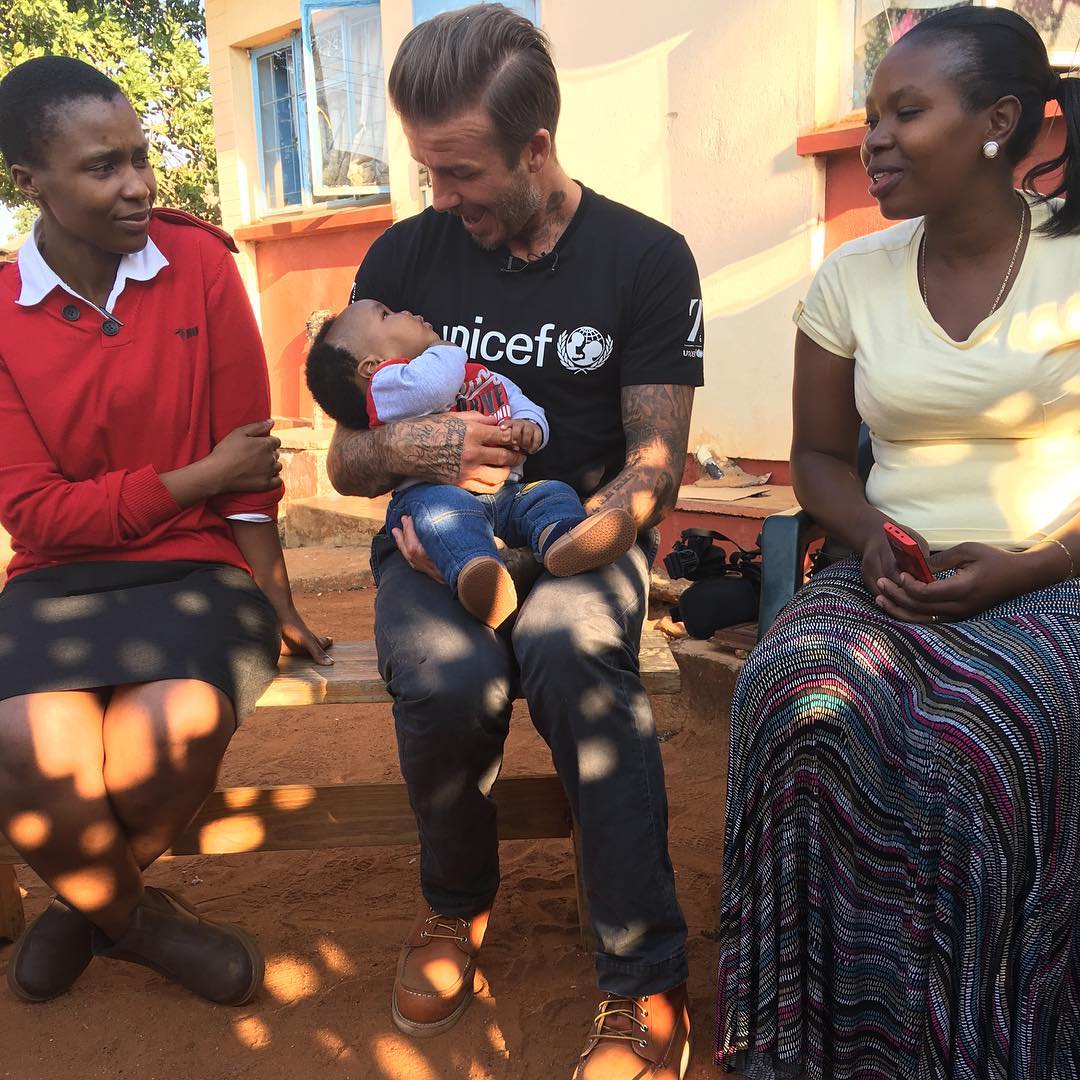 David Beckham during UNICEF charity trip in Africa
Retired 41-year-old British football star, David Beckham and his wife, former Spice Girl, Victoria Beckham, 42, are under attack by a hacker, who criminally violated their privacy in hacking and releasing a series of unflattering emails. The correspondences are between Beckham and his publicist and advisor, Simon Oliveira, of Doyen Global and subsidiary Doyen Sports.
The emails show Beckham slamming the government Honours Committee for failing to give him a knighthood from the royal family in Britain, after previously being awarded an OBE in 2003. Beckham referred to the Honours Committee as "unappreciative c**ts" over the knighthood snub. The issue may have been his age, as they prefer bestowing it upon older people. It is also being stated the Beckham's involvement in a tax avoidance scheme, with a group of alleged investors, under the company Ingenious, defrauded the British government out of £434,000,000.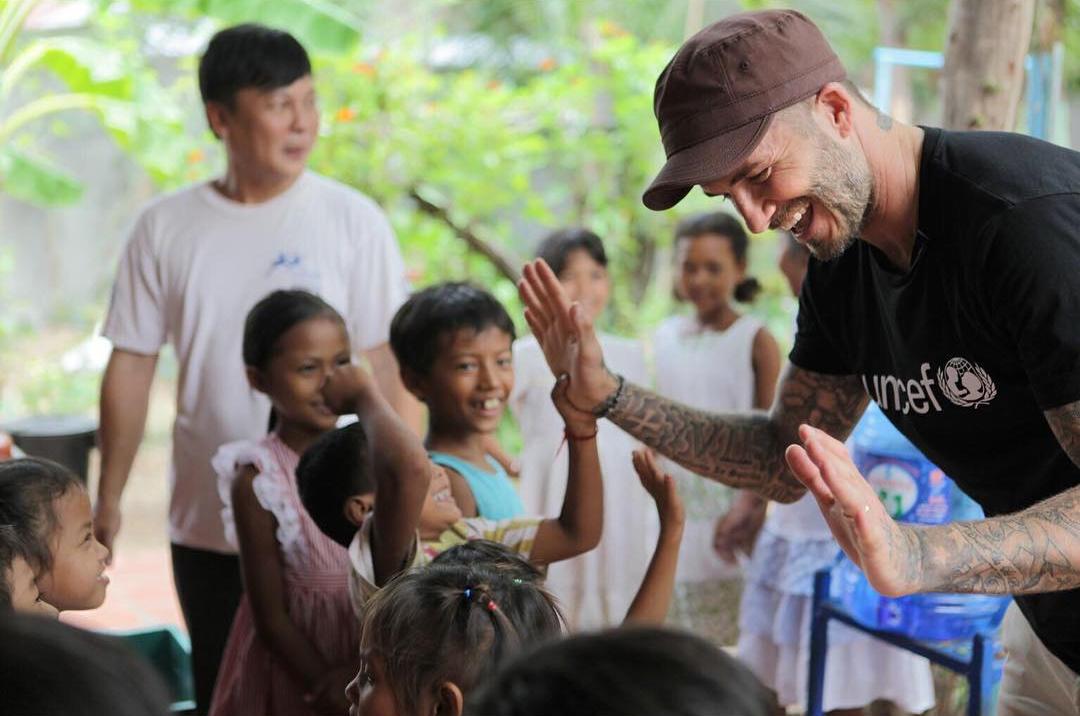 David Beckham during UNICEF charity trip in Asia
The Mirror newspaper in Britain reported, "The couple got caught up in a £434million tax avoidance dispute. Over a decade ago David and Spice Girl Victoria joined Inside Track Productions LLP, set up by notorious investment firm Ingenious. David went on to invest in two further Ingenious tax schemes in 2005 and 2006. Along with 140 other Inside Track Productions investors, the couple have been hit with tax demands by HMRC."
The Mirror newspaper further stated, "Ingenious invested hundreds of millions of pounds through schemes aimed at backing the British film industry. But the company claimed £1.6billion in losses – and clients, who were made partners of limited liability partnerships, were lawfully able to write off any losses from the schemes against their other income. Companies House records show Victoria and David are still listed as members of the LLP."
The email scandal has also resulted in the press and public accusing Beckham of doing charity work in an attempt to receive a knighthood. It was revealed he balked at giving UNICEF children's charity £1,000,000 of his own money, angrily stating to his publicist in an email, "I don't want to put my personal money into this cause. To pour this million into the fund, is like putting my own money in. If there was no fund, the money would be for me. This f***king money is mine."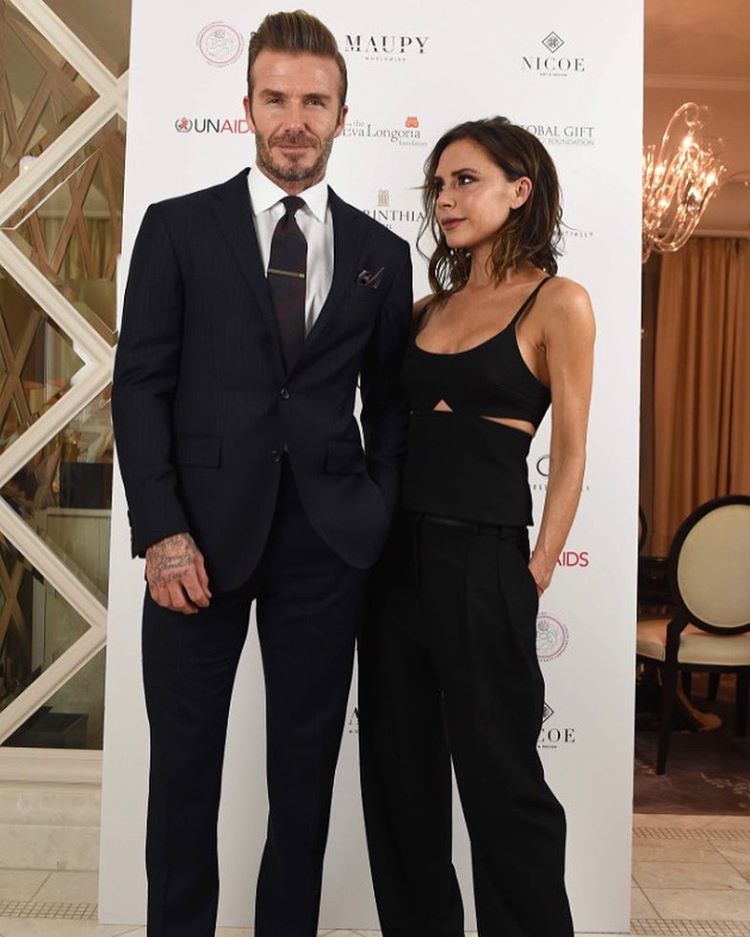 David Beckham and Victoria Beckham. Victoria has long struggled in her husband's shadow and has been the recipient of much criticism in print, on television and the internet over her career path. Beckham is respected in football as an accomplished, world class athlete, who reached the pinnacle of his sport. While Victoria is often criticized for having been in a faddish pop girl group in the 1990s and not designing the clothes in her fashion line.
While, Beckham has raised money through donations for UNICEF, the email is not going over well with people. The unflattering quote has been spread all over the press. Beckham was also slammed in the press for charging UNICEF £6,685 for a first class airplane ticket, regarding a charity event he flew to in Asia while representing the organization.
Beckham also slammed classical music star, Katherine Jenkins, 37, who was given an OBE by the royal family. Beckham stated to his publicist in an email regarding Jenkins, "OBE for what? Singing at the rugby and going to see the troops plus taking coke. F*****g joke." There was a bit of a scandal concerning married Beckham and Jenkins, with someone having spread a rumor online and in the press stating they had a sexual affair. Jenkins' response to the rumors did not help matters, infuriating Beckham's wife.
According to the Daily Mail, Jenkins was blamed by a "bemused" Victoria Beckham for drawing attention to the rumors in stating on her Twitter page, "Dear Twitter friends, I've read some horrible rumours on here & want u 2 know I absolutely deny I've had an affair with David Beckham. The rumors are very hurtful, untrue and my lawyers tell me actionable. I've only met David twice: once at the Military Awards in 2010 & on a night out in the West End in Feb 2012. We were out in a group of friends & it was just a normal fun evening out. Just do we are clear I have never been on my own with him and never arranged to meet up."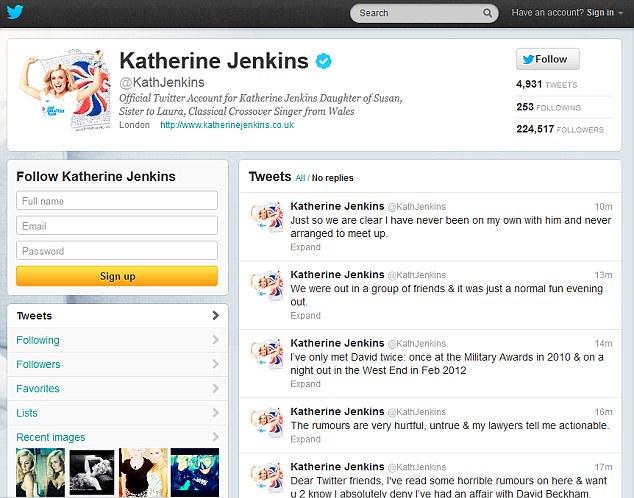 Daily Mail screen cap of Jenkins denial of Beckham extramarital affair
The press and social networking are slamming the Beckhams as superficial, throwing the sincerity of their charity work into doubt. The press has interpreted it as this, the emails present the view Beckham has only been doing charity work to get a knighthood and his wife, for an OBE, which she was recently given, to much protest from the public on social networking.
People are also slamming Victoria Beckham in the feedback section of sites such as the Daily Mail and the Mirror, as well as on social networking site Twitter, as an untalented former pop star fronting a fashion line of clothes she did not even design. People are also criticizing her dress sense, insulting it on social networking.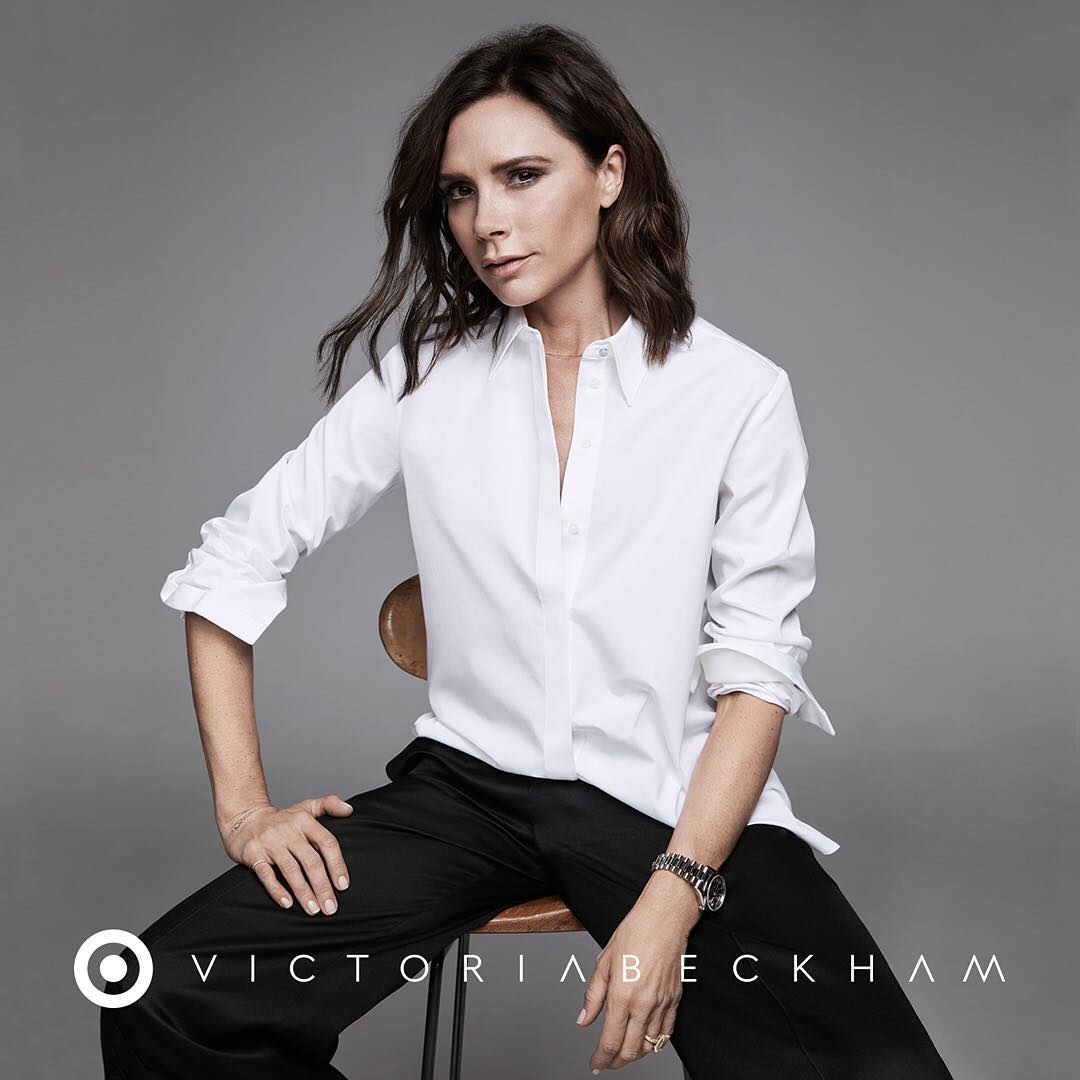 Victoria Beckham's logo is similar to that of the multi-billion dollar Target stores with the bull's-eye and the text is reminiscent of the trademark of the late singer Aaliyah
Beckham was the subject of further criticism on social networking, as the British public questioned why she was given an OBE. In 2008 the Daily Mail published an exposé revealing fashion designer, Rouland Mouret, has been designing Beckham's line, while she takes credit for it. Years later in 2015, the Daily Mail published another article revealing Beckham admitted she has been working with a team of designers, meaning they designed the clothes and she took credit for it to the public. Beckham has also been accused of ripping of the designs of H&M for her line, having darn near duplicates made up for sale, as exposed in the Daily Mail.
The public has expressed their anger online that Beckham is referring to herself as a fashion designer and lauding herself as such, when she is not designing the clothes in the brand she has slapped her name on (like many actresses and singers). It is extremely dishonest, especially in light of the fact she has won "designer of the year" in Britain (when Vivienne Westwood was a better choice) and "woman of the year" for fashion design, in a development that offended real designers, such as Dolce and Gabbana. She really is not deserving of said awards or to be called a fashion designer, as she is not designing the clothes she is taking credit for to the public.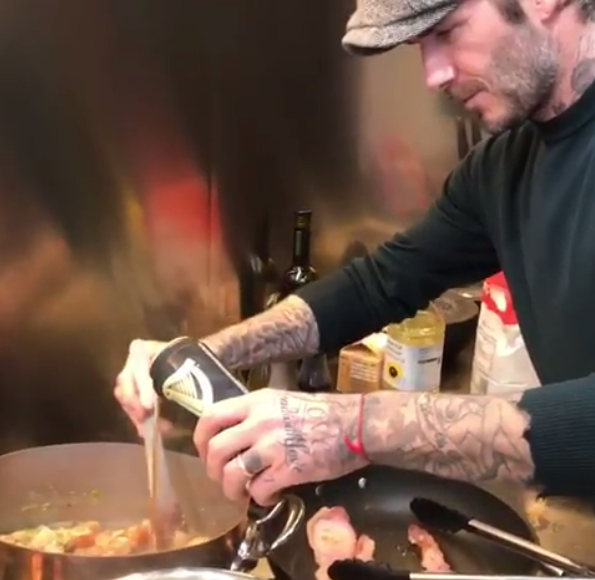 A video still of David Beckham cooking a meal while prominently displaying a Kabbalah Center cult red string bracelet. The still is from a video he posted on his Instagram page. The Beckhams were drawn into the cult by Madonna, who pursued Victoria Beckham and Guy Ritchie, who is a friend of David Beckham. I don't know why the Beckhams got involved with that deranged cult of loons.
Beckham's emails being hacked and leaked are an obvious attempt by someone to destroy the couple's brand and income stream. Someone wants to embarrass and ruin them. Hacking is a criminal offense. The Beckhams have reportedly gone to a computer forensic expert regarding the matter. However, considering they are involved in the Kabbalah Center cult, they need look no further, as this is their method of operation. They've clearly ticked them off, failing to do something the cult demanded. The cult has done this exact same thing to others for not doing what they are told, no matter how sick it is to everyone else.
Beckham was also caught up in another scandal. He was photographed leaving a Los Angeles night club with married socialite, Poppy Delevingne. Beckham's wife was in Britain at the time. Delevingne's husband was not present in Los Angeles either, which led to tongues wagging that they were having an extramarital affair. The photo showed a inebriated Beckham opening Delevingne's car door, but not going into the vehicle with her.
The bisexual, promiscuous Delevingnes are also mixed up with the Kabbalah Center, as drug addicted sister Cara Delevingne is a member as well. The cult has sexually passed Cara around the entertainment industry to men and women. In fact, Cara, Rihanna and Rita Ora are the most sexually used members of the cult in exchange for career favors, having been passed to men and women, young and old, for advancement in the industry.
STORY SOURCE
Tell David it's time we see what he is': Twitter mob turns on Victoria Beckham as she ignores David's email scandal... but pushes her own brand
Published: 03:46 EST, 7 February 2017 | Updated: 05:43 EST, 7 February 2017 - Victoria Beckham is now facing an angry campaign from fans as she continues to ignore the furore surrounding her husband's leaked emails. The fashion designer, 42, returned to work in New York on Monday as her husband's team sprang into action to try and protect their lucrative brand after it was revealed he branded the honours committee 'c****' after he snubbed for a knighthood.
While sources claim Beckham was a 'normal' man who was 'disappointed' by not receiving the title, his wife has kept silent on the storm. Under fire: Victoria Beckham is now facing an angry campaign from fans as she continues to ignore the furore surrounding her husband's leaked emails. As she tried to focus on her own business by sharing products from her Spring/Summer collection on Monday, the backlash turned on her - with critics slamming her for her husband's emails and for using slim models.
After sharing an image of her collection, one angry tweeter wrote: 'Anorexic chic was so yesterday!' Another user accused the former Spice Girl of arrogance, adding: 'u had a 'small' girl band a 100 yrs ago get over it. u r by no means a rock or any legend. move on honey. arrogant (sic).' Then came the criticism over David's emails: 'Sorry your husband has lost the plot he said what he said he need to get over it. (sic)'
One quipped: 'Tell David its about time people can now see what he is really like. He stopped becoming a footballer when he met you.' Revealed: David's team sprang into action to try and protect his lucrative brand after leaked emails claimed to show he refused to give money to Unicef and branded the honours committee 'c****' after he was snubbed for a knighthood...
Which bit of your dresses DID you design, Victoria?
Last updated at 11:05 PM on 06th December 2008 - Same seamstress as designer Roland Mouret. Same pattern makers. Same fabric suppliers. Same 'atelier'. Even the same label. And she can't draw. We reveal the striking similarities between the Mouret and Beckham dresses. When Victoria Beckham's new dress collection was launched in London last week, it drew gasps of admiration from some of the most established figures in the fashion industry.
The former Spice Girl turned designer, who has claimed she is more proud of her debut collection than anything else she has achieved, insisted she alone was responsible for creating the haute couture. Talking about her designs, Victoria, 34, said: 'I really had to prove myself ... But now I feel like I am competing in an arena where I belong. I was so nervous because this has been a lifetime in the making.'
Long and lean: Victoria Beckham wears a yellow Mouret design in Los Angeles (left), and out and about in one of her own creations with a similar below-the-knee. But it seems the former Posh Spice has had a considerable amount of help in the guise of one of her favourite designers, Frenchman Roland Mouret. Rumours are circulating in the fashion industry that the man behind the famous Galaxy dress – the hourglass dress that made women look like Forties Hollywood stars – is largely behind her collection...
'Victoria Beckham's designs are more like H&M, she's doesn't make clothes the same way as a fashion designer' Dolce and Gabbana hit out at designer of the year
Published: 10:31 EST, 3 April 2014 | Updated: 12:28 EST, 4 April 2014 - Her designs have been worn by the likes of Cameron Diaz and Blake Lively and in 2011, she beat off stiff competition from the likes of Stella McCartney and Tom Ford to be crowned Designer of the Year at the prestigious British Fashion Awards. However, while the world can't get enough of Victoria Beckham - she was named one of the UK's most influential women in BBC Radio 4's Woman's Hour 2013 Power List - two industry heavyweights aren't exactly her biggest fans.
Designers Domenico Dolce and Stefano Gabbana of Italian label Dolce & Gabanna this week praised Britain's 'cool' style and designers like Vivienne Westwood, but were less enthusiastic about Victoria. Speaking at the launch of The Glamour of Italian Fashion, a new exhibition at the Victoria & Albert Museum, Gabbana said the former Spice Girl had turned to fashion after doing 'many, many, many different things.' Victoria may have served as an ambassador for the Italian fashion house but Gabbana continued: 'she's a designer but...for us, she don't make (clothes) the same way like a fashion designer.'...
'I haven't had formal training': Victoria Beckham admits to working with a team of designers on her hit new collection
Published: 05:35 EST, 17 February 2015 | Updated: 06:44 EST, 18 February 2015 - Victoria Beckham's triumphant autumn/winter 2015 show in New York on Sunday made it clear the mother-of-four has firmly made the transition from pop singer to fashion superstar. The 40-year-old unveiled her latest collection of over-sized jumpers and midi skirts to rave reviews but, ever modest, she is the first to admit she doesn't actually sketch her own designs.
Saying she's had 'no formal training' in a new interview, the mother-of-four instead directs a team to create her rapturously-received clothes. Speaking to The Independent, she said: 'I have a different way of expressing myself because I haven't had that formal training. She added: 'I've learnt a lot, in the last seven years. I've learnt a lot very, very quickly. And I continue to learn.'
In a recent interview with the New York Times she described her design process: 'When I'm starting work on the collection, I just sit with my team and talk to them about what I like, what I find inspiring, what I'm desiring, what I want to wear, what I haven't done before.'We have fit models we work with, and we'll either work the fit model or we'll drape on a stand. I can draw, but badly. I think that's okay. No one's expecting me to do it the normal way. 'And that's a good thing. But I do sometimes take all my clothes off and drape on myself. It's just a bit more pleasant for everybody if we do it on models.'...