Singer Ariana Grande Slammed On Social Networking For Calling Herself 'The Hardest Working 23-Year-Old Human Being On Earth'
January 18. 2017
Ariana Grande has become completely deluded in the Kabbalah cult. Grande pictured above wearing Kabbalah red string bracelet.
Fans of singer, Ariana Grande, a member of the sick Kabbalah cult, have slammed her as deluded, for branding herself the "hardest working 23-year-old human being on earth #cute #butalso #CEO..." Sadly, some entertainers think of themselves in this manner and it is somewhat alarming. The entertainment industry is not hard work, with the exception of sports. Athletes train for 3-8 hours per day, which is very hard work. That level of physical activity, sustained for hours is grueling, painful and completely exhausting.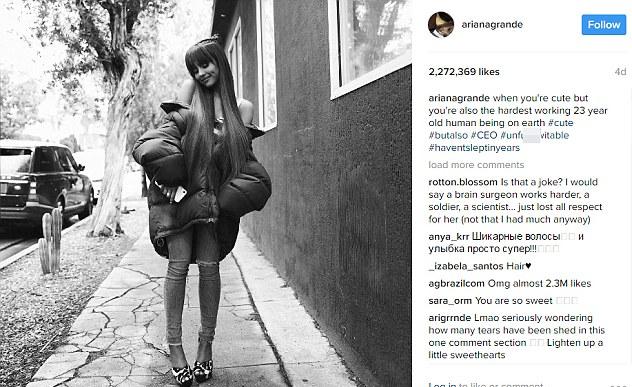 Ariana Grande slammed on Instagram.com for her cocky comments
Singers, actors and actresses do not undertake any of the hard work and strain people do in other professions, such as construction workers, farmers, farm laborers, doctors, nurses, scientists, teachers, soldiers, athletes, chefs, waitresses, fast food workers, cleaners, housekeepers and gardeners, ect. However, some singers, actors and actresses believe their own hype and begin to elevate themselves to levels they should not, as others in society do far more work in life and usually with less financial compensation.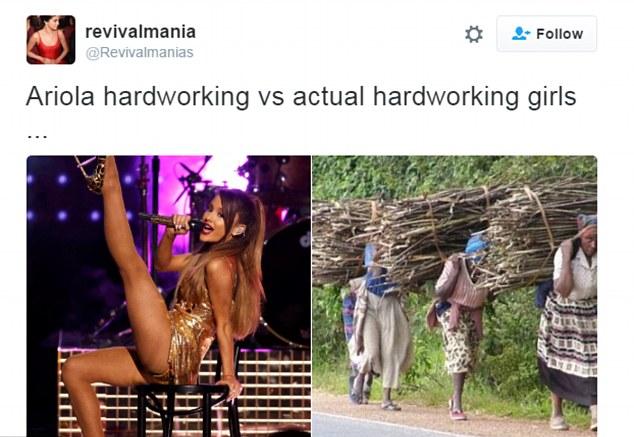 Ariana Grande (left) slammed on Instagram.com
That's Hollywood for you - they elevate going on stage half naked, then twerking their butts and opening their legs to the cameras, above things such as curing cancer and AIDS. Because, you know, singing and acting are like totally more difficult than science, like, for sure (that last line was sarcasm).
STORY SOURCE
Ariana Grande boldly declares herself the 'hardest working 23-year-old human being on Earth' - the Internet begs to differ . . .
Published: 17:05 EST, 17 January 2017 | Updated: 20:10 EST, 17 January 2017 - Like most twenty-somethings, Ariana Grande feels like she works hard. But unlike most twenty-somethings, the ponytailed pop-princess declared to her 94 million Instagram followers that she is the hardest working 23-year-old in the world. While it is no doubt the 'Into You' songstress is employed and likely working long hours, the braggadocious caption left several fans asking: 'Girl, what?' Ariana Grande captioned this photo: 'when you're cute but you're also the hardest working 23 year old human being on earth #cute #butalso #CEO #unf***witable#haventsleptinyears'...
Many of the 22,000 Instagram commenters on this post questioned the validity of this claim. One said: 'Is that a joke? I would say a brain surgeon works harder, a soldier, a scientist... just lost all respect for her (not that I had much anyway).' Another jabbed: 'When you're cute but also the most clueless 23 year old human being on earth.' A Twitter user said Ariana Grande wasn't as hard working as some women in reference to her Instagram post...