."

But back to Obama. He is the most Hollywood president in U.S. history. Hollywood is always in the White House, even drug taking and carrying stars and executives. For him to tell Trump that is hypocritical. I do not agree with Trump's statements on the campaign trail, as they are divisive, but Obama is the last one who should be calling anyone Hollywood.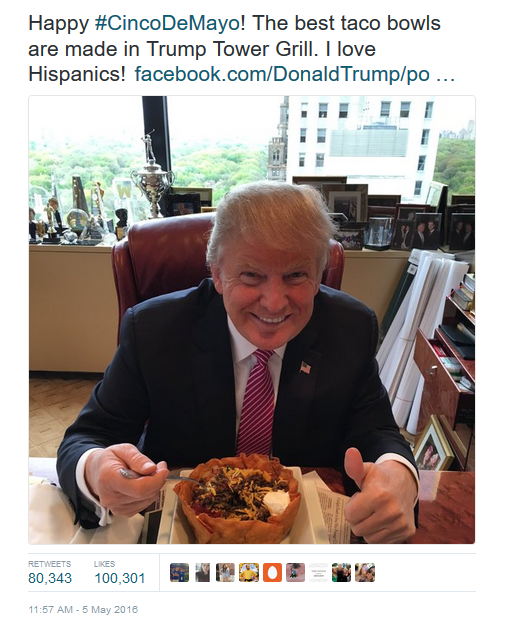 Donald Trump trying to get the Hispanic vote in the election by eating a taco
Who is more Hollywood than Obama. He has placed Hollywood's bank accounts ahead of the American people, giving them undue and undeserved taxpayer money and tax breaks, in what constitutes fraud. Obama has also allowed Hollywood illegal access to national security secrets for films and other unsavory reasons, which provoked the wrath of some members of Congress.
Cocaine snorting, alcoholic Hollywood loonies should not have access to national secrets, because if the wrong spy or terrorist targets and catches them, they will make them talk via very unpleasant, unsavory means. There's a reason only high ranking government officials with proper protection are given access to national secrets. Yet Obama has given Hollywood dingbats access to top secret information.
STORY SOURCE
This is not a reality show,' Obama tells Trump
Mon May 9, 2016 6:59am EDT - U.S. President Barack Obama warned on Friday that occupying the Oval Office "is not a reality show," in a swipe at outspoken Republican candidate Donald Trump who is vying to replace him in the White House. Fighting with Obama is a battle Trump would likely relish as he tries to rally support within his own party. During hard-fought Republican primary campaigns, the billionaire delighted in responding to attacks from rivals and found that his support grew when he lashed out at his opponents.
Asked about Trump at a media briefing in the White House, Obama called on the press and public to weigh past statements by the Republican but did not point to any specific issues or remarks. "This is not entertainment," Obama said, a reference to Trump's television background. "This is not a reality show. This is a contest for the presidency of the United States," he said...
Obama on Trump: 'This is not a reality show'
05/06/16 12:53 PM EDT - President Obama on Friday urged the news media to closely scrutinize Donald Trump's record and past comments, and avoid coverage that highlights "the spectacle and the circus" of the campaign trail. Obama previewed his role as an anti-Trump spokesman and pressed the media to follow suit. "He has a long record that needs to be examined. And I think it's important to take seriously the statements he's made in the past," the president told reporters at the White House. "I just want to emphasize that we are in serious times and this is a serious job."

Obama took a jab at Trump's past as host of the "Apprentice" reality television series: "This is not entertainment, this is not a reality show, this is a contest for president of the United States." Obama made a measured and stern critique of Trump and Republicans in Congress. He refrained from commenting about Trump's controversial tweet that showed him posing with a taco bowl to celebrate Cinco de Mayo...
RELATED ARTICLES
Donald Trump Demands Audience Pledge Allegiance To Him In Heil Hitler Styled Salute, Promotes Mussolini And Violence Against Minorities And Women
Donald Trump Says He Loves Hispanics While Eating A Grande Taco Bowl In Trying To Get Votes In The Presidential Election
Donald Trump's Third Wife Melania Trump Posed Nude And Married Him For His Money
People Have Been Doo Dooing On Donald Trump's Star On The Hollywood Walk Of Fame