President Donald Trump's Busy First Week In Office Leads To Protests Over 'Muslim Ban'
January 30. 2017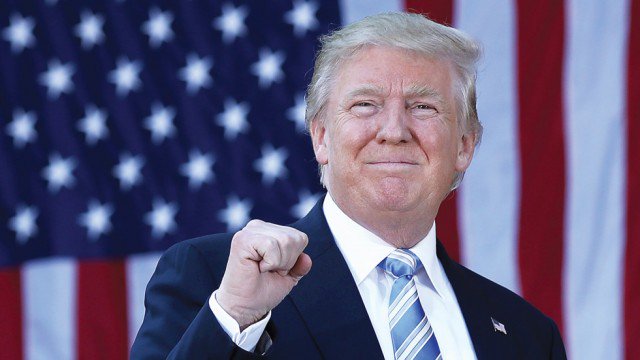 Donald Trump
President Donald Trump's first week in office was quite the busy one. He has been making good on his campaign promises, which is rare for a president in America. Some state they are surprised Trump is making good on his campaign promises. However, on the campaign trail he did state he would do these things.
Trump reversed a "0.25 percent cut in mortgage insurance premiums issued by the Federal Housing Administration (FHA)" that former President, Barack Obama, had signed shortly before leaving office. Trump also put a freeze on ObamaCare, the costly boondoggle of a healthcare plan by his predecessor.
Trump signed an executive order to complete the construction of the border security wall between America and Mexico and has demanded the latter pay for it. Mexican President, Enrique Pena Nieto, balked at the move. America and Mexico are neighbors and need to remain on good terms. America has benefited from Mexicans' vast contributions to the country. Furthermore, after all the money Obama spent in office, the money to complete the wall is better spent on other national endeavors.
Trump signed executive order banning people from six countries with heavy terrorist activity (Iran, Iraq, Libya, Somalia, Sudan, Syria and Yemen) from entering the United States of America for the next 90-120 days, until his administration can properly fix the faulty screening process from the Obama Administration that resulted in terrorists entering the country. This has sparked protests nationwide. Despite a federal judge issuing a stay on Trump's executive order, Homeland Security continues to enforce it. People from Muslim nations such as Saudi Arabia, Pakistan and Afghanistan, among others, are permitted to enter America.
In his defense, Trump has stated Obama instituted a similar ban in 2011, which barred all people from Iraq from entering America. As stated previously on the Judiciary Report, though I am a devout Christian who believes in Jesus and I do not agree with aspects of the Muslim religion as stated in the Koran (non-Muslims must be "maimed" and "killed" in accordance with the Koran, non-Muslims are "pigs" and "dogs", a woman is worth half of a man, a woman is property of her father then husband, music instruments/music is forbidden ect) I am not in favor of banning Muslims from entering America.
Trump also met with another newly elected leader, British Prime Minister, Theresa May, who entered office in mid-2016. Trump and May reaffirmed the two nations' commitment to working and trading with each other in the world.
STORY SOURCE
On His First Day in Office, Trump Raises Taxes on Middle-Class Homebuyers
January 20 2017, 4:02 p.m. - In one of the first official acts of his presidency, Donald Trump has increased taxes on a million middle-class homebuyers. The Department of Housing and Urban Development on Friday reversed a scheduled 0.25 percent cut in mortgage insurance premiums issued by the Federal Housing Administration (FHA). For a mortgage worth $200,000, this adds $500 to a homebuyer's annual costs.
These insurance fees are effectively a tax on middle-class homeownership. By reversing the cut, which was scheduled to go into effect on January 27, one week from today, Trump will be taking more money from FHA homebuyers to keep in government coffers. The FHA doesn't make loans, but it enables borrowers with credit scores as low as 580 to purchase homes with low down payments (as little as 3.5 percent). In exchange, it collects mortgage insurance premiums, which it places in the Mutual Mortgage Insurance Fund (MMIF) to draw upon in case of default.