Madonna Still Being A Stalker
More Unwanted Contact
September 22. 2008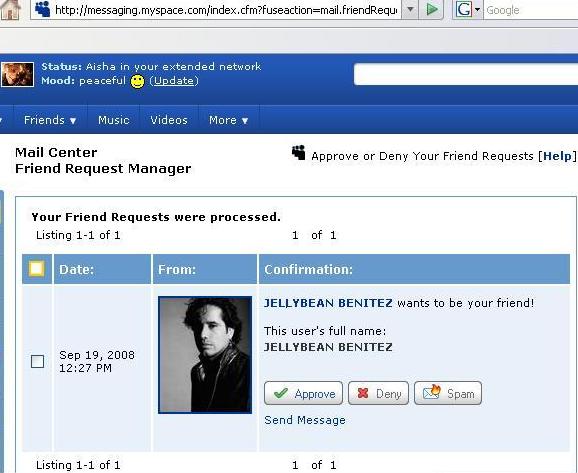 I have expressed in no uncertain terms that I think Madonna is a terrible, thieving, crazy human being. She has stolen Copyrights from me, as she has done to many others, and sickly invaded my privacy to disgraceful degrees.
I do not wish to have any contact with the nutcase, her producers or anyone affiliated with her. However, that has not stopped the deranged pop weirdo from continuing to engage in commissioned harassment and stalking. Psychologists all agree in online papers that there is a brand of stalker that engages in indirectly contacting victims through others.
Every week it's something else with her and I am beyond tired of it. A few months ago, she put Timbaland up to contacting my MySpace page. This week it's a producer named Jellybean Benitez.
The name was familiar, so I Googled it and found out he is a producer that's done several of her songs and many of her remixes and also had a relationship with her for a long time, during which she got pregnant more than once and aborted his babies. Based on what is written they are still friends.
300,000,0000 people on MySpace, yet her producers like Timbaland and now Benitez keep finding my page. She's putting them up to it. Witch, get a hobby. My family and I are tired of you. S
he keeps embarrassing herself with this madness, but won't stop, thinking she is accomplishing something.
She's also interfered in my personal life via a representative contacting 3 people in my life, offering them money to harass me. She is that far gone, crazy and out of control.
Just a couple weeks ago, my family and I were at a McDonalds. Two Kabbalah members, wearing the red string bracelets, which is not normal for Miami, as it is hated here, especially by Jews that view them as dangerous, sat down at a table near us, didn't order anything to eat or drink, and just stared at me for 20 minutes, while eavesdropping on our conversation.
It disturbed my family the way they were looking at me (very menacing). I noticed it too, but I didn't say anything until we left the area, after having been harassed by people on Madonna's payroll before, I've learned the best thing to do is document it and ignore them. I'm not a violent person, never started a fight, therefore I don't like people like that around me. It would be revolting to any civil person.
Additionally, a couple years ago, unbeknownst to me at the time, someone affiliated with Madonna and Warner, that I knew through a longtime friend that worked at EMI, called me and told me he has P Diddy's personal number and email, said he'd told him about me and that he gave him the info to give to me.
I never called or emailed him. P. Diddy then signed with Warner not long after. In retrospect, after all that's happened with Madonna and Warner Bros. infringing my Copyrighted Catalog, that strange incident makes sense now.
But back to Myspace. I usually "add" everyone that sends a "friend request" to my Myspace page, but I don't want anything to do with anyone connected to Madonna, in light of the unprovoked, sick, nasty things she's done regarding me. You guys don't know the half of it.
Furthermore, she may interpret it as a green light to do worse than she's already done. I'm not operating outside the law in trying to resolve the case, unlike she is, so I do not want that garbage in my life.
Moreover, I think she is a horrible person with no talent, who is a complete fraud. The lengths that woman has gone to, to maintain that crazy career should disturb any normal person.