L.A. Reid States 'Sorry TLC Not Dropped From Epic'
November 23. 2013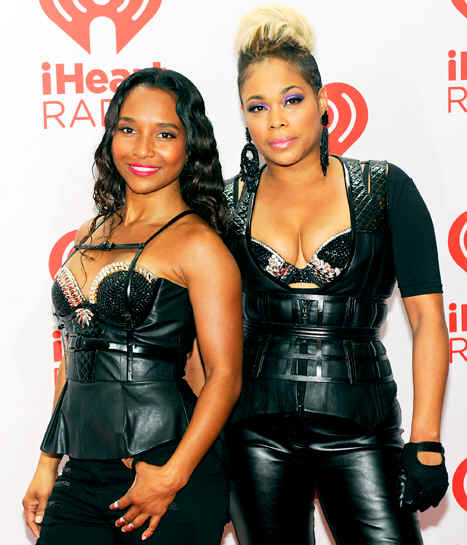 TLC
This week, two of TLC's top fansites bitterly complained on the social networking website Twitter that the female duo had been dropped from Epic/Sony records because of their former manager, Pebbles, being angry with the portrayal of her in the movie "CrazySexyCool: The TLC Story" (Pebbles Being Blamed For TLC Being Dropped From Sony Music's Epic Records But The Truth Is...).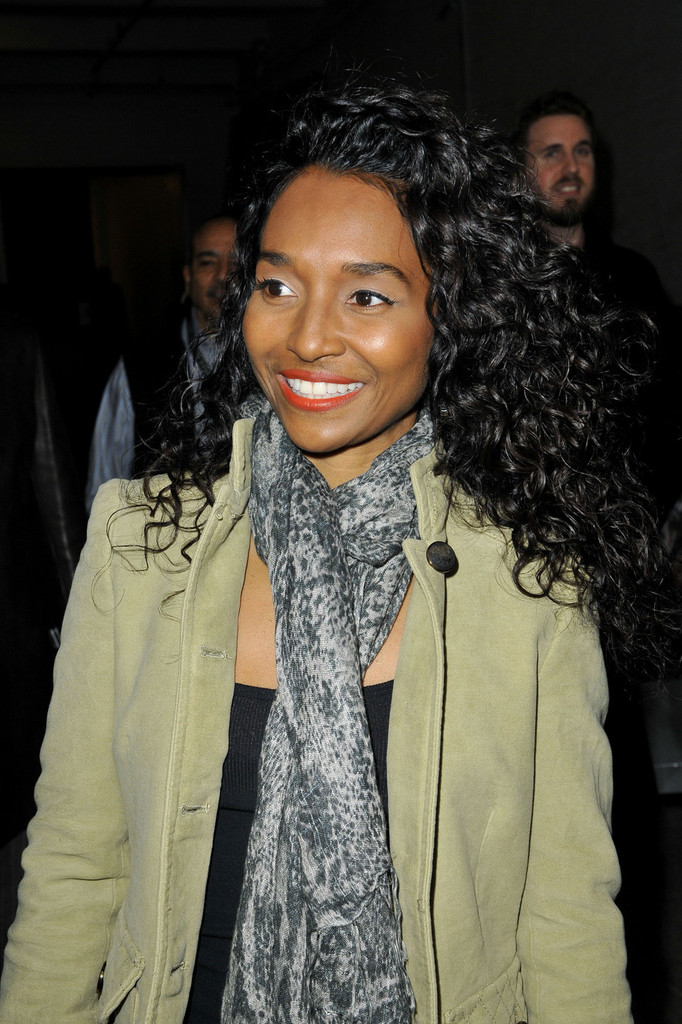 Chilli of TLC (Rozanda Thomas)
Television network VH-1 issued a retraction to Pebbles on the former "true story" rebranding it a "fictionalized" account of events that transpired and no "reasonable person" should take it literally. However, some fans of TLC have been directing a lot of hate and animosity towards Pebbles on Twitter.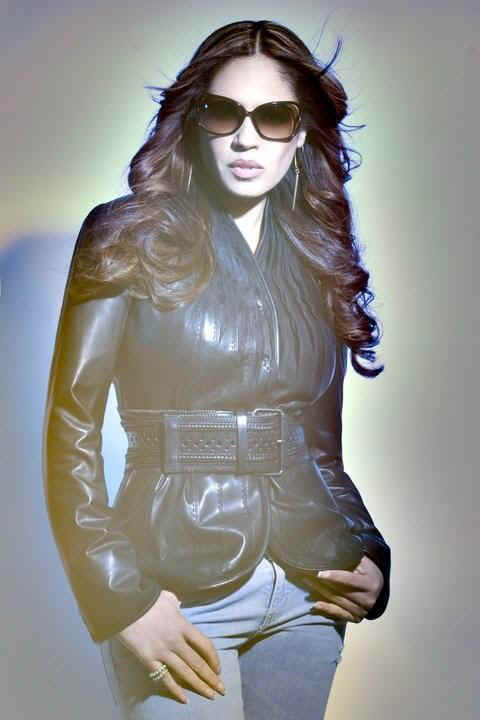 Pebbles
However, when TLC were removed from the Epic/Sony recently, the webmasters of a couple TLC fansites, drew the public's attention to it and blamed Pebbles as the reason behind it. However, as a pr rep pointed out to me and others on Twitter, L.A. Reid has since issued a tweet stating, "sorry folks- @OfficialTLC have not been dropped by @Epic_Records and yes we @officialchilli and @tbozworld are friends 4 life!"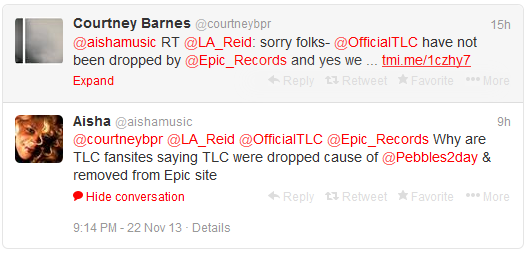 Either the fansites were misinformed or the usage of the words "sorry folks" in L.A. Reid's statement indicates they were dropped but have been reinstated. Either way, as the Judiciary Report pointed out yesterday, TLC's sales new are too low (50,000 units in one month) as artists selling five times as many units have been dropped.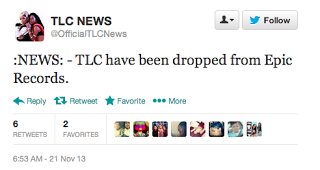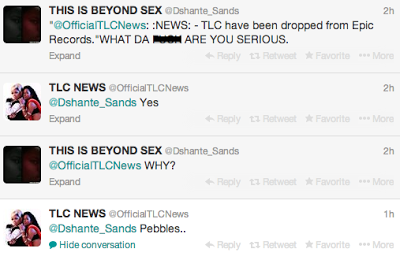 Tweets about TLC being dropped from Epic/Sony
The whole dynamic of the group changed when Lisa Lopes died a decade ago in a tragic car accident. Things haven't been the same since, then the group went on an extended hiatus. Many younger audiences do not know who TLC are, though the biopic did grant them new exposure.
RELATED ARTICLES
Pebbles Does Interviews With Wendy Williams And Huffington Post Spilling Information On What Happened With TLC
Pebbles Daughter Ashley Reid Slams TLC's Chilli For Having Sex With Her Stepdad L.A. Reid
Singer Slammed In The TLC Biopic 'CrazySexyCool' Is Outed As Beyonce
TLC's T-Boz Slams Former Female Associates Pebbles And Crystal Jones As Scorned Heifers
TLC Biopic 'CrazySexyCool' Exposed As Grossly Inaccurate By People Instrumental To Their Careers
The TV Movie "CrazySexyCool: The TLC Story" Left Out A Lot Of Things...
TLC Take To The Wendy Williams Show To Slam Their Former Manager Pebbles (Video)
The TV Movie 'CrazySexyCool: The TLC Story' Could Be The Subject Of A Defamation Lawsuit