John Travolta's Deceased Son Found By Gay Lover
The Travoltas' Story Keeps Changing
January 5. 2009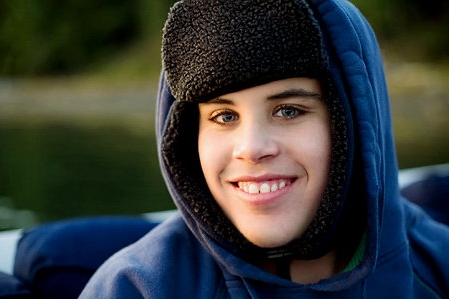 Jett Travolta

In conduct common in Hollywood, John Travolta was leading a double life, covered by a "beard" his wife, Kelly Preston. During the sad and lamentable events that unfolded last week at their vacation home, John Travolta's deceased 16-year-old autistic son, Jett, was discovered unconscious in the bathtub by the actor's gay lover that doubled as a nanny,

Jeff Kathrein

. The male nanny is actually a photographer and member of Scientology.

In 2006, the Enquirer published a widely circulated photo of John Travolta perched on his toes, reaching up to kiss nanny

Jeff Kathrein on the mouth, as he stood on the steps of the actor's private airplane. Both men are homosexuals married to women also involved in Scientology.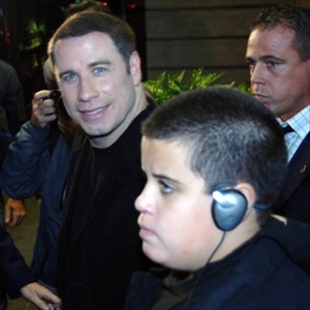 John and Jett Travolta
As I have written before, Travolta is gay, which Scientology frowns upon. Another Scientologist that left the cult, sued them for bilking him out of $1,000,000 with false promises they would make him straight, as they supposedly did for Travolta, in pairing him with actress Kelly Preston.
Another troubling fact about Jett's death is the story keeps changing.
Not to mention, the first person to speak from the Travolta camp was a lawyer, not the standard family member, friend or the bereaved.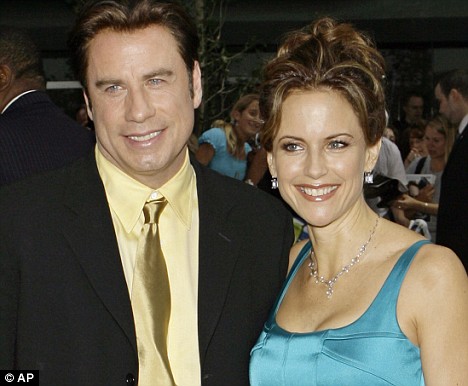 John Travolta and wife Kelly Preston
First it was stated Jett was found in the bathtub, after having a seizure, then hitting his head, causing the alleged fatal blow. Then the Travolta camp changed the story and stated Jett slipped, hit his head and had a seizure on the bathroom floor.
It is rare to die from a head injury springing from a seizure in a bathtub, unless one drowns. It is also not the norm to die from a head injury caused by a seizure.
The official released police report in the Bahamas stated Jett was left unattended for 10 hours. He was last seen at 10PM on New Years day, but found at 8AM the next morning. This is the report they took at the scene of the incident.
Two days after, the Travoltas released a statement changing their earlier claim. They now state he was not left unattended for 10 hours, has a nanny on call 24/7 (
Jeff Kathrein) and chimes on the door to indicate when he goes to the bathroom.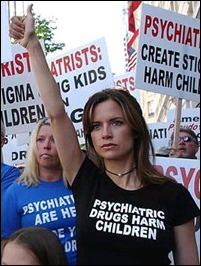 Jett's mother actress Kelly Preston robotically protesting against pharmaceutical drugs
The Travoltas, much like the Cruise family, have vigorously and publicly campaigned against the use of pharmaceutical drugs, in accordance with their questionable Scientology beliefs.
When the public openly criticized and slammed the Travoltas last week for not putting Jett on anti-convulsion medication that could have saved his life, a statement was released by the actor's lawyer yesterday claiming they tried Depakote, but it did not help him, so they discontinued the treatment and the seizures continued.
I find it difficult to believe a hard-line Scientologist allowed their child to take a pharmaceutical drug. Additionally, Depakote is often taken in tandem with another drug, whose primary purpose is to act as an anti-convulsion agent. Depakote is a bipolar drug with anti-convulsion properties.
Furthermore, what will head Scientologist, Tom Cruise, who viciously attacked Matt Lauer on TV in a mean, crazy tirade over kids and pharmaceutical drugs, have to say about this. I find it hard to believe he did not subject the Travoltas to an official Scientology "disconnect" (disassociation) from the cult over the alleged Depakote use.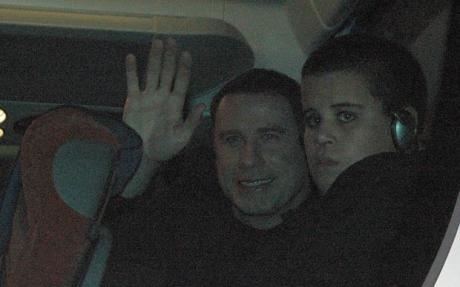 When my mother heard the Travoltas claim about the Depakote, she stated it reminded her of a patient 15 years ago at a group home for the disabled, who was prone to seizures. A new employee was brought in to add to the staff. The new employee dismissed the handwritten instructions on a meds sheet to administer Tegretol in tandem with Depakote to the patient.
My mother had the weekend off and started receiving calls that said patient had three seizures. She thought it strange, as the anti-convulsion medicine had been working. She asked them to check the meds sheet, where each employee is required to sign their initials after administering every dosage.
Lo and behold, there were no initials beside the Tegretol and Depakote on the patient's meds sheet. The new employee dismissed it, due to the fact it was handwritten, while the rest of the sheet was typed by the doctor's office. Hence the seizures reoccurring.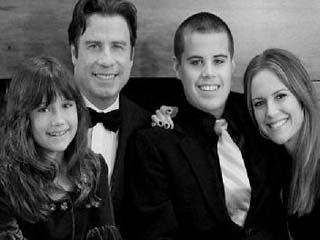 The Travolta family
While, I don't recommend Tegretol (but if your doctor prescribed it, do not discontinue it), as it has been known to cause liver damage and a drop in the white blood cell count, it has worked for many. So has Depakote. Lamictal has worked for many in controlling seizures for years and is well tolerated.
The point is, under the supervision of a trained physician, seizures can be controlled, if the patient or their caretaker adheres to a proper, prescribed regimen.
This is not something anyone should wing or apply unproven, unscientific theories to, as it was reported Jett Travolta was put on a Scientology "rundown" which is dangerous. It includes taking very high, unsafe doses of vitamins, so above the FDA's recommended dosages, it causes liver damage.
Scientologists also believe in using excessively hot saunas and baths to allegedly purify the body's organs from all the drugs a person has ever taken, pharmaceutical or otherwise.
Another troubling factor is other Scientologists have died in bathtubs when cult "purifications" (rundowns) went wrong. Scientologists have died after being placed in bathtubs filled with extremely hot water (it is not a good idea to raise one's temperature too much).
This event will certainly go into Scientology's file at the FBI. Here's hoping the cult doesn't try to criminally break into a federal government office again physically or via internet, to see said file. It's not like Scientology hasn't done it before and gotten sentenced to prison (IRS). It's not like fellow Hollywood cult
hasn't been plotting the same either, but this time regarding the FBI. How arrogant.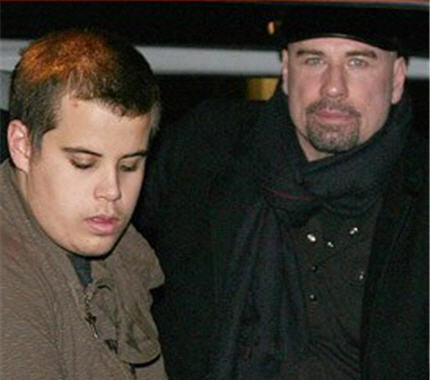 Jett (left) and John (right)
To make matters worse, Scientologists believe people with autism or any other disability are "degraded" human beings, which is a lie.
Jett Travolta was a handsome young man, with a great smile and beautiful eyes. He deserved a better life than the one Scientology dictated.
The Travoltas were so against him being mentally disabled, because of the insulting terms Scientology assigns, they told the public he was afflicted with
Kawasaki Syndrome, which many doctors and nurses have disputed over the last two days.
For several years many have stated he has the classic symptoms of autism, which Scientology does not recognize. Jett's uncle Joey Travolta even made a film about it, stating the autistic students he interviewed reminded him so much of his nephew.
It must have been hard for the Travoltas to hide Jett and his illness from the public, in fear of what their deranged Scientology cult would do to the child if the truth became known. Jett was not an embarrassment, but make no mistake, Scientology is.
No cult is worth losing your child over. I am sorry he died.
Note: the responding paramedic's name in the Bahamas is an unusual one, Marcus Garvey, which is also the name of a famous, deceased Jamaican national hero.
John Travolta's Son: Meds Ultimately Did Harm
TMZ has learned more about the medical condition of John Travolta's son, Jett, and the medication that ultimately didn't work.
We're now told the grand mal seizures Jett suffered were "frequent and extremely serious." Travolta's lawyers, Michael Ossi and Michael McDermott, tell us "each seizure was like a death," with Jett losing consciousness and convulsing.
We now know Jett was taking a drug called Depakote, a strong anti-seizure medication. There have been reports Travolta refused to give his son anti-seizure meds because of Scientology but those stories are not true.
Jett had been having seizures on an average of every four days, until he started taking Depakote. Ossi and McDermott say the drug initially worked, reducing the frequency to approximately once every three weeks.
Jett took Depakote for "several years," but it eventually lost its effectiveness, according to Ossi and McDermott. They say the Travoltas were concerned about possible physical damage. And, Jett went back to having around one seizure a week...
http://www.tmz.com/2009/01/04/john-travoltas-son-meds-ultimately-did-harm/#comments
Q. Jett Travolta apparently had Kawasaki disease. Could this have caused the seizure?
A. Probably not, Wright says. Kawasaki disease is an inflammation of the blood vessels that can damage the heart but doesn't affect the brain.
http://www.usatoday.com/news/health/2009-01-04-seizures-qna_N.htm
Who is Jeff Kathrein, Jett Travolta's nanny?
Who is the Travolta family nanny Jeff Kathrein who was in charge of caring for Jett Travolta and who reportedly found his body in the bathroom?
On his website, he describes himself as a photographer. He mostly seems to do wedding and maternity shots but there's also one of his photos (seen at left) of Kelly Preston that ran in TV Guide magazine.
But in another photo taken In 2006, Kathrein and John Travolta were caught by paparazzi locking lips...
Kathrein's qualifications for childcare -- particularly a child with serious medical problems -- are unknown.
But according to Gawker, he is a Scientologist, like Travolta and Kelly Preston. Kathrein's wife, Ana, also seen on the website and expecting their first child, is also a Scientologist.
Some Scientology bashers insist that the church forces gays and lesbians to stay in the closet and maintain the appearance of heterosexual relationships.
You don't think... Nyah. That's crazy talk!...
http://latimesblogs.latimes.com/thedishrag/2009/01/who-is-the-trav.html
A reader writes:
I am a pediatric emergency room physician. We occasionally diagnose Kawasaki Disease (now properly called Kawasaki Syndrome) in young children. There are so many things wrong with the story of Jett's death that I am not sure where to start, but here's a try:

1) NO association between Kawasaki and "toxic carpet cleaning chemicals" (or any other environmental cause) has ever been established. Given that these chemicals are ubiquitous in our society, if there were an association I would expect Kawasaki to be much more common.

2) As far as I know, Kawasaki disease does not lead to brain injury or seizures. I suppose one could conjecture that if Jett had untreated heart problems from Kawasaki (which CAN happen) this could have led to a heart attack that led to seizures and death, but it sounds like Jett had seizures for a long time, which makes this a bit of a reach.

3) It would be incredibly rare to bump your head and die from a seizure.
We see children every day with seizures, and not once have I seen a child bump his head hard enough to have a brain injury from this. Of course, prolonged seizures or seizures that occur while doing something dangerous (driving, swimming, etc.) can lead to brain injury, but otherwise this is a stretch. Also, autistic children can exhibit self-injurious behavior, especially if untreated, and can exhibit behavior such as intentionally hitting their heads against walls or other hard objects. It is much more likely that a head injury led to brain injury (the cause of death) and the seizure than the other way around.
http://andrewsullivan.theatlantic.com
From Travolta's Biographer
An explanation:
In private, [John] and Kelly were always very practical and positive about Jett's health. They put him on a detoxification programme and encouraged his love of the outdoors, of sports, swimming, cycling and hiking.
In public, John clearly adored his son and spoke of him in glowing terms but he was always wary of delving too deeply into the details of his illness. It was simply too painful a subject.
Even when people saw Jett and it was obvious something was wrong, John refused to talk about it. In fact, the only time John made any public comment was when it was suggested that his son was autistic, an allegation he strongly denied and which hurt him deeply.
http://andrewsullivan.theatlantic.com
Rescue Worker Reveals Details Surrounding Jett Travolta's Death
Marcus Garvey, the crew chief of the EMT unit that responded to the Travolta's home in the Bahamas and transported Jett Travolta to the hospital, gives all the details surrounding the 16-year-old's tragic death...
When Garvey arrived at the Travolta's home, he tells RADAR that Jett had been moved into a hallway and a doctor was performing CPR on the boy. Jett was unconscious and had a hematoma. "There was a minimum amount of blood," Garvey said, describing it as consistent with someone who had just had a seizure.
Garvey told RADAR that Jett had no pulse and there was no respiration.
Kelly Preston asked: "Is he breathing? Are you helping him? Are you getting him back? Is he coming back?"
Garvey says he could only answer: "We are still trying." ...