Federal Government Report States Marijuana Use Can Lead To Psychosis And Schizophrenia
January 17. 2017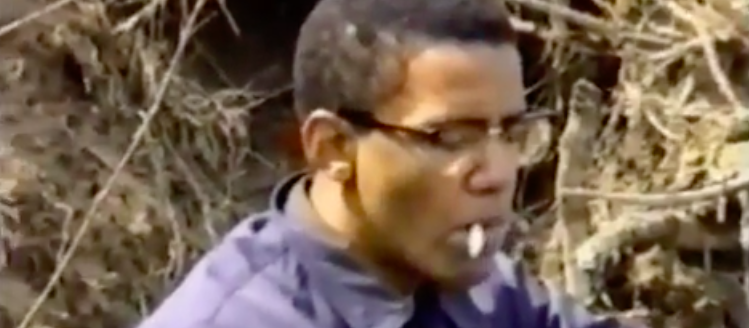 President Barack Obama pictured years ago, smoking weed and chatting crap in Kenya, under the influence of the drug
A newly released report by the U.S. federal government indicates what some have known for a time, regarding marijuana use leading to psychosis and the advanced, incurable form of mental illness known as schizophrenia. It concurs with the federal DEA's view of marijuana being dangerous (U.S. Drug Enforcement Agency Declines Lifting Ban On Marijuana In The Face Of Malia Obama Drug Scandal Labeling It 'As Dangerous As Heroin').
The executive branch of the U.S. government, via the Obama administration, with members actively using the drug in the White House for years, among other narcotics, led the push to legalize marijuana use in many states. However, the Judiciary Report is of the belief it was a bad idea and stated this point of view for years.
There are many people who have become mentally ill and lost some of their cognitive functions from marijuana use. It also leads to lethargy and a lack of productivity. It kills brain cells. There is also significant data revealing, marijuana often serves as a gateway drug to harder narcotics, which have lead to overdose and death for many people. Some people's minds can take it. Others can't and it leads to a downward spiral of mental illness and worsening drug use.
There are people I love whose lives have been ruined by marijuana. They only used marijuana, not other drugs, but it slowed them down. Bright, creative people with university educations, rendered shells of their former selves. Some in the public eye paint marijuana use as harmless, but I can attest from what I have witnessed others go through, it is not so. It can destroy your life, leaving you a shadow of your former self. While I am not in favor of sending people to prison for smoking marijuana, there are known mental and physical complications associated with its use that has proven detrimental to many lives.
STORY SOURCE
Marijuana DOES cause schizophrenia and triggers heart attacks, experts say in landmark study that slams most of the drug's medical benefits as 'unproven'
Published: 14:47 EST, 12 January 2017 | Updated: 19:09 EST, 12 January 2017 - Marijuana does raise the risk of getting schizophrenia and triggers heart attacks, according to the most significant study on the drug's effects to date. A federal advisory panel admitted cannabis can almost certainly ease chronic pain, and might help some people sleep. But it dismisses most of the drug's other supposedly 'medical benefits' as unproven.
RELATED ARTICLES
Lollapalooza Concertgoer Snitches On Malia Obama: She Was Smoking Marijuana And Then Went Off With A Boy When The Secret Service Wasn't Watching!
U.S. Drug Enforcement Agency Declines Lifting Ban On Marijuana In The Face Of Malia Obama Drug Scandal Labeling It 'As Dangerous As Heroin'
Video Shows Marijuana Smoking Obama Complaining White People Are Superior In His Country Of Kenya (Video)
Malia Obama Dances Suggestively At Lollapalooza Again And Is Branded A 'Hoe' On Social Networking
President Barack Obama's Daughter Malia Obama Present At Wild Party Broken Up By Police
President Barack Obama's Daughter Malia Obama Photographed At Beer Pong Party Again