Chris Brown's Former Manager He Beat Up At His Home Loses $1.5 Million Case Against Him

March 17. 2017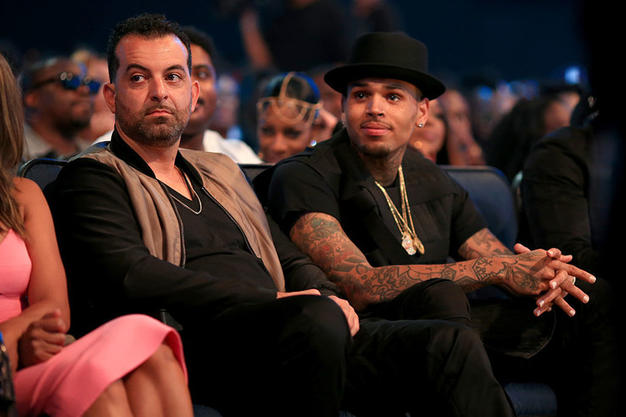 Chris Brown and former manager Michael Guirguis pictured at an awards show. Guirguis has just joined well known Hollywood talent management company UTA
Michael Guirguis, also known as Mike G, head of entertainment company, Nitevision Management, has lost a case against former client, singer Chris Brown, over unpaid fees. Brown and Guirguis parted ways after the singer assaulted him, due to the lackluster sales of his "Royalty" album. Guirguis accused Brown of punching him in the face and head several times, in an unprovoked attack that left him bloodied and in the hospital emergency room. Brown has been attacking a number of people around him, as he has bipolar disorder and schizophrenia.
Guirguis contended he was owed unpaid fees from the singer to the tune of $1,500,000. Los Angeles Superior Court Judge James Chalfant sided with Brown, denying Guirguis' legal claim. Not much is known on the legal decision at this time, regarding what precipitated the judge's decision.
STORY SOURCE
Chris Brown's Former Manager Loses Bid To Seize $1.5 Million In Assets
LOS ANGELES, CA — Chris Brown's former manager lost a bid to seize more than $1.5 million in assets from the singer for allegedly failing to pay commissions owed for personal services, court papers obtained Wednesday show. Los Angeles Superior Court Judge James Chalfant on Tuesday rejected a motion brought by lawyers for Michael Guirguis and his firm, Nitevision Management. Guirguis, also known as Mike G, sued the singer last summer for allegedly beating him up on May 10 last year, just days before Brown was to leave for a European tour...
Former Chris Brown Manager Joins UTA
3/15/2017 - United Talent also adds U.K. music agents Bex Majors and Billy Wood. Mike "Mike G" Guirguis, Chris Brown's former manager, is one of three new agents -- including Bex Majors and Billy Wood -- joining United Talent Agency's music team. The trio's hiring is the latest move in UTA's ongoing expansion of its music division, following the recent additions of music agent Rob Walker and music brand partnerships head Toni Wallace on the executive front and rappers YG, Pusha T, Desiigner and Tyga as clients...