NOTE: This article was hacked by Madonna.com's Kabbalah cult hackers at Digilink today, who defaced it and created errors and changes, not present in the original article. I have corrected the problems. Sorry for the inconvenience.
Amy Winehouse Died In Bed

July 25. 2011

British singer, Amy Winehouse, died alone in bed at age 27, after a suspected drug overdose. Reports state, on Friday, July 22, 2011, Winehouse, who is an alcoholic, was seen buying the narcotics ecstasy, cocaine, heroin and ketamine (horse tranquilizer) in the hours leading up to her death. A half a day later, on Saturday, July 23, 2011, Winehouse was found dead by her security guard, shortly before noon.

It is important to note, taking drugs and alcohol during the same time period can lead to death. Attorney, Robert Shapiro, was grief stricken, when his son, Brent Shapiro, took half an ecstasy tablet with one alcoholic drink and died from doing so. Many recreational users and addicts, are not aware of the dangers.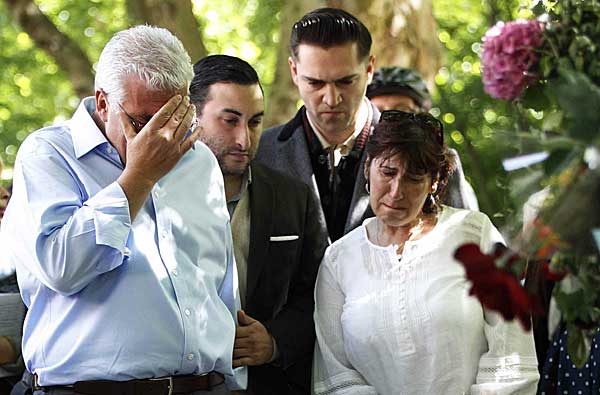 Amy Winehouse's family and ex-boyfriend Reg Traviss, gathered at a makeshift memorial outside her Camden Square home
It is ironic that someone with so much to live for, died so young and in a preventable tragedy. She had made millions through her singing career, with 5 Grammys on her shelf, along with a lucrative recording contract and a new album in the pipeline.
However, her refusal to come to terms with the fact she needed to get clean and sober, ultimately cost Winehouse her life. It was clear from interviews, Winehouse did not grasp the importance of staying drug free and what the end result could be.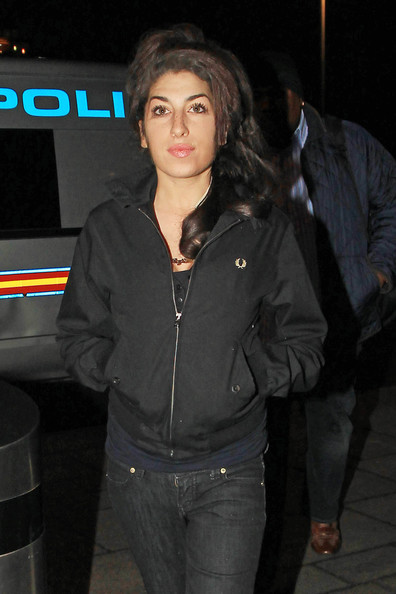 Amy Winehouse
Winehouse had so abused her body with drugs, she became weak, sick and emaciated, making her resistance to the effects of drugs very low. A few years ago, she overdosed, but lived. Maybe it made her think she was invincible, when no human has that privilege.
Her dad, jazz vocalist, Mitch Winehouse, blamed her ex-husband, Blake Fielder-Civil, for her addictions, as the young man stated in an interview, he introduced the singer to heroin and crack cocaine. Paparazzi photos revealed the difference in Winehouse before and after she met Civil. The deterioration and addiction are apparent.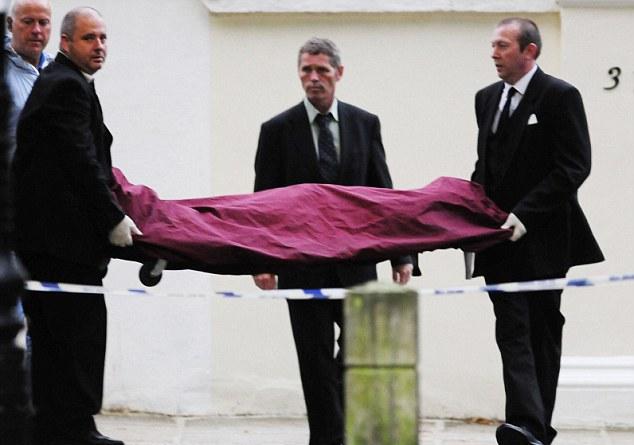 Amy Winehouse's lifeless body being carried to the morgue
You'd be surprised to learn how many people start taking drugs, due to a partner with a habit (Whitney Houston, Natalie Cole, Mary J. Blige). But the key is to fight to get and stay clean.
There is also another factor present - trying to live up to an image of what an entertainer should be. The Hollywood glamorization of addiction and the so-called tortured artist is pure rubbish. To some, those cigarettes look cool in your mouth, until they give you cancer. To some, that drink looks cool in your hand, until it gives you cirrhosis. To some, that cocaine on a plate looks cool, until it claims your life. It's better to be uncool and alive, than die prematurely with unfulfilled potential.