Adrien Broner Arrested In Bullet Ridden Vehicle After Man Tried To Kill Him (Video)
April 24. 2017
Four time boxing champion, Adrien Broner, was arrested by police in Kentucky, on a warrant from 2014. Broner was driving a bullet ridden car in Kentucky, after a violent incident in his neighboring home state of Ohio. Reports indicate a man followed Broner, an alcoholic, from a bar and opened fire on his vehicle. The incident constitutes attempted murder.
Broner drove all the way to Kentucky to avoid being killed. While in Kentucky, police spotted Broner's bullet ridden car and called in the license plate number. The police computer search returned Broner's information and an outstanding warrant from 2014 for disturbing the peace.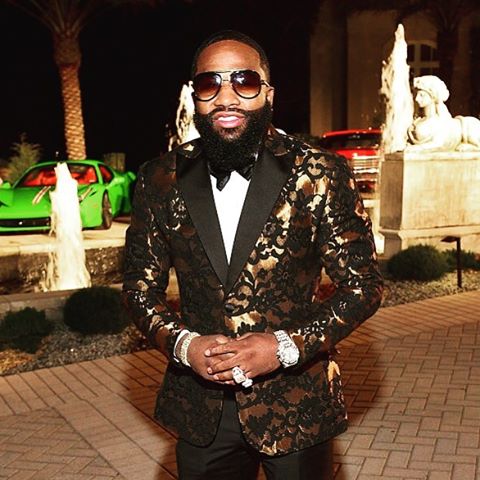 Adrien Broner
Broner pled with police that he was the target of a shooting incident and should not be arrested. They were somewhat sympathetic to his plight and tried to calm him down by explaining what had occurred necessitating the arrest. Broner was cuffed and taken into custody without incident. Broner was visibly upset and somewhat shaken from the shooting. He was released after one hour in custody and will have to report to court regarding the incident.
Broner has experienced a number of run-ins with the law and served short stints behind bars for probation violations in connection with DUI (driving under the influence) convictions. However, none of his legal woes were as serious as being shot at in a manner that could have easily resulted in a fatality.
RELATED ARTICLES
Adrien Broner Arrested And Jailed For Probation Violation And Trouble Strikes In His Personal Life With Claims He Cheated On His Fiancée
Adrien Broner's Career In Jeopardy After Calling Out Several Top Boxing Rivals But Is Facing Potentially Long Stint In Jail
Warrant Issued For Adrien Broner's Arrest On Charges Of Assault And Theft Carried Out At Gunpoint
Boxer Adrien Broner Facing 3-10 Years In Jail Over Assault And Robbery Due To Gambling Incident
Boxer Adrien Broner On The Verge Of Tears Slams Former Mentor Floyd Mayweather (Video)
Boxer Adrien Broner Regrettably Threatened To Kill Himself Prompting Police To Locate Him
Adrien Broner Asks Fans To Write To Him In Jail But Some Are Questioning Why Because...
Was Adrien Broner Wrong To Turn Down The Manny Pacquiao Fight Wanting More Money
Boxer Adrien Broner Released From Jail But Still Faces Second Court Case