A Depressed Looking Barack Obama Struggling To Cope With Not Being The President Of The United States Anymore
January 27. 2017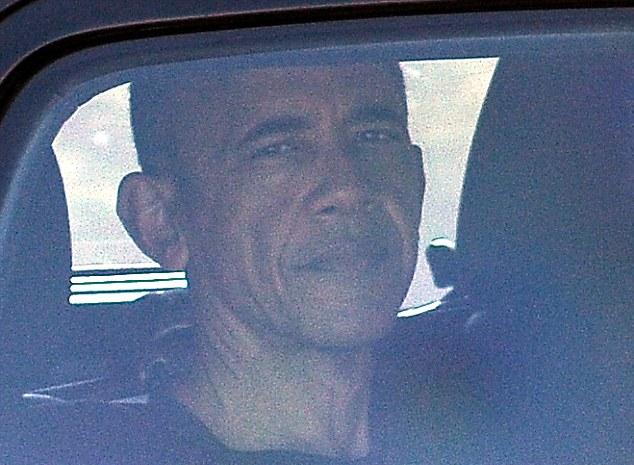 Obama the day after no longer being President of the United States looks utterly depressed
Photos were published of former U.S. president Barack Obama in a candid moment, looking quite sad and depressed after leaving office. It is no secret Obama did not want to leave. He even stated he was being forced out, which is untrue, as he is a lawyer and knows what the rules governing the presidency state.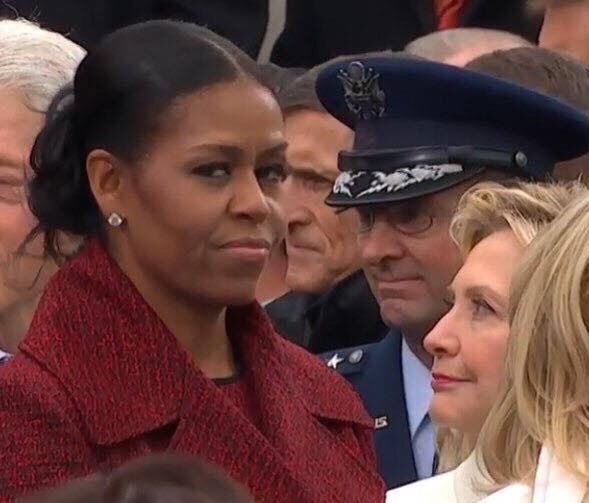 As usual, Mrs. Obama giving everyone the stink face. She is pictured here (left) at the inauguration of President Donald Trump. Why is she always glaring.
Obama, suffering from over confidence had pronounced at a public, televised rally that now failed presidential candidate, Hillary Clinton, would be his successor. Obama did not state that he wanted her to be President, but that she would be. However, America was not having it.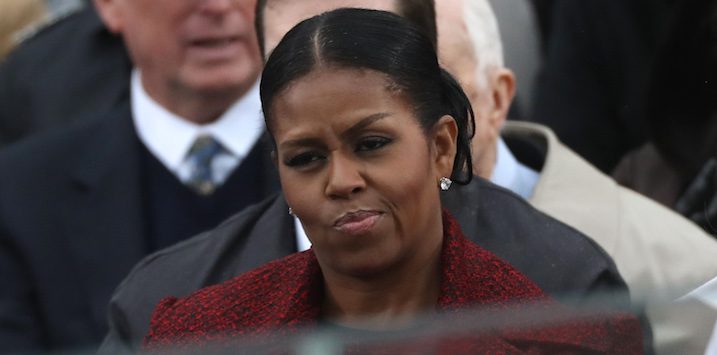 Obama thought he would be a puppeteer, pulling the strings behind the scenes and as stated in the column previously, rented a mansion belonging to a Clinton staffer, which is located down the street from the White House. Obama even installed a large office in the property to run the show, which really would not have been fair to Clinton had she won, what with her husband, former President Bill Clinton, planning his illegal third term in office as well.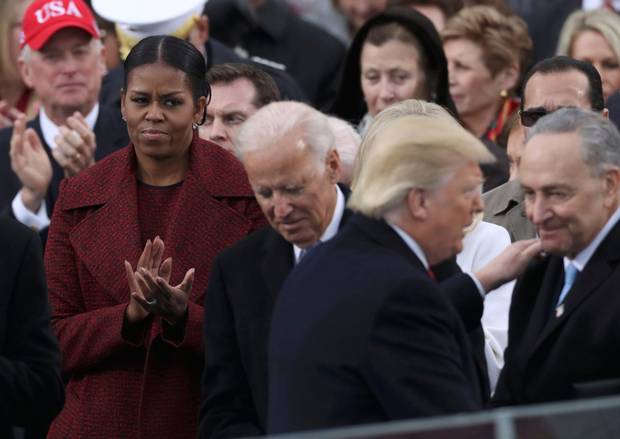 It was Obama's intention to run America for an unlawful third term. It's amazing how some allow so-called power to corrupt them. They become addicted to it. When it's over they look as though they are going through full on withdrawal. However, accountability is important and it was lacking in the Obama Administration.
RELATED ARTICLES
Some things never change! Obama heads back out on the golf course for a round on exclusive estate owned by billionaire Larry Ellison on his first full day of retirement (at least he'll have time to work on his putting).
The 44th president was up at 9am Pacific time for a trip to a country club's gym. It was near the Rancho Mirage, CA, home where he and Michelle are staying with friends for a two-week vacation. He was pictured in a Secret Service SUV leaving the private community of Thunderbird Heights and heading to the country club for a workout