13-Year-Old Boy Accidentally Shoots And Kills Himself On Instagram Live (Video)
April 15. 2017
13-year-old Malachi Hemphill of Forest Park, Georgia, was on the social networking website Instagram this week, using its live feature, when he accidentally shot and killed himself, while showing off a gun to his viewers. Hemphill's friends who saw the video on Instagram Live immediately went to his home, where his distraught family had broken down his bedroom door after hearing a loud bang.
Hemphill's family found him unconscious in a pool of blood. They immediately called emergency services. Hemphill was taken to the hospital, where he was pronounced dead. Authorities are attempting to ascertain how Hemphill obtained the gun. Teens sometimes have a fascination with guns, not truly realizing how dangerous they are in a number of ways.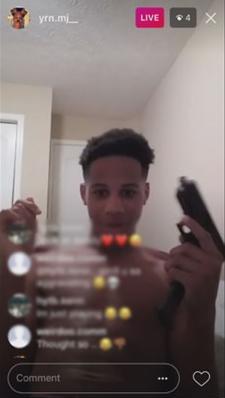 Malachi Hemphill moments before he accidentally killed himself on Facebook Live
Hemphill's devastated mother Shaniqua Stephens is in shock at what transpired, stating he was a talented boy that did well in school. Stephens stated in response to her son's tragic passing, "This is just a pain that will never go away. He was my only son. He was only 13 and the thought of me seeing him on the floor will never leave my brain."
Hemphill's death is a tragic accident that highlights the dangers of guns, which can wreak havoc. Every year, approximately 30,000 Americans die in gun related incidents. My condolences to Hemphill's family and friends.
STORY SOURCE
Teen accidentally kills himself as friends watch on Instagram Live
7:08 PM. EDT April 12, 2017 - "I heard a big boom. I couldn't tell if it was a gun shot or what." Shaniqua Stephens had just watched her 13-year-old son take out the trash Monday evening when she heard a noise. "I just knew that it was something that was wrong," she said. She and her daughter ran upstairs and found him.
"We kicked in the door. We found him just laying there in a pool of blood," Stephens recounted. "My daughter screamed and said, 'Mom turn his phone off!' As I proceeded to look at his phone he was on Instagram Live." Thirteen-year-old Malachi Hemphill was live on the social media site Instagram handling the gun when it went off. He was rushed to Grady Hospital where he died...
RELATED ARTICLE
11-Year-Old Boy Commits Suicide After Social Networking Prank Leaves Him Distraught And Devastated