The Wife Of Model Jeremy Meeks Who Cheated On Her With Heiress Chloe Green Says She Is Filing For Divorce
July 10. 2017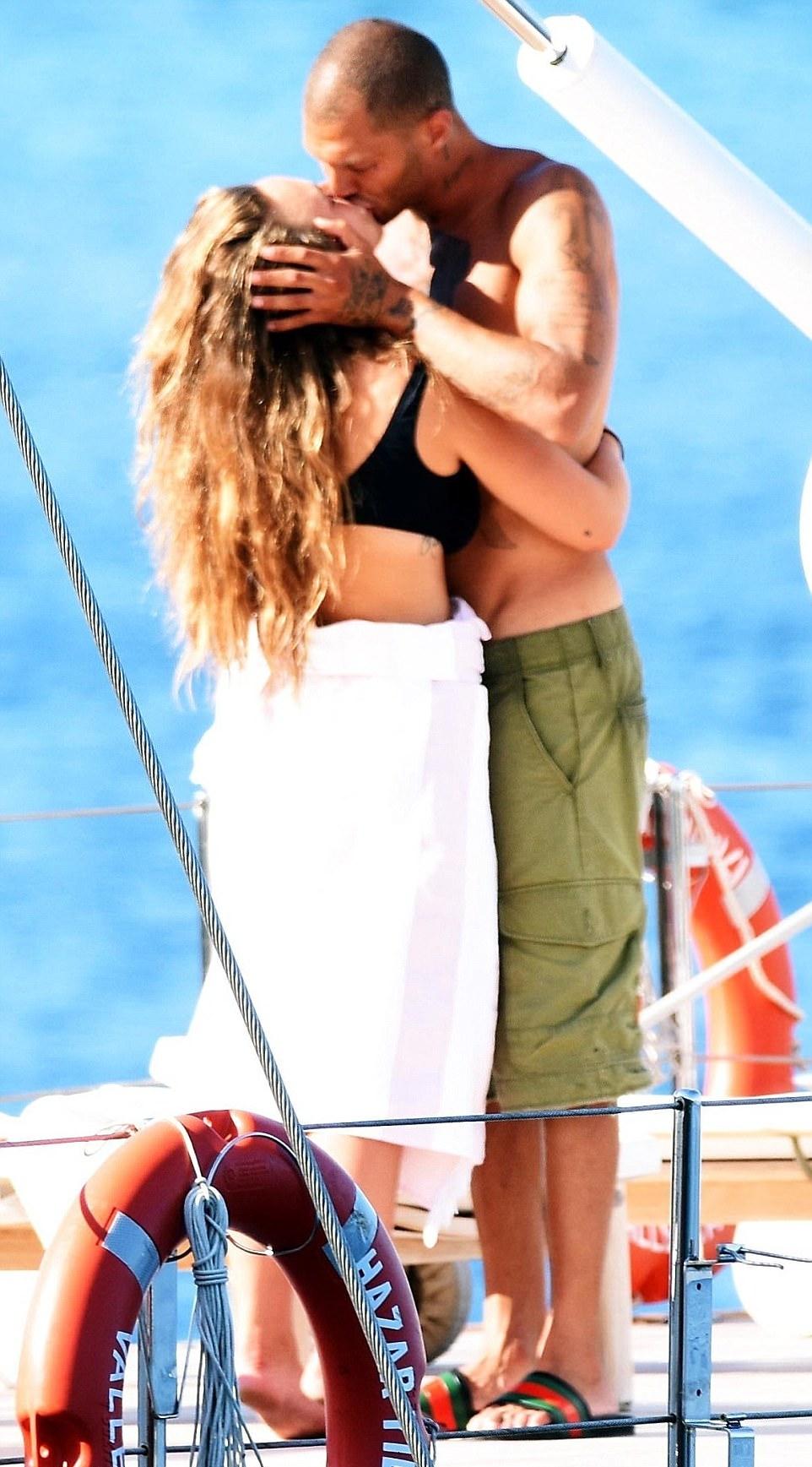 Chloe Green cheating with married Jeremy Meeks
Former felon turned model, Jeremy Meeks, 36, who cheated on his wife, Melissa Meeks, 38, with billionaire heiress Chloe Green, 26, is facing divorce. Meeks' wife is so devastated by his betrayal with Green, which was captured by paparazzi, she has stated she is going to file for divorce. Pictures surfaced a week ago of Meeks and Green kissing and hugging on a yacht in Turkey. The photos gave the impression the two are in an adulterous sexual relationship.
Meeks and his wife have a son together. He is also step-father to her two oldest children from previous relationships. Meeks' wife stated of his betrayal, "I know it takes two to tango but she knew he was married. To me, that's unforgivable. My whole world has been torn apart by this. What do I tell our children? My heart is broken. What sort of woman would do something like this to another woman? My marriage wasn't perfect but I thought it could be saved, until this happened."
She further stated, "Of course I'm angry at her. What she did is unforgivable. And I'm angry at him too. What they did destroyed my entire world. Did either of them think about the children and how this will affect them? They're the innocent victims in this. And so am I. It's all been so public. They weren't even trying to be discreet. I've been publicly humiliated, which makes the pain so much worse."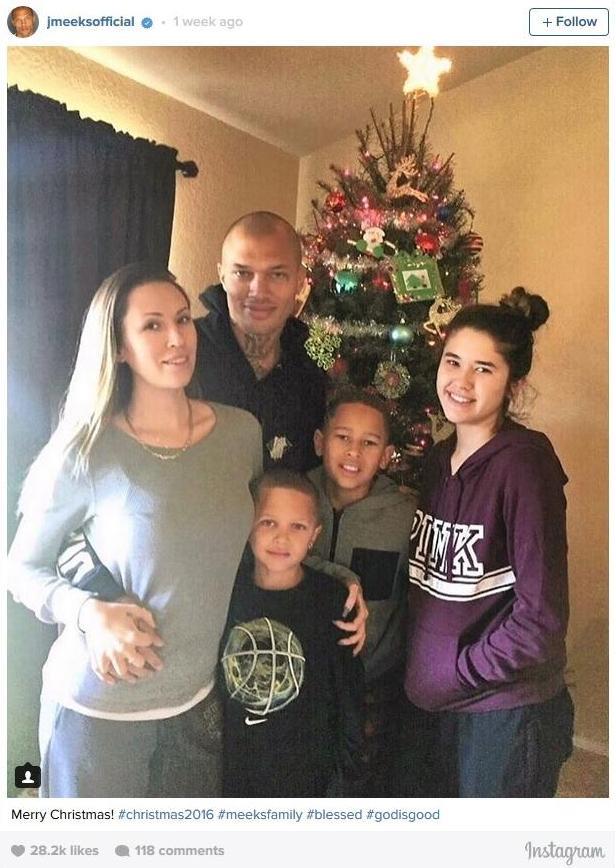 Jeremy Meeks and his family in December 2016
Even if you do not take him back, for the sake of your soul, you should forgive them. Leave vengeance to God. You focus on recovering from the betrayal and raising your children. Meeks and Green will get back what they did to you. They need to ask God for forgiveness. It is sad their affair has damaged his wife and kids.
Green is kidding herself if she thinks Meeks will be accepted in the circle her father moves in. Sir Phillip Green was knighted by the Queen, but is under heavy scrutiny over business dealings at his clothing empire that cost thousands of people their jobs and many their pensions.
Meeks has a teardrop tattoo indicating he murdered someone as a member of the Los Angeles street gang the Crips. Meeks also went to prison for violent crimes and theft. While I do believe people can be reformed and should be given second chances, the aristocracy frowns upon Meeks' type of past. The aristocracy doesn't even embrace poor white people, let alone a black felon.
STORY SOURCE
Chloe photos plunged a dagger through my heart: Furious wife of 'hot felon' caught with billionaire's girl reveals it's DIVORCE
Published: 17:00 EDT, 8 July 2017 | Updated: 19:28 EDT, 8 July 2017 - Devastated: Melissa Meeks, 38, is calling time on her marriage to Jeremy after pictures of the model kissing Topshop heiress Chloe Green surfaced online. When Topshop heiress Chloe Green was photographed passionately kissing 'hot convict' Jeremy Meeks onboard a £118,000-a-week superyacht last weekend, it was an image which intrigued – and titillated.
What could Made In Chelsea star Miss Green, 26, possibly have in common with heavily tattooed former Los Angeles gang member Meeks – and what on earth would her father, disgraced billionaire Sir Philip Green, make of it all? But for one woman, the image cut like a 'dagger through the heart'.
Meeks's wife Melissa, 38, says she had 'no idea' her 33-year-old husband was enjoying a liaison with Miss Green while ostensibly on a working trip to Turkey. She told The Mail on Sunday that the picture left her feeling 'humiliated' and signalled an instant death knell for their eight-year marriage.
In her first public comments since Meeks was photographed slinking home last week only to be rebuffed by his furious wife on the doorstep of the modest £200,000 Californian house they shared with their three children, Melissa says: 'I know it takes two to tango but she knew he was married. To me, that's unforgivable. My whole world has been torn apart by this. What do I tell our children? My heart is broken...
RELATED ARTICLES
Felon Turned Model Jeremy Meeks Cheats On His Wife With Heiress Chloe Green On A Yacht While His Devastated Wife Cries At Home
Jeremy Meeks Returns Home After Affair With Heiress Chloe Green But His Wife Flees To Her Sister's Home