Washington Mutual Collapses Seized By Government

...Then Auctioned Off For Peanuts

Washington Mutual's Crooked CEO Kerry Killinger Fired

September 29. 2008

This is a follow up to my October 2007 article the Civil Rights Act where I wrote about the reprehensible bank Washington Mutual.

Washington Mutual has also been on the bottom of my home page for over a year, due to the poor manner in which they treated me when I was a customer.

A year on, oh how things have changed. It came as no surprise to me that Washington Mutual has gone on to become the greatest bank failure in U.S. history this month. A year ago when I wrote the above mentioned article, their stock stood at $38 per share. This month, it is trading at $1.90 per share.

One of Washington Mutual's visits to my websites: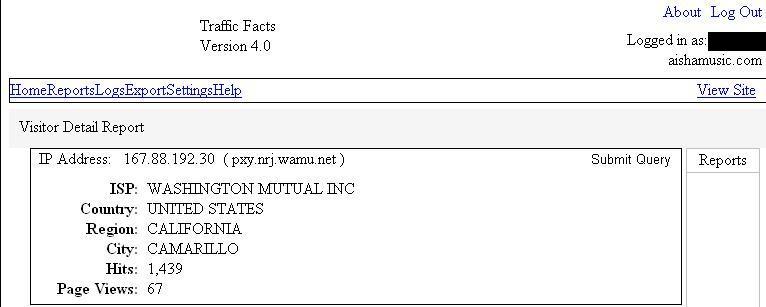 Their standard operating procedure has been gouge the customer and when you view an opportunity to make big money off unlawful exploitation, seize it, no matter how illegal it may be and this is why they've toppled in such a massive manner. On Friday, September 26, 2008, Washington Mutual bank, was seized by the U.S. government and auctioned off, with JP Morgan buying the bank account division of the company and its Seattle headquarters for next to nothing. The bulk of a former $300 billion dollar bank went for $1.9 billion dollars. Washington Mutual filed for Chapter 11 and their tower valued at
$777 million dollars was sold for peanuts to JP Morgan. It's quite ironic, as Washington Mutual forced many of their customers into filing bankruptcy and selling off their homes at cheap prices. What goes around comes around.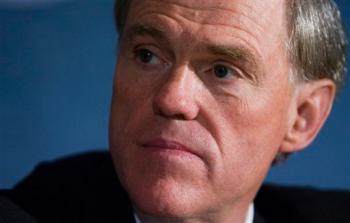 Kerry Killinger -Washington Mutual's fired CEO
While many banks suffered losses in the U.S. economic crisis of 2008, not like Washington Mutual, which was hit hardest, due to being the dirtiest bank in America, that did things to many consumers it should not have, on the instructions of its ruthless CEO, Kerry Killinger, who has now been fired.
He thought he was invincible, but found out the hard way he is not. People did not even want to help Washington Mutual out of the crisis, due to the nasty reputation this man developed. That's why it is good to be decent and humble, as arrogance in dealing with innocent people will filter out to the public and come back to bite you in the butt when you least expect it.
This man gouged the public at every turn, defrauded people out of their valuable homes to boost revenues and as favors to others in the corporate world, destroyed innocent target's home loans and accounts, touching off acrimonious, lengthy, expensive legal proceedings, aimed at bankrupting his adversaries and those of his affiliates.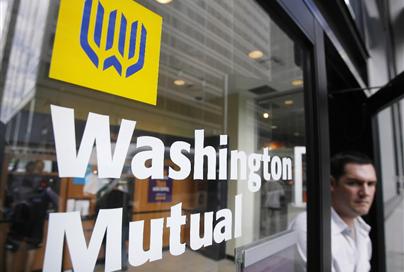 He also exercised very questionable checking account practices that saw many customers hit with excessive overdraft fees, when items were inappropriately held longer than they should have been by the bank.

A few years ago, I also wrote about the story of Colonel Ken Reusser, who served in three wars for America and was awarded the Purple Heart five times, but that didn't stop that unpatriotic, ingrate Killinger from knowingly permitting an unsavory man to use bad checks to withdraw huge sums of money from the Colonel's $87,000 bank account, leaving him with nothing to pay his mortgage.

Washington Mutual then foreclosed on and seized Colonel Reusser's desirable $1 million dollar home with many adjoining acres. At the time, a property like that in Washington could easily be developed and turned into something far more lucrative, due to the acreage.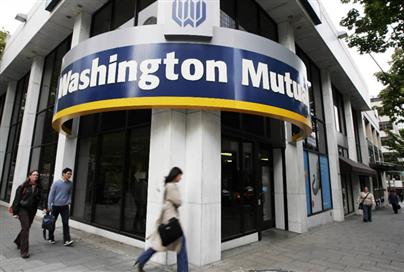 Many in the area were outraged, reported on it and took up a donation for the Colonel, that Washington Mutual via fraud, robbed of his home. It's amazing, you try to help the country by serving it and some degenerate in a suit, behind a desk, decides to criminally engage in acts of conspiracy to illegally rob you of your home.

They utilized fraud of the same ilk against me as well, however, I was able to quickly sell my home at a big discount, to save some of the equity and a courthouse ordered foreclosure sale from going on my credit report. The house never should have been placed in foreclosure, but they did so by fraud and trickery.

God doesn't sleep, though. There is a God and He doesn't like injustice. Just look at you now. Fired from Washington Mutual

and sitting around wondering whether or not the Feds are going to force you to drop the soap and become the girlfriend of some butch dude name Angie, by sending you to prison.

Judge

Jon Gordon

Even that questionable judge you had rubberstamp the fraudulent foreclosure, Judge Jon Gordon of Miami, emailed this site last week, requesting I modify something unflattering, albeit truthful, I wrote about him, that millions have read online. Are you serious (sarcasm). Look what you've been reduced to - one fired from the bank, waiting on tenterhooks about felony charges and the other emailing a website of a former litigant, whose rights and property he criminally violated, asking that an excoriating article be changed. How ironic.

Sidebar: what is this, annoy the black girl month. First the FBI emails requesting something be taken down from the site, because I lost faith in their so-called integrity and bashed the L.A. field office as a result. Then Madonna's former baby daddy/current friend/remixer emails my MySpace page requesting an add, after she put him up to it, much like she did with Timbaland. Now, the judge that put me and my family through a legal nightmare in conjunction with the above mentioned, that he should be impeached for, emails the site asking that I modify the site to reflect a kinder opinion of him.

It's clear the

problem is they don't like that many people from all over the world are reading the websites.

If you don't like what I write, which is legal and Constitutional, get a lawyer, file a frivolous lawsuit and watch the damning evidence I enter into court record, regarding why I have written these truthful, unflattering items about you.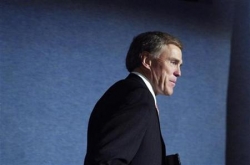 I don't verbally slam innocent people. I'm complimentary when it comes to decent people.

By God's grace

I have helped many during my lifetime. However, why would I have anything positive to write about what many in the international community are referring to as "a cabal" that I saw the worst of humanity out of, whilst they tried to vilely destroy my life over my Copyrighted Catalog worth billions, which they criminally accessed and divided among themselves like common thieves, and in the process deteriorated my parents health, via them witnessing in distress the wicked things done to their child.

The nation and the world needs to see how some in positions of so-called power, abuse innocent citizens in America like me and Colonel

Reusser

, among many, for financial and social gain, if that's what it takes to cause the corruption to cease. This corruption, injustice and greed are the very elements that created the U.S. economic crisis, via citizens being gouged and abused by corporate America, the Judiciary and the ungrateful Bush administration, to the point the nation's economy collapsed.

STORY SOURCE

WaMu Boots CEO Kerry Killinger, Shares Decline

September 8, 2008 11:08 a.m. EST - Seattle, WA (AHN) - Shares of Washington Mutual Inc., the country's largest U.S. savings and loan, decline on Monday after the company announced that it has sacked Kerry Killinger as chief executive officer. Alan H. Fishman, who has more than 25 years of experience as a senior executive in banking and financial services, has been appointed chief executive officer and has joined WaMu's Board of Directors.

Washington Mutual Forces Out CEO

Kerry Killinger, who helped build Washington Mutual Inc. into the nation's largest thrift and then presided over its rapid decline, is being ousted as chief executive, making him the latest casualty of the mortgage crisis. For months, Mr. Killinger had fought off a growing chorus of calls for his removal. Even after Citigroup Inc., Merrill Lynch & Co. and Wachovia Corp. pushed out their chiefs over mortgage-related write-downs, and Mr. Killinger disclosed losses at WaMu of as much as $19 billion, the company's board, dominated by associates and longtime allies, continued to back him.

Some WaMu customers wary, angry

Executives' greed bemoaned for bringing down bank

The morning after JPMorgan Chase said it will buy failed Washington Mutual Inc., some local bank customers said they are wary about the safety of their money and angry about WaMu's avarice, which they believe led to the federal seizure and sale. "This was a pretty good company that just got carried away with greed," said Ballard resident Richard Davidson, 65, after using an ATM at his local branch. "It's a cryin' damn shame."

Downtown headquarters sold as part of takeover

Washington Mutual Inc.'s headquarters in downtown Seattle, the 42-story WaMu Center completed in 2006, was sold to JPMorgan Chase & Co. as part of its takeover of the thrift's assets. "They bought the tower for nothing," said Stuart Williams, a principal at Pacific Real Estate Partners Inc., a commercial broker with an office in Seattle. JPMorgan spokesman Joseph Evangelisti confirmed the New York-based bank now owns the building.

Tom Kelly, another JPMorgan spokesman, said it's too soon to say whether the building's name will be changed. WaMu Center may be worth about $600 a square foot, according to Tom Craig, a commercial real estate broker in Seattle. That would value the building at $777 million, based on its net 1.3 million square feet.

Q: What if I have a mortgage with WaMu?

A:Continue to make payments on any obligation, including a mortgage, and wait for any correspondence from the company notifying you of any changes to the way in which you may transmit your payment. The terms of your loan, including your monthly payment, will not be changing.

Washington Mutual, Inc. Files Chapter 11 Case

WASHINGTON MUTUAL, INC. announced today that it has, together with its wholly-owned subsidiary, WMI Investment Corp., commenced voluntary cases under chapter 11 of the United States Bankruptcy Code in the United States Bankruptcy Court for the District of Delaware. The chapter 11 filings were a result of the appointment, by the Office of Thrift Supervision, of the Federal Deposit Insurance Company as receiver of Washington Mutual Bank, Washington Mutual, Inc.'s banking subsidiary on September 25, 2008.

Washington Mutual shareholders — including Texas private equity firm TPG, which led a $7 billion cash infusion for WaMu — were essentially wiped out as a result of this week's events. The company's shares were down to 16 cents in Friday trading, a stunning descent from WaMu's 52-week high of $36.47. "In this case the shareholders got zero. It's ugly," says Bob Rogowski, banking analyst and managing director of McAdams Wright Ragen Inc. in Seattle.

WaMu failure takes banks crisis to a historic low

IN THE biggest bank failure in United States history, Washington Mutual Inc has collapsed under the weight of its enormous bad bets on the mortgage market. The Federal Deposit Insurance Corporation (FDIC) seized WaMu on Friday and sold its banking assets to JPMorgan Chase & Co for $US1.9 billion ($2.28 billion).

Founded in 1889, Seattle-based WaMu's $US307 billion in assets eclipse those of Continental Illinois National Bank, which failed in 1984 with $US40 billion in assets. IndyMac, seized in July, had $US32 billion in assets. The sale of WaMu's assets to JPMorgan Chase prevents its collapse from depleting the FDIC's insurance fund. That detail is likely to give only marginal solace to Americans facing tighter lending and watching their stock portfolios plunge in the wake of the nation's most momentous financial crisis since the Great Depression.

CEO of failed WaMu could get millions

WASHINGTON: The CEO of failed Washington Mutual Inc., on the job only a few weeks before the largest U.S. thrift was seized by the government and sold to JPMorgan Chase & Co., is entitled to more than $13 million in severance and bonus pay. Alan H. Fishman signed an agreement that provides around $6 million in cash severance and retention of his signing bonus of $7.5 million if he were to leave his job, according to a company filing with the Securities and Exchange Commission.

Government takes over Washington Mutual

Largest U.S. bank failure; assets sold to JP Morgan

...The bailout came after the thrift suffered deposit outflows of US$16.7-billion since September 15, the OTS said. "With insufficient liquidity to meet its obligations, WaMu was in an unsafe and unsound condition to transact business," the OTS said. Seattle-based Washington Mutual has about US$307-billion of assets and US$188 billion of deposits, regulators said. The nation's largest previous banking failure was Continental Illinois National Bank & Trust, which had US$40-billion of assets when it collapsed in 1984.

WaMu becomes biggest bank to fail in US history

The Federal Deposit Insurance Corp. seized WaMu on Thursday, and then sold the thrift's banking assets to JPMorgan Chase & Co. for $1.9 billion. Seattle-based WaMu, which was founded in 1889, is the largest bank to fail by far in the country's history. Its $307 billion in assets eclipse the $40 billion of Continental Illinois National Bank, which failed in 1984, and the $32 billion of IndyMac, which the government seized in July.