Two More Women Come Forward Stating Senator Al Franken Inappropriately Touched Them Bringing The Talley To Four
November 23. 2017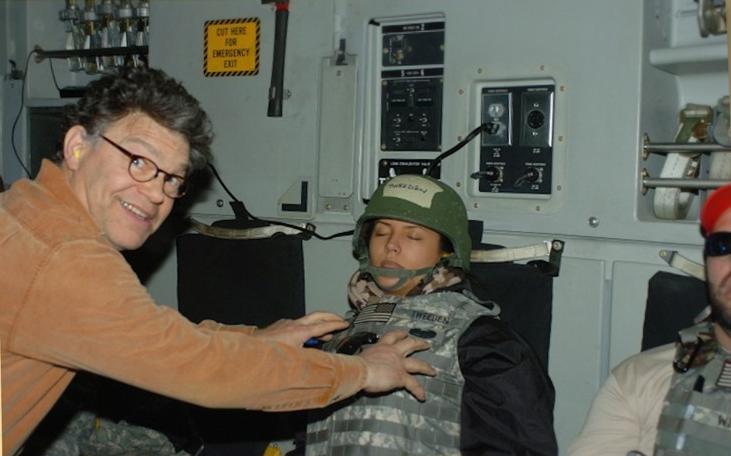 Al Franken groping television host and model Leeann Tweeden while she slept
Two more women have come forward alleging Hollywood actor turned U.S. Senator, Al Franken, inappropriately touched them. This brings the current tally to four women, who have made sexual assault allegation against Franken. The third woman is a 38-year-old book editor. The fourth woman spoke on the condition of anonymity, out of fear she will be attacked online. She states she was groped during a photo-op with Franken.
Days prior, Leeann Tweeden and Lindsay Menz, came forward in separate, unrelated incidents, stating Franken groped them against their wishes. Both women were caught off guard by Franken's inappropriate, unwanted sexual advances. Calls have gone out for Franken to resign from Congress. Franken's presence is creating a huge distraction in Congress, as his credibility is destroyed.
STORY SOURCE
Two More Women Accuse Sen. Al Franken Of Inappropriate Touching
POLITICS 11/22/2017 07:10 pm ET Updated 1 hour ago - One woman told HuffPost that Franken had grabbed her backside at an event honoring women. That makes it four women who have accused Sen. Al Franken of groping them. Two more women have told HuffPost that Sen. Al Franken (D-Minn.) touched their butts in separate incidents. These are the third and fourth such allegations against Franken in the past week. Leeann Tweeden, a radio host, wrote last week that Franken had kissed and groped her without her consent during a 2006 USO tour. On Monday, Lindsay Menz accused Franken of groping her at the Minnesota State Fair in 2010.
The two additional women, who said they were not familiar with each others' stories, both spoke on condition of anonymity. But their stories, which describe events during Franken's first campaign for the Senate, are remarkably similar — and both women have been telling them privately for years. In a statement to HuffPost, Franken said, "It's difficult to respond to anonymous accusers, and I don't remember those campaign events."
The first woman, who spoke to HuffPost on condition of anonymity because she's worried she'll be harassed online for making the allegation, said Franken groped her when they posed for a photo after a June 25, 2007, event hosted by the Minnesota Women's Political Caucus in Minneapolis...
https://www.huffingtonpost.com
RELATED ARTICLES
Barack Obama, Michelle Obama And Hillary Clinton Slammed For Their 'No Comment' On Harvey Weinstein Finally Issues Statements
Mentally Unfit Members Of Congress Should Not Be Serving In The Legislature (Videos)
Hollywood Actor And U.S. Senator Al Franken Has Been Sexually Assaulting Women