TMZ Changes Story About Beyonce And Jay Z Buying A $40,000,000 House In Los Angeles And Are Now Stating They Have No Home
June 27. 2017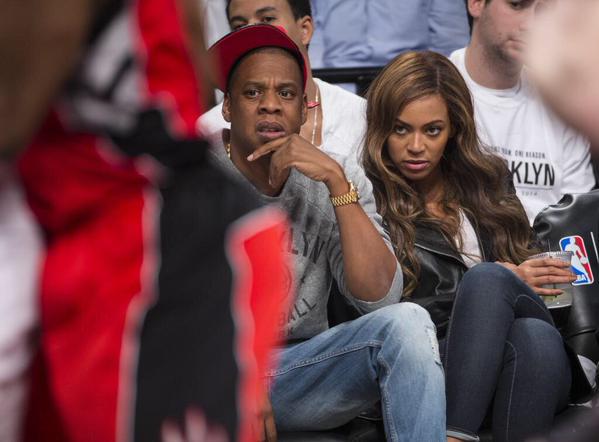 Jay Z and Beyonce
This is a follow up to this morning's article "Beyonce And Jay Z Twins Hospitalization Exceeds Standard Treatment Time For Jaundice Indicating There Are Other Health Problems That Necessitate Expensive Medical Care." TMZ has now changed their story, which is strange, after being given misinformation by Beyonce and Jay Z.
Previously, the TMZ website reported that singer Beyonce and her husband, rapper Jay Z, purchased a $40,000,000 house in Los Angeles, California and are in the process of renovating it. Other outlets, such as Entertainment Tonight and the Mirror Newspaper, carried the story as well. However, today TMZ is stating Beyonce and Jay Z have no house in California, which has people confused due to their previous story.
TMZ are now reporting that Jay Z and Beyonce are looking for a $150,000,000 house, but their budget is $75,000,000. However, last month the TMZ website and its accompanying television show, TMZ Live, reported that Beyonce and Jay Z wanted a house that was $80,000,000 but only made a bid of $40,000,000, which was not a cash offer (loans to purchase the home). The bid was rejected by the seller.
TMZ Live host Harvey Levin criticized the greedy, thieving couple, who are frequently sued in courts of law for stealing millions in intellectual property from copyright holders all over the world. Levin criticized the couple for wanting a $80,000,000 mansion at half the price. Levin stated that in Los Angeles "just because you are Beyonce and Jay Z" does not mean people are going to slash tens of millions of dollars off their real estate asking price, to do a business transactions with them. He is correct in his assessment.
Beyonce and Jay Z continue to lie about their net worth, falsely claiming they are billionaires, when they are not in any fashion. A real billionaire would be able to buy a $80,000,000 to $150,000,000 house cash and in an instant. However, people like Jay Z and Beyonce, who have invented their net worth on paper are unable to buy whatever they want, as there are obstacles such as lack of cash and inadequate loan funding. Not to mention, as stated on the site previously, maintenance fees are very costly on mega-mansions.
As previously stated on the site, rapper 50 Cent skid into bankruptcy after making rash real estate purchases, such as the former $18,000,000 Connecticut home of boxer Mike Tyson, who fell on hard times and was no longer able to afford it. In bankruptcy court, 50 Cent, real name Curtis Jackson, complained of the massive maintenance fees associated with the property, such as $5,000 per month in lawn and gardening costs. Add to that mortgage, heating/cool, cleaning and quarterly city taxes, the rapper was paying over $50,000 per month on the house.
STORY SOURCE
Beyonce and Jay-Z Billionaire Vagabonds With No Place to Live
6/27/2017 1:00 AM PDT - Jay-Z, Beyonce and their 3 kids are living large huge in Malibu this summer, but the clock is ticking for them and come fall they will scramble again for a place to live. Real estate sources tell TMZ the $400,000-a-month Malibu estate they're renting is just for the summer. We're told they have no intention of living there past August because Blue Ivy is enrolled in an exclusive school in the heart of L.A. and the drive is way too far.
Before moving to the Malibu mansion, Bey, Jay and Blue Ivy were living in a luxurious hotel as they hunted in vain for a place of their own. Our real estate sources say the Carters have been frustrated because their search -- which has gone on for several years -- has hit a stumbling block, and the stumbling block is cash.
We're told their budget is around $75 million, give or take a few mil. It sounds nuts, but they can't find a place they love for the amount they're willing to spend. As one well-connected source puts it, "They want a super baller, crazy estate, and the ones they love are going for $150 mil." Our sources say the Carters have seen just about everything that's on the market and nothing in their price range is floating their boat. Yes, it's just nuts.
Beyonce and Jay Z rent $54.5million mansion with 'infinity pool and 10 bedrooms - including a separate HOUSE for their entourage'
14:22, 27 JUN 2017Updated14:23, 27 JUN 2017 - The Carters won't just rent any old house. This is Beyonce's twins' first home - a sprawling $54.5million mansion with an infinity pool and a separate HOUSE for the bey-hive. Jay Z, Beyonce and their three kids are thought to be renting the huge estate for a jaw-dropping $400,000 a month after snapping up the gaffe in the weeks since the superstar gave birth on June 12.
Known as La Villa Contenta, or the happy house, the Carter clan are thought to be settling in just fine and with the main mansion boasting 14 bathrooms, 10 bedrooms and a 25ft infinity pool - there is plenty of room to potter around. It is thought the family and their huge entourage are renting the estate until the end of August as their other property in West Hollywood is renovated for the twins, believed to be a boy and girl. The new babies spent just over a week at the hospital before being allowed to leave.
Take a Look at Jay Z and Beyonce's New Mansion
October 7, 2015 12:01 PM - Jay Z and Beyoncé have a new home. TMZ reports that the power couple purchased a $45 million mansion in Los Angeles that used to be owned by ex-L.A. Dodgers owner Frank McCourt. Bey and Hov signed a one year lease for $150K a month. The mansion is 20,000 square feet, complete with an indoor Olympic-sized pool complex and an outdoor pool with a waterfall and formal gardens. McCourt sold the mansion to a British billionaire last year. However, the billionaire was never there so he put the house back on the market. You can peep the pictures of the mansion here. Vulture reports that the mansion that they are moving into is the same mansion in the 1998 Coen Brothers-directed cult classic The Big Lebowski.
Last month, Jay Z and Beyoncé were forced to move after their Holmby Hills estate was sold for $35.5 million to another buyer. The Carters were previously in a bidding war for an $85 million home in Beverly Hills, which they later lost to 35-year-old Swedish video game programmer Markus Persson. They also recently purchased a home in NOLA. Back in May, the couple purchased a renovated church in New Orleans for $2.6 million. The 13,292 square-feet home was built back in 1925 and has since been a Presbyterian church and a ballet school before being converted into a beautiful home. It houses three apartments, a three-story master suite and seven bedrooms plus eight bathrooms for a total of 22 rooms.
RELATED ARTICLES
Madonna, Jay Z, Beyonce, Rihanna, Rita Ora And Jessie J Sued Over Copyright Infringement, Invasion Of Privacy, Commissioned Criminal Harassment And Assault Via The Kabbalah Center
Jay Z And Madonna's Floundering Tidal Sued For $5,000,000 Over Copyright Infringement In Not Paying Artists While Inflating Their Own Sales To Go Number One On Billboard
'Real Housewives Of Potomac' Star Karen Huger Renting A Mansion Branded Throwing Money Down The Toilet In A Common Mistake Stars Make
Tidal Ripped Off Consumers Fraudulently Charging The Credit Cards Of Former Customers Who Closed Their Music Streaming Accounts
Beyonce And Jay Z Twins Born A Week Ago But Have Been In Intensive Care For The Past Several Days
Samsung Issues Statement Revealing Rumors About Them Buying Tidal Are Untrue
Telegraph Newspaper Brands New Album By Jay Z A Sign Of Tidal's Failure