Sports Teams Need To Beware As Madonna Is Targeting International Football Players With Her Sick Cult Kabbalah
October 5. 2017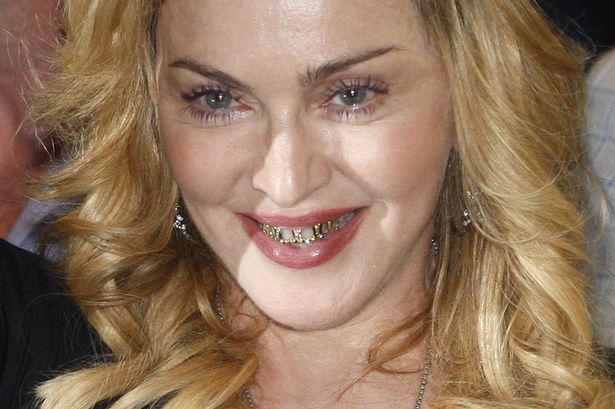 Madonna
Disgraced pop singer Madonna is a deranged lunatic, who has been insanely meddling in sports, via her sick cult "Kabbalah" that she calls "the Illuminati." She has also been using Kabbalah Center cult member Jay Z to help her in this regard. For those of you who don't know, I broke the story first regarding the phone hacking scandal in Britain and gave the FBI documents and spoken testimony which they used to arrest Madonna's private investigator, Anthony Pellicano, who is currently in prison on massive charges of illegal wiretapping, hacking, identity theft and criminal racketeering.
Madonna is a very sick and evil person. Madonna looks vile, but keeps getting mad at handsome athletes who rebuff her sexual advances. Madonna keeps insanely convincing herself these young, handsome athletes are very in love with her, then gets mad and vindictive when they reject her and lashes out at the women in their lives. These men don't want to date a "grandmother" as one put it, via a woman, Madonna, who has done so much plastic surgery she looks like an alien).
Years ago, Madonna began going after married Miami baseball player Alex Rodriguez. Unattractive and desperate, Madonna used cult brainwashing techniques on attractive Rodriguez, inviting him to meets at the Kabbalah Center in Miami and New York.
Rodriguez's wife at the time, Cynthia, as well as his brother, later went on record stating Madonna and members of the Kabbalah cult used "trance" brainwashing techniques and music, as triggers to manipulate and brainwash Rodriguez. Psychologists refer to it as "mind control." Many sick and evil cult leaders have employed mind control to brainwash and take advantage of innocent people, whom they robbed and abused.
Rodriguez was also being blackmailed. Madonna had the Kabbalah cult illegally spied on Rodriguez and his family, which this site stated first. His wife later confirmed the cult illegally spied on them, stating it in divorce papers her attorney filed against Rodriguez, when the sick sect tore their family apart in bids at isolating him and taking his money.
Many psychologists have stated in books and medical journals that cults isolate members from their families to control them and their money. Madonna and the cult illegally wiretapped the Rodriguez family and unlawfully watched them in their homes via webcam hacking. Rodriguez's wife also complained in legal papers that the cult was always in their homes.
Madonna was trying to steal Rodriguez from his wife but was too unattractive to do so. Madonna went around the industry telling people she was going to get pregnant for Rodriguez, a man who was married with kids, but she was out of her childbearing years. Rodriguez was still in love with his wife, which made crazy Madonna very vindictive.
Through illegal surveillance, the cult discovered Rodriguez was using prohibited steroids and blackmailed him with said information, demanding huge sums of money in so-called donations, while targeting his $125,000,000 fortune. The truth later came out about Rodriguez's steroids use, as someone tipped off authorities out of spite.
Rodriguez is currently dating singer/actress Jennifer Lopez, which has enraged Madonna. Lopez once slammed Madonna's inability to act in films, referring to it as, "Spitting on my craft." Lopez, 48, is also younger than Madonna, 60. Lopez is beautiful and has kept her looks. Madonna has aged horribly and is jealous of Lopez's stunning looks. Though Madonna is 60. She looks like someone near 80.
Madonna is currently targeting international football players, trying to push her sick Kabbalah crap on them, which is very dangerous. Kabbalah cult members Madonna, Jay Z and 50 Cent have been targeting footballers in the Premier League, La Liga, Bundesliga and Primeira Liga, bombarding them with mentally damaging madness from her Kabbalah Center cult that is a danger to them (read here about what idiotic, evil Madonna, Jay Z and 50 Cent have been doing in boxing guaranteed to bring the sport down: Madonna's Criminal Conduct At The BBC In Britain Has Nasty Racist Slavery Connotations To It [Anthony Joshua, Daniel Kaluuya]).
Global football is the top sport in the world and is worth upwards of $20,000,000,000 per year. Those three busybodies have been going all over the world trying to spool innocent footballers into their sick cult, whose aim is to mentally damage and blackmail them to control their fortunes. Currently, there are two internationally footballers the cult have greatly damaged, turning them into manic depressives, unable to focus on their jobs of playing football. They have been going around depressed, tearful, wild eyed and agitated. Fans are starting to ask questions regarding the strange behavior these two footballers have been exhibiting.
Football clubs collectively invest billions in talent, signing and nurturing them to play at their best on the pitch. They don't' deserve for some nutjob cult to mentally destroy their footballers to steal their personal fortunes, damaging their financial investments in athletes.
These footballers are being bombarded with threatening and insane phone calls, text messages and emails from the cult, who are spying on them, in conduct that is damaging their mental health and ability to play on the pitch. Clubs need to beware and protect their athletes.
Psychiatric ward doctors who have examined members of the Kabbalah Center cult, pronounced them mentally ill and held them on involuntary holds in mental hospitals (Kanye West, Amanda Bynes, Lindsay Lohan, Britney Spears, Chris Brown, Paris Hilton and Steve-O, among others). A doctor in London who examined Kabbalah Center member, Fiona Davis, who snapped under cult brainwashing, harassment and abuse that transpired to steal her $2,000,000 bank account, branded her, "The sickest person I have ever seen."
Davis is one of a dozen Kabbalah Center members who snapped and committed grisly, deadly knife crimes in America, Britain and Israel. Davis stabbed her grandmother and fiancé to death, inflicting over 120 stab wounds under Kabbalah cult brainwashing and other acts of mental abuse. In separate incidents, other Kabbalah Center members have chopped off people's heads and viciously stabbed people to death, under cult brainwashing that rendered them schizophrenic.
Davis complained to authorities that the Kabbalah Center cult were watching her in her home. The Kabablah Center secretly spied on Davis via illegal wiretapping, webcam hacking and hidden cameras they unlawfully installed in her home during a break-in. Then, when she went back to the Kabbalah Center Madonna opened in London, to take classes, they would throw the illegal surveillance in her face, telling her the contents of what they secretly heard and saw via wiretapping, webcam hack and hidden cameras.
Davis did not know how they were spying on her in her home. She just knew they were, because when she would go back to the Kabbalah Center in London for classes, they began repeating verbatim at her what was privately happening in her home and on her phone line, which is a sick technique of harassment, gaslighting and mental abuse started by Madonna's private investigator, Anthony Pellicano.
The FBI and DOJ's criminal case in America against Anthony Pellicano revealed he would secretly spy on people in their homes on behalf of stars who paid him $100,000 to do so, then telephone or approach the innocent target on the street and repeat verbatim at the person what he illegally and secretly saw and heard happening in their home and on their phone line.
They were trying to blackmail and mentally destroy Davis to take full control of her $2,000,000 bank account. As a result of this terrible harassment, to innocent people died and Davis went to prison for murder. Everyone who joins Madonna's Kabbalah Center cult ends up mentally ill.
It is going to turn into a massive international scandal and the FBI, DOJ and State Department are going to catch hell for allowing Madonna, Jay Z and 50 Cent to criminally violate international law in targeting and exploiting global stars, some of whom are already having mental breakdowns and experiencing career damage that is hurting teams' title chances. It was the FBI, DOJ and State Department's responsibility to control those lawbreaking, idiotic, troublemaking stars (Madonna, Jay Z and 50 Cent).
RELATED ARTICLES
Wikileaks Releases Hacked U.S. Federal Government Documents Showing The CIA And FBI Are Spying On People In Their Homes Via Hacking Smart TVs And Backdoors In Computer And Phone Operating System Confirming Previous Judiciary Report Site Claims
Obama Administration Wastes Huge Sums Of American Taxpayer Money Breaking The Law In America, Britain And Jamaica On Behalf Of Madonna's Kabbalah Center In Committing Egregious Human Rights Abuses
Madonna, Jay Z, Beyonce, Rihanna, Rita Ora And Jessie J Sued Over Copyright Infringement, Invasion Of Privacy, Commissioned Criminal Harassment And Assault Via The Kabbalah Center
Madonna's Criminal Conduct At The BBC In Britain Has Nasty Racist Slavery Connotations To It (Anthony Joshua, Daniel Kaluuya)