Soulja Boy And Chris Brown Threaten To Beat Each Other On The Streets And In Boxing Ring Over Karrueche Tran Confirming Previous Site Claims (Video)
January 5. 2017
NOTE: Video contains profanity.
This is a follow-up to the December 8, 2016 Judiciary Report article "Chris Brown Talks About His Street Gang Affiliation On Social Networking While Threatening Soulja Boy Over Ex-Girlfriend Karrueche Tran." Well, a month later, on January 3, 2016, Soulja Boy and Chris Brown began fighting on social networking over Karrueche Tran.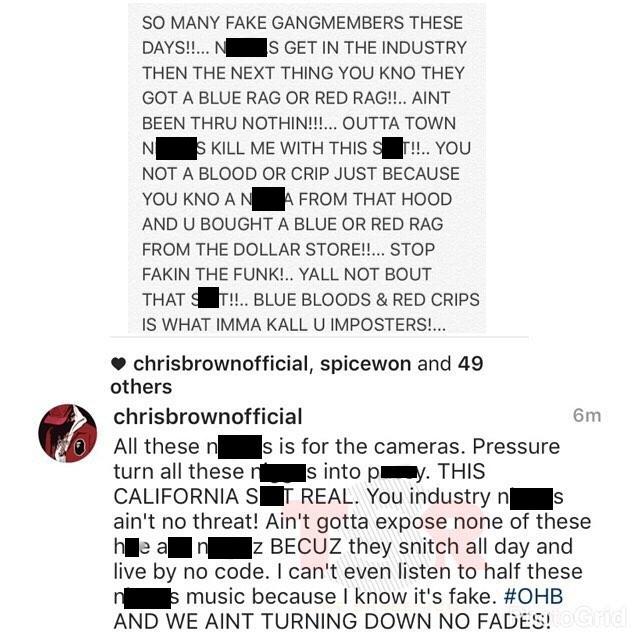 Brown's original comment a week ago that the Judiciary Report stated was about Soulja Boy
This confirms the Judiciary Report's claim Brown was referring to Soulja Boy on social networking a month ago, but not by name, when slamming a then anonymous person. This week, Soulja Boy has been recklessly taking about gangs and shooting people. He also got into a fight with some gang members this week.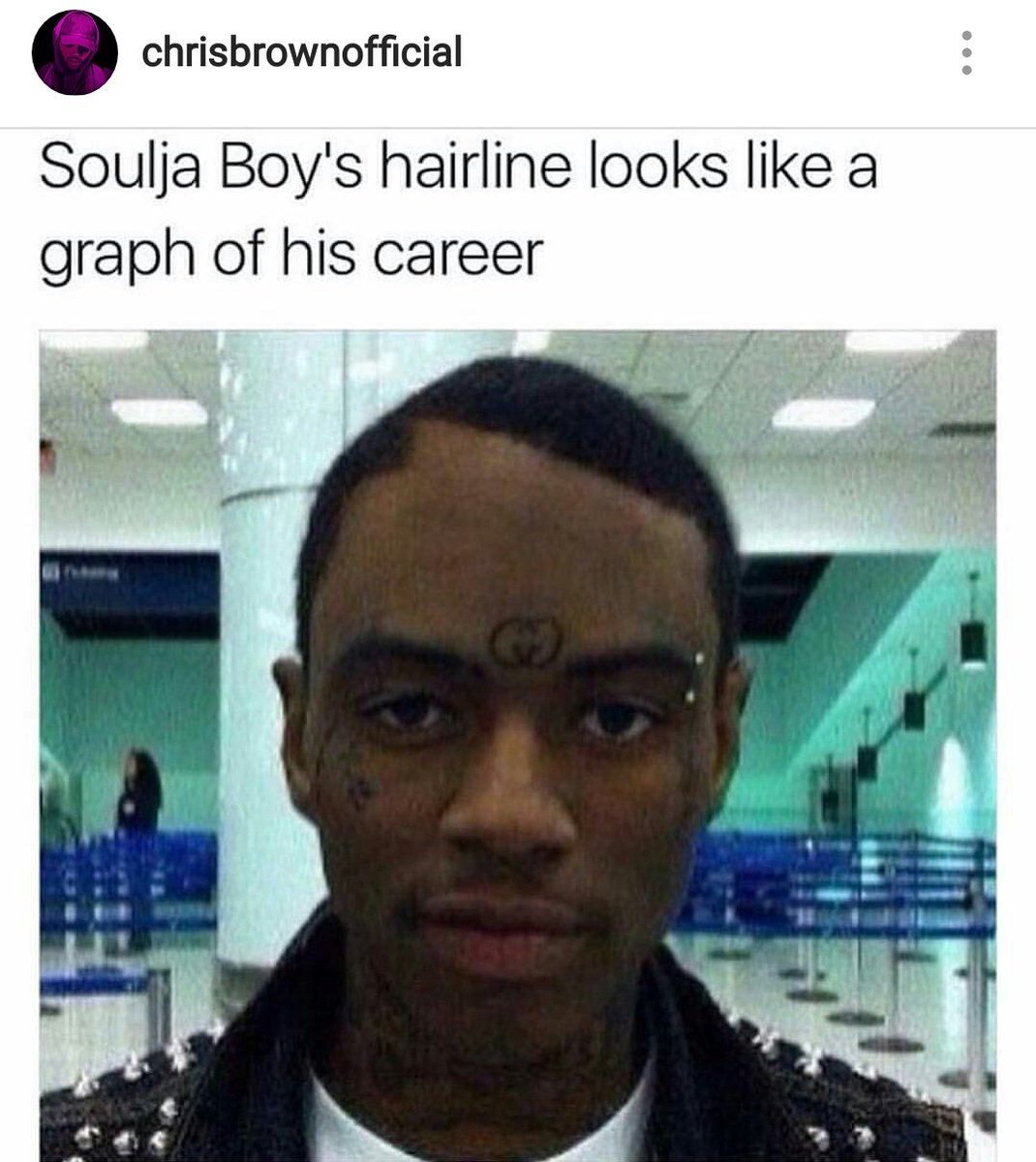 Soulja Boy
This Tuesday, Soulja Boy slammed Brown, stating Chris called and threatened to beat him up over lusting after Karrueche Tran on Instagram. This further confirms the Judiciary Report's claims a week ago that Brown is actively threatening men who express an interest in dating Tran, rendering her undateable (Chris Brown Acting Thirsty Over Karrueche Tran Again). Chris is not going to let Tran have a social life with another man, especially one in the industry. She's going to have to secretly date if there is a man she is interested in (and he's keeping tabs on her). At the end of the day, if Soulja Boy wants to date Tran, he did nothing wrong in trying to trying to do so online. They are both single.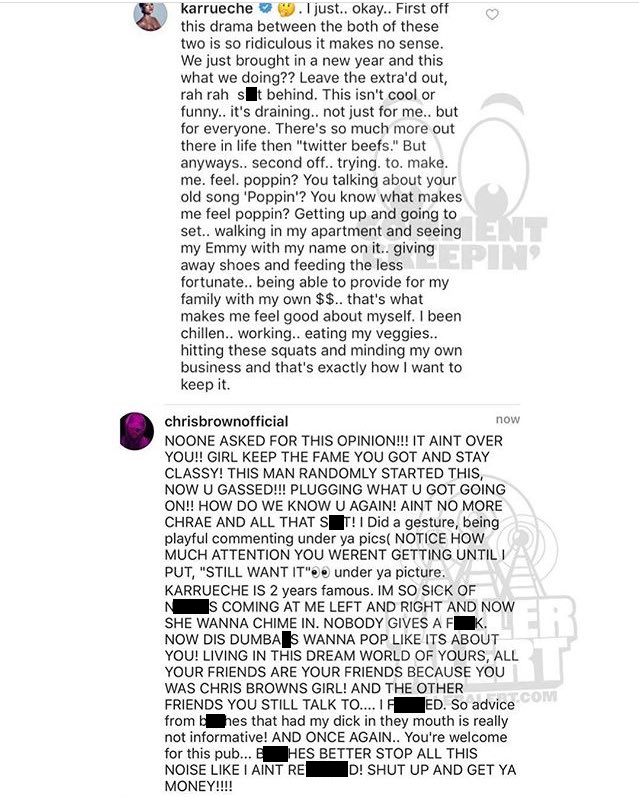 Karrueche Tran and Chris Brown arguing on Instagram. Brown sounds very bitter, but he is the one who cheated on Tran and fathered a baby with another woman during their relationship.
Upon seeing Brown and Soulja Boy fighting online over her this week, Tran chimed in expressing her disapproval of being dragged into the middle of the proceedings. Tran stated she is minding her own business and slammed the two men for arguing. Brown read Tran's comment, became angry and referred to her as a "dumba*s."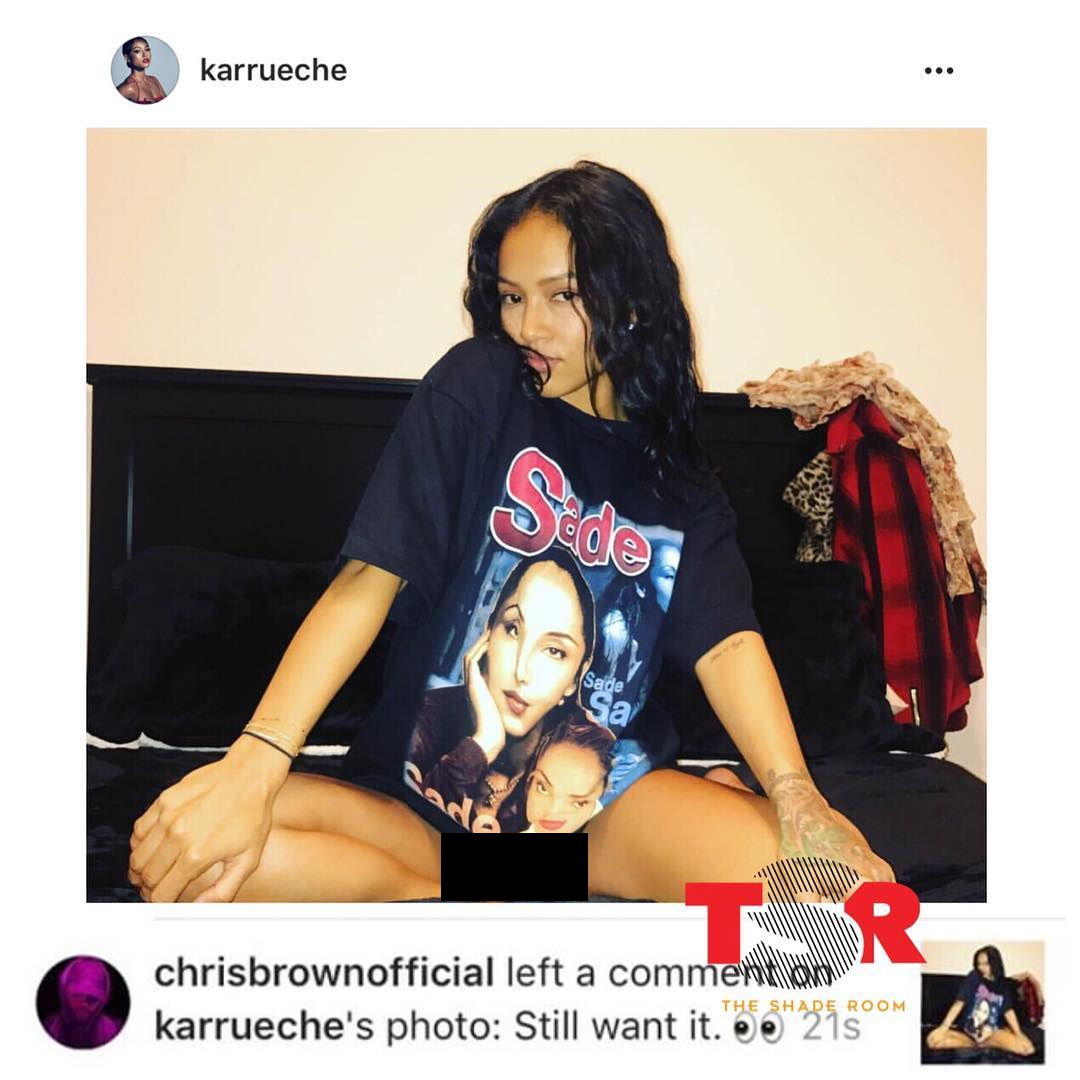 Karrueche Tran (Photo redacted by the Judiciary Report)
Brown again stated the only reason she is famous is because she dated him. He also threw in a massive insult stating the only reason she has her friends is because of him and that he has had sex with all of them. That was a low blow. If Tran started dating Brown's friends he'd be really angry.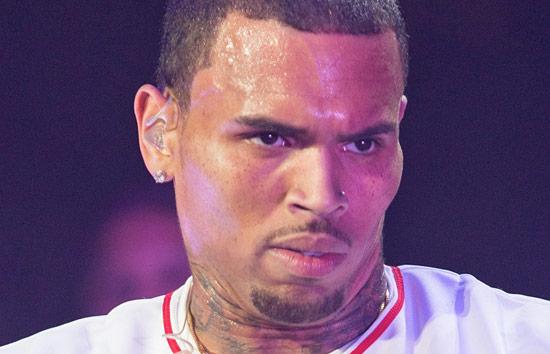 Chris Brown
I will say this, as a woman, watching two people verbally fight over you that you have no interest in dating, is awkward. No woman wants that. Someone could get hurt and that would be regrettable. As a general rule, it's not a good idea fighting over someone whose attention lies elsewhere. That's a waste of time. If you are going to argue over someone, make sure they are interested in you as well.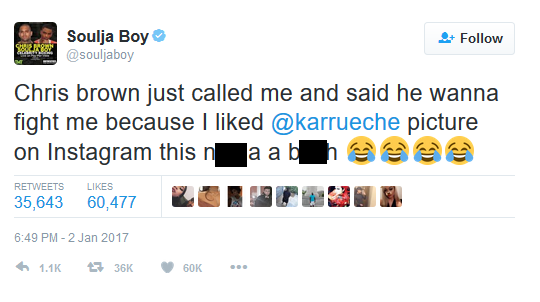 Soulja Boy's tweet on Twitter
Brown now wants to settle the dispute with Soulja Boy in a boxing match, which is better than fighting on the street and getting arrested. Brown posted a request on social networking asking boxer Adrien Broner to arrange the boxing match. I do believe Brown would win the fight for several reasons.
RELATED ARTICLES
Chris Brown Talks About His Street Gang Affiliation On Social Networking While Threatening Soulja Boy Over Ex-Girlfriend Karrueche Tran