Rupert Murdoch Seriously Injured On Son's Yacht
January 20. 2018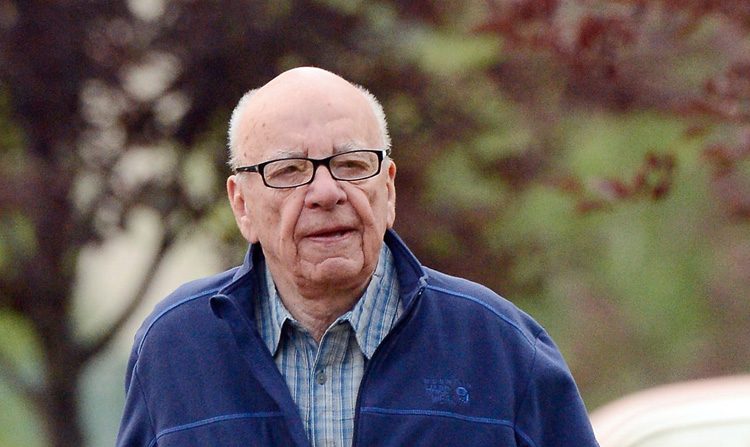 Rupert Murdoch
News Corp villain, voyeur, corporate thief, racist and blackmailer, Rupert Murdoch, is not have a good few weeks. In December the Skirball fire burned his $30,000,000 mansion and vineyard in Los Angeles' exclusive Bel Air enclave. On Wednesday of this week it was announced that Murdoch was seriously injured on the yacht of his crooked son Lachlan, while in the Caribbean on New Years.
Murdoch was rushed to the hospital via helicopter. Doctors discovered that Murdoch has seriously injured his back. He will be taking time off from News Corp. I guess he will have to put his corporate theft, pilfering, perverse spy and world government meddling on hold. However, I'm sure his crooked, lawless staff will continue the criminality he started, while he tries to bark orders down the phone from the discomfort of his bed, while waiting for the back pain meds to kick in and stay in.
Back injuries are among the most painful in the world. While I would normally sympathize with people experiencing such pain, I have no sympathy for Murdoch, who has destroyed many lives and livelihoods, from women who were sexually abused at his company to honest business people whose companies he criminally stole from, blacklisted, then destroyed. The man is the spawn of the devil. That kind of greed only ends in disgrace and destruction. And he's going to take his family down with him.
STORY SOURCE
Sources: Rupert Murdoch Was Hospitalized with Serious Back Injury
The accident, which happened on his son Lachlanís yacht, comes at a delicate time for the 86-year-oldís empire.
January 17, 2018 3:05 pm - Rupert Murdoch suffered a serious back injury while vacationing on his son Lachlanís yacht in the Caribbean earlier this month, three sources familiar with the incident told Vanity Fair. The 86-year-old media mogul was helicoptered off the boat and was, until recently, recovering in a Los Angeles hospital, one of the sources said. The incident is said to have happened shortly after the New Yearís holiday.
Last Friday night, Murdoch sent an email to his senior management informing them of the accident: "I hope you all are having a great start to 2018. I suspect it has been better than mine," he wrote, according to a source who's seen the email. "I am writing to tell you that last week I had a sailing accident and suffered a painful back injury. While I am well on the road to recovery, I have to work from home for some weeks. In the meantime, youíll be hearing from me by email, phone and text!"...
RELATED ARTICLES
Rupert Murdoch Slammed Over The Sexual Harassment And Sexual Assault Occurring At Fox News Which Have Prompted Multi-Million Dollar Lawsuit Settlements
Madonna's Criminal Conduct At The BBC In Britain Has Nasty Racist Slavery Connotations To It (Anthony Joshua, Daniel Kaluuya)
The U.S. Government Needs To Invest In Technologies And Counter-Measures Regarding California Natural Disasters
Madonna's Kabbalah Cult Is A Threat To British National Security (Harvey Weinstein, Rupert Murdoch, Kevin Spacey)
Rupert Murdoch Has Been Running Sky And The BBC In Criminal Violation Of British Law
Rupert Murdoch Hacked British Spy's Computer And Is Forced To Pay Financial Damages