Rihanna Uses Chris Brown Domestic Violence Incident In New Interview For Publicity For Stalled Album 'Anti'
October 8. 2015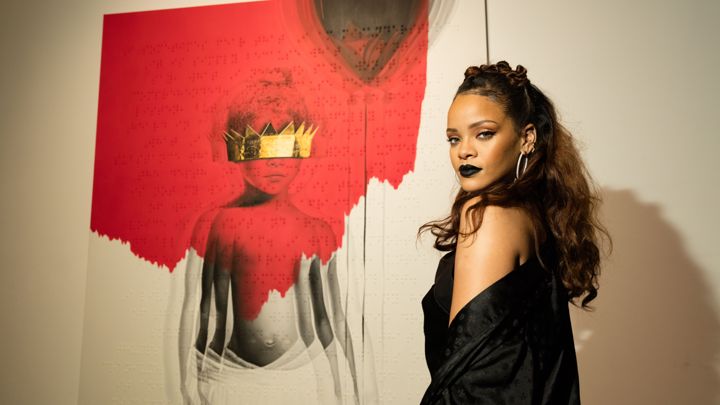 Rihanna promoting her repeatedly stalled new album "Anti" and its artwork featured in the background
Rihanna is using the Chris Brown domestic violence case for publicity to promote her new album "Anti" (which knowing her vile behavior is short for Anti-Christ as she is an evil, nasty piece of work, who is heavily involved in the occult/satanism). Rihanna's first three singles from the forthcoming album which still has no release date, "Four Five Seconds" "B***h Better Have My Money" and "American Oxygen" have all flopped on the charts and been slammed by the general public.
Now she is rehashing the 2009 Chris Brown domestic violence incident for sympathy and sales in a new Vanity Fair article. In 2009, Brown beat Rihanna in a rented Lamborghini. She spot a text message on his phone that infuriated her. Rihanna began screaming at him and hit him over cheating on her, then Brown exploded in rage and unleashed a sustained assault.
At the time, Rihanna was also cheating on Brown with industry men such as Jay Z, Kanye West, the Dream and others, to further her career via the casting couch. However, she demanded loyalty from Brown anyway. Sadly enough, Brown opened the car door and tried to get Rihanna out of the car, but she refused to leave. She should have gotten out of the car, as what ensued was very regrettable. Brown snapped and beat her up.
Rihanna is using the incident for publicity and not telling the public the whole truth about striking him first and having hit Brown in the presence of others in other incidents. She was wrong to hit him and he was wrong to hit her. The relationship was toxic and abusive on both sides. Brown was messing with his female manager Tina Brown to support his career after she took advantage of him as a minor. Rihanna was and still is having sex with Jay Z, who took advantage of her as a minor in exchange for a career.
Rihanna should not be the poster girl for domestic violence. She is a violent woman that smashed a glass against her brother's face and bragged about it in an interview. As mentioned above, Rihanna had hit Brown on more than one occasion as well. Rihanna also released a violent and disgusting music video for the copyright infringing song "B***h Better Have My Money" showing a woman being physically abused and glorifying said violence. This is all unacceptable conduct.
Everything Rihanna currently has she illegally accumulated through copyright theft and having sex with people's husbands and boyfriends. She is no role model. Domestic violence victims should not follow her example nor should any woman. Women should not hit men (and vice versa). Some women believe because they are female and the weaker sex, it is okay to hit a man, when it is not and you are placing yourself in danger.
If you are a victim of domestic violence, see the charges through in court for your own protection and safety. Stay away from your abuser. Look for positive outlets to help others, as reaching out through credible and proper charities, can help to alleviate the emotional pain that stems from abuse.
RELATED ARTICLES
Madonna, Jay Z, Beyonce, Rihanna, Rita Ora And Jessie J Sued Over Copyright Infringement, Invasion Of Privacy, Commissioned Criminal Harassment And Assault Via The Kabbalah Center
Rihanna Caught Snorting Cocaine Which Prompts The Singer To Slam People On Social Networking Over Comments On Her Drug Addiction (Video)
Rihanna Desperate Over Her Failing CD Singles And Unreleased CD Drops Third Poorly Received Track Before The Stalled Albumís Release